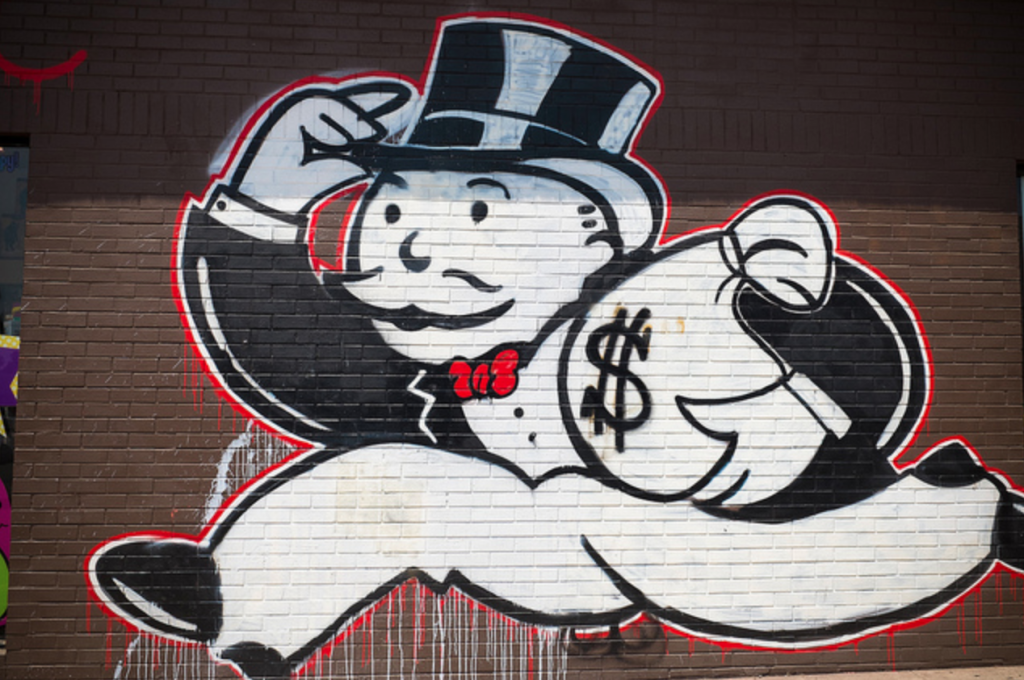 Heaven on earth is the oldest con. Why do we keep falling for it?
The line between innocence and foolishness is a fuzzy one. Scripture says the meek will inherit the earth, but it doesn't tell you what they'll do with it once they get it. Open a chain of tacky theme parks? Sell miracle oils and commemorative coins? Hand it over to some shady clergymen as an incredible investment opportunity?
That last one makes me wince. Recently, preparing to sell my parents' old home, I came upon a file from a Christian financial organization I'll refer to as "Tabernacle Investor's Fund." The founders of TIF were former preachers with some banking experience. They made bold claims. Not only would they guarantee a high fixed rate of return, they would invest only in godly causes, like start-up churches and ministries for the poor. Did their sales pitch sound too good to be true? To you, maybe. To my family it just sounded like, you know, being asked to hand over our entire life savings to a couple of old friends with big dreams and limited financial experience—in other words, salvation by faith alone! TIF summed up its mission in their oily vision statement: "Doing Well While Doing Good."
For several years things seemed to go okay. Eager to do good while doing well, my family sank many thousands of dollars into TIF. We ad-vangelized the fund to our friends. We poured over the newsletters that arrived each month with frothy reports of our money being used to feed the hungry and clothe the naked while shoveling in a miraculous return of 9%! A consistent feature of these newsletters was their wiseacre grumbling about the Securities and Exchange Commission and the IRS. Alas the regulative burden laid upon the righteous! Oh the godlessness of the government! Couldn't they just let TIF alone to help us do good while doing fabulously?
2008 cut the legs out from under many a Dagon. Everybody knows about Bernie Madoff. Only a sad few have heard of a little fund that, without telling its investors, had broadened its portfolio from charitable endeavors to risky mortgages and pricey real estate. Could it be that a consistent high rate is hard to squeeze from lending to the poor? When prices dropped precipitously in the real estate market, away went the rainy-day funds, college savings, and nest eggs of many good people—innocent, foolish, or both—who had trusted TIF with their money. For a short time, the newsletters kept coming. But only for a short time. I suspect our old friends had started to feel bad about doing badly.
Fourteen years have passed and the good news for my family is that we are fine without our thousands. God is good. So is the welfare state. So are the spending habits that some of us acquired in the Great Depression. (It's pretty easy for a former TIF investor to save money if he enjoys Banquet hot pies: $10 will buy about a week's worth, and then he just has to figure out breakfast.) Also, my relatives are champion forgivers. If not forgiving someone is like drinking rat poison and waiting for the rats to die, then they do the opposite, drinking deeply from the tonic of forgiveness and praying that the rats might get healthy again. Maybe after their rat lawyers have drained them dry?
The bad news is that it turns out some of the kindest humans really can be foolish about practical things, including a few I know. I've heard people ask if religion makes its followers more gullible. Is that, they ask, why religious belief persists in the face of scientific evidence and secular progress? Actually I think you could argue the opposite. The distance many devout religious people maintain from popular consensus both in science and culture could be seen as a form of skepticism, though it's motivated by faith rather than objectivity for its own sake (which perhaps does not exist). Also, speaking as a Christian, I observe that my religious world contains hordes of natural naysayers and skeptics. If you want to find them, just look for the people doing battle against tiny changes in church life: the substitution of a word in a policy, an update to a hymnal, or a new color scheme for Advent. If the aim of our religion is to make us more soft-willed and gullible, then apparently it's not working. When our needs, values, or reputations are at stake, many of us turn into David Hume.
And that, I think, points to our actual problem: not our persuadability but our self-protectiveness, especially when it's mixed with greed and impatience. We like the idea of good works, but mostly if they have no downside. Oh yeah, and if we can hire someone else to do them. Do well while doing good! This appeal to our profit motive has a great record of harnessing the power of capitalism and thus has practical advantages in actually getting money into the hands of the needy. I'll admit that. Whole micro-economies are created from wealthy people paying less wealthy people to carry their crosses.
The problem from a Christian point of view is that this simply isn't Christian. The founder of our faith told us to lay up treasures in heaven rather than on earth. Both innocent and wily, he knew that con men would come along to tell us we could have the world and heaven too. Usually with a catch: "I'll give you all this if you bow down and worship me."
Religious-sounding con men and women are having their moment here in 2023. Some lure the foolish with dreams of power, some with illusions of safety, some with nostalgia for golden ages that never existed, some with promises of nationalistic glory. They blow their own shofars and advertise that they'll show you how to serve God while building a robust portfolio of self-interest. But you can't have it both ways. If you chase success and self-preservation under the pretense of serving God, your risk to reward ratio is far too high. You could end up with a check for 1/50th the value of your original investment and a freezer full of pot pies.
M. Elizabeth Carter is a counselor and writer living in Alabama.