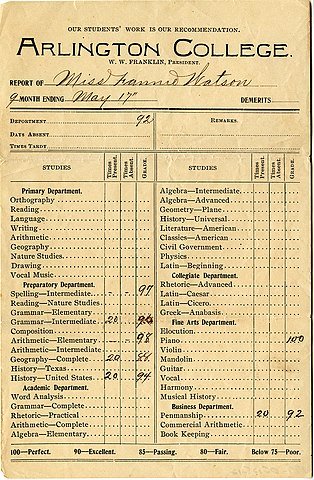 The flowering pear tree in my driveway is in bloom, and the back deck of the house has turned yellow overnight from the pollen. This means that we have just passed the mid-semester point, and this week was time for what has become one of my most important and, honestly, favorite teaching rituals over the past few years: sending individual mid-semester progress report emails to every single student in my classes. In each email, I outline the student's grade so far in the class, and say something that I appreciate about them as a person and about their work in my class. If applicable, I conclude with recommendations for improvement in the remaining portion of the semester.
Sending these emails is a serious time investment – depending on the semester, it could be anywhere from about 85 to 110 students! And, indeed, to save time, when I had first started doing this, I only sent these progress reports to students who fit the criteria of something my campus defines as "at risk" – students who were failing the class, or who seemed to be headed in that direction. But more recently, I have begun including every single student in this update.
In this post today, I would like to explain why I send these updates now to every single student, rather than just the ones who are "at risk." That explanation will also illuminate some additional reasons why the overall practice of mid-semester progress reports may be a good one for other teachers or college faculty to consider. But first and foremost, the explanation requires us to take a step back and consider some basic underlying assumptions in academic culture. Specifically, we may not even be aware of the extent to which we have been conditioned by our own experiences to communicate only criticism or negative feedback, while keeping mum on any positive commendations.
Few genres of writing engender as mixed a reaction as the humble peer review, that mainstay of the academic publication process. There is a reason that there are so many jokes and memes about Reviewer #2! Often anonymous, the peer review aims to rip to shreds a paper or proposal, highlighting absolutely everything that is wrong with it. I have heard tales of peer reviews longer than the article itself. Strong hints sometimes abound regarding how the reviewer would have written this same article or book correctly, unlike the sadly uninformed author. A well-aimed shot at the author's academic credentials is bonus, but sometimes included free of charge.
That anything is ever actually published, given the system, is nothing short of miraculous. Some journals in my field, indeed, have acceptance rates well below 10%. Finally, if one's academic article or book manuscript survives peer review against all odds and is finally published, negative book reviews may yet follow. (As I near the publication date of my first book with a Christian press, I can say that so far, while undoubtedly rigorous and demanding, the process has been much gentler on the psyche!)
Traditional academic publishing, to sum up, is not gentle or encouraging to its acolytes. In our desire to foster the best possible scholarship, we eagerly dismantle all trace of error, and over-specialize in negative feedback in the name of rigor. But here is the problem: over the years, I have heard too many colleagues at different institutions talk about their expectations for their students in very similar terms as we do in peer review. Providing negative feedback is indeed sometimes necessary, but it should not be the only feedback we ever provide. So many of the epically mean peer review reports ultimately tell authors that they do not belong in academia. With very rare exceptions, though, we do not want our feedback to students to tell them that they do not belong in our class or in college.
Over 50% of students at my institution are first-generation college, and the number of Pell-eligible students is roughly at that number as well. Increasingly more are taking most or all of their classes online. Many of them are non-traditional college age and are working full-time or more.
The challenges that some of my students have to confront continue to astound me. Over the years, Dan and I have taught students who were homeless; students who were working 60+ hours per week in multiple jobs; students with significant care-giving responsibilities for elderly relatives and/or small children. When our campus shut down in Spring 2020 because of COVID-19, along with every other college campus in the nation, there were just over 40 students who had to stay in the dorms on campus, because they had nowhere else to go. No, these were not international students—those left. The ones who stayed were all locals.
Nationwide statistics show that these students are likely to take longer than four years to finish their degree. And while we do not like to talk about this particular crisis (although there are good reasons why we should!), they are also very likely to drop out. The pandemic has only exacerbated all of these trends, as we see in the national college enrollment drop. That drop is not felt at top academic institutions, filled with students who are economically a bit more supported, on average. That drop, however, is definitely felt at regional institutions, whose students are more likely to decide, when faced with discouragement, that maybe college just isn't for them.
When I first started sending out progress reports, my goal was to try and re-engage the students who seemed to have "checked out" – all too common, especially in the online classroom. The hope was that getting a stern email mid-semester, with a full list of missed assignments—and missed assignments are the chief reason why a student might fail my class—would call them back to task, and would energize them to catch up and finish the semester. And an ancillary hope was that this was a way to try and encourage students who seemed likely to drop out otherwise.
The emails have been somewhat successful in this. But something else happened: I noticed that on a number of occasions, excellent students would ask how they were doing, expressing uncertainty over their work. Despite receiving excellent grades on all assignments, they were still unsure if they, the first in their family to attend college, truly belonged here. And so, I realized, these progress reports could be a small way to encourage them that yes, they do belong in college. And yes, I can see their hard work. And yes, I appreciate their ideas.
Once I started sending these midterm progress reports to all students, the response has been overwhelmingly positive. It turns out that the best students in the class have needed these progress reports no less than the worst-performing students. For many, it was the first time that they have received an email of this nature, with concrete details about something I have observed about them that I appreciated – whether their ability to bring together ideas from multiple sources in an insightful way, or their dedication to provide particularly insightful contributions to online discussion, or asking great questions about the material.
Indeed, I include this positive element now in all of these emails – very often, after all, even the students who are failing the class are not failing because they are terrible students. For my students, at least, a personal or family crisis, more likely, is afoot. Encouragement that they do belong in college helps them too. On occasion, the email might lead to a difficult conversation with a student about withdrawing for the semester rather than failing, but those conversations end up being encouraging as well, as I try to help the student plan a more successful next term.
Seeing the positive impact of these progress reports on my students has been a powerful reminder that just like excellence in sports, academic success is partly mental. We sometimes forget the power of words of affirmation and encouragement in a world filled with anxiety.
The world of academic peer review may seem to be all about tearing down, but this very real aspect of our jobs should not distract us from the most beautiful and exciting thing about teaching: we are training future citizens for something good and beautiful, whatever it may be. And this means that teaching is not just about conveying information and skills. It is also about building up image-bearers who need these words of affirmation, and just need to be acknowledged as people, rather than mere tests and papers we grade or avatars with which we interact in our university's online Learning Management System.
And so, if you can, take a few hours from your busy schedule, and write these emails. The response may surprise and encourage you, as it continues to do for me.