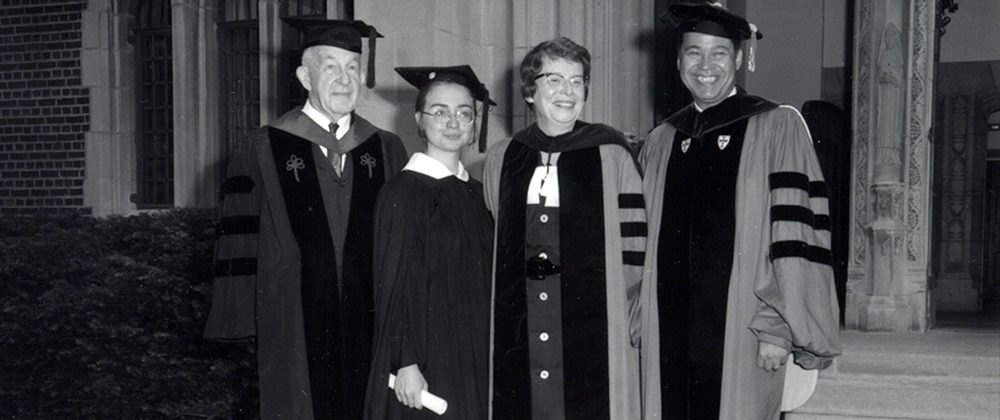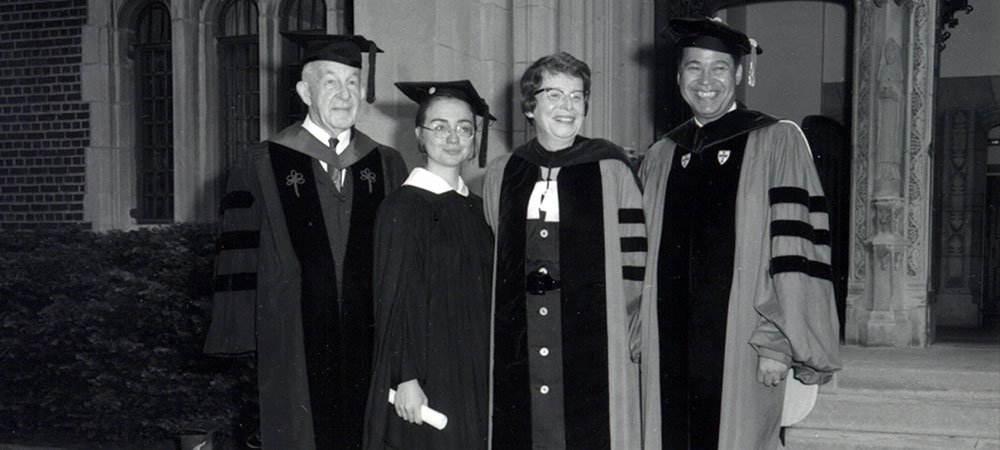 In his 2017 book Confident Pluralism: Surviving and Thriving Through Deep Difference, Washington University Law Professor John Inazu writes:
Wellesley College, an all-women's school, now confronts internal challenges around its growing transgender student population. Even though Wellesley admits only women, a number of its current students have transitioned to men after matriculation. As a recent New York Times story asks: "What's a women's college to do? Trans students point out that they're doing exactly what these schools encourage: breaking gender barriers, fulfilling their deepest yearnings and forging ahead even when society tries to hold them back. But yielding to their request to dilute the focus on women would undercut the identity of a women's college." One student reasoned: "I realized that if we excluded trans students, we'd be fighting on the wrong team. We'd be on the wrong side of history." A recent graduate reached the opposite conclusion: "Sisterhood is why I chose to go to Wellesley." The New York Times noted that this woman "asked not to be identified for fear she'd be denounced for her position."
The last example exposes a particularly acute challenge: Wellesley cannot remain a women's college whose identity in some ways rests on gender exclusivity and at the same time welcome transgender students who identify as men. It will have to choose between two competing views. But perhaps even more important than what decision Wellesley reaches is how it reaches that decision. Will Wellesley be able to choose its own institutional identity, or will the government impose a norm on the private school through law and regulation? Will other citizens tolerate Wellesley's choice, or will they challenge its accreditation, boycott its events, and otherwise malign its existence? Will the process through which Wellesley reaches its decision be one of open engagement across deep difference, or will students, faculty, and administrators speak only under the cover of anonymity?
Six years later, Wellesley students have made their decision.
Here is The New York Times:
Wellesley College proudly proclaims itself as a place for "women who will make a difference in the world." It boasts a long line of celebrated alumnae, including Hillary Clinton, Madeleine Albright and Nora Ephron.
On Tuesday, its students supported a referendum that had polarized the campus and went straight to the heart of Wellesley's identity as a women's college.
The referendum, which was nonbinding, called for opening admission to all nonbinary and transgender applicants, including trans men. Currently, the college allows admission to anyone who lives and consistently identifies as a woman.
The referendum also called for making the college's communications more gender inclusive — for example, using the word "students" or "alumni" instead of "women."
The vote was in some ways definitional: What is the mission of a women's college?
Supporters said that women's colleges had always been safe havens for people facing gender discrimination, and that with trans people under attack across the country, all transgender and nonbinary applicants must be able to apply to Wellesley.
Opponents of the referendum said that if trans men or nonbinary students were admitted, Wellesley would become effectively coed.
And Wellesley's president, Paula Johnson, said that the referendum would rewrite Wellesley's founding mission to educate women.
In a statement after the vote, a spokesperson for Dr. Johnson said the college would not reconsider its opposition.
"The college will continue to engage all students, including transgender male and nonbinary students, in the important work of building an inclusive academic community where everyone feels they belong," the statement said.
The college, by established practice, did not release the breakdown of the vote, making it hard to measure the depth of support. But both supporters and opponents expected the referendum to pass.
The college, which is in the Boston suburbs and has roughly 2,500 students, has no data on the number of students who identify as trans or nonbinary.
Read the entire piece here.
Here is the pre-vote message from president Paula Johnson:
Next week, all Wellesley students will have the opportunity to vote on a ballot question approved by College Government regarding the College's admission policy and our use of gendered language in all official communications. The results of the vote on this ballot question are nonbinding and will not impact any of the policies or practices of the College or of student organizations at Wellesley. Instead, this ballot question asks students to express their views on the College's gender policy as it relates to admission and to its use of language in College communications—both issues that are central to Wellesley's mission and identity.
While Wellesley respects students' right to express their views, I want to offer some context for why the College continues to believe in our mission as a women's college and, at the same time, explain the steps we have taken to respond to students' concerns about these issues.
For nearly 150 years, Wellesley's mission has been to provide an excellent liberal arts education to women who will make a difference in the world. Events of the last few years—including a pandemic that has had a disproportionate economic impact on women, especially women of color, new restrictions on reproductive health and freedom in the United States, and attacks on women's rights and education across the globe—have shown that this mission is as urgent as ever.
Wellesley was founded on the then-radical idea that educating women of all socioeconomic backgrounds leads to progress for everyone. As a college and community, we continue to challenge the norms and power structures that too often leave women, and others of marginalized identities, behind. We are not a "historically women's college," a term that only applies to women's colleges that have made the decision to enroll men. We have chosen a different path, one that aligns with peer institutions including Barnard, Smith, and Bryn Mawr colleges.
What does Wellesley mean by "a women's college"? In accordance with our admission policy, Wellesley admits applicants who identify and live consistently as women, regardless of the gender they were assigned at birth. Our community includes students from a broad spectrum of racial, ethnic, geographic, socioeconomic, and religious groups. We know that the experience of living and learning as part of a diverse student body leads to better educational outcomes and helps prepare students to be the leaders, changemakers, and citizens the world so desperately needs.
It's important that all members of this community feel seen. Some transgender male and nonbinary students whose identities have evolved during their time here say they feel excluded by the College's use of the words "women" and "alumnae"—and feel that their individual identities are not embraced.
At the same time, many students who are committed to Wellesley's mission as a women's college and who identify as women have been publicly criticized for that view and have felt pressured to describe Wellesley as a historically women's college.
So how do we reflect our mission and identity as a women's college while recognizing and embracing the diversity of our community in a way that does not make any student feel erased or ignored? Let me try: Wellesley is a women's college that admits cis, trans, and nonbinary students—all who consistently identify as women. Wellesley is also an inclusive community that embraces students, alumnae, faculty, and staff of diverse gender identities. I believe the two ways of seeing Wellesley are not mutually exclusive. Rather, this is who we are: a women's college and a diverse community.
I think we can do better at finding that balance. I want to share with you the following commitments, which have been informed by ongoing conversations with the board of trustees, Senior Leadership, students, and other members of our community over the past several months:
First, we commit to finding opportunities to publicly acknowledge the diversity of our community. For example, we will use important occasions, like commencement and convocation, to acknowledge our identity as a women's college as well as recognize the gender diversity of our community.
We commit to doing more to acknowledge and respect individual identities. Despite the best efforts of faculty and staff, we know that students regularly report being misgendered. It is important to respect each others' identities—and here, technology can help us. Dean Sheilah Horton, Dean Megan Núñez, and Chief Human Resources Officer Carolyn Slaboden are working closely with Ravi Ravishanker, chief information officer, and his team to offer students and other community members the opportunity to upload their pronouns into Workday. The information will be included alongside students' chosen names in class lists and in the directory. This will be optional, to protect the privacy of those who do not wish to publicly share their pronouns.
We commit to supporting our trans students in ways that are meaningful to them. Our trans students have shared their concerns with us, and we are taking action on several of their priorities. For example:
We plan to appoint a new director for the Office of LGBTQ+ Programs and Services before the end of the semester. Among many other responsibilities, this person will serve as an advisor to Siblings, an organization for trans students, and will design activities specifically for them. This person will also offer training to faculty and staff to teach about gender identity and pronoun use.
The Stone Center Counseling Service staff have all been trained in how to offer gender- and sexual orientation-affirming therapy and how to refer students to specific providers and support groups as needed.
We are expanding the number of all-gender bathrooms on our campus. Every student-service building and every academic building now has at least one. Our Department of Physical Education, Recreation, and Athletics (PERA) has been a leader on this front and has added an all-gender changing/locker room as well as all-gender bathrooms. As we continue to renovate buildings, we are looking at options to offer more privacy in all bathrooms.
The Office of Accessibility and Disability Resources, under the leadership of Jim Wice and a number of dedicated student workers, is updating a map highlighting the locations of all-gender bathrooms which will be available shortly on the College's website.
Finally, we commit to providing greater clarity for students applying to Wellesley. We have streamlined the application process and provided greater clarity regarding eligibility. In addition, our gender policy on our website previously stated that students who transition during their time at Wellesley will be supported if they feel a women's college is no longer the right fit for them. We have removed this language to make clear that every student who is admitted to Wellesley belongs here.
Going forward, we will continue to advance our mission as a women's college while acknowledging and celebrating our students' diverse identities. We will also continue to listen to all members of our community, to ensure that all feel seen here at Wellesley.
As we reflect on the College's mission and identity, I ask that we remember to treat each other with respect, understanding, and grace. Wellesley benefits tremendously from all of your experiences and perspectives, and I am grateful for the many ways you contribute to the dynamic community of this extraordinary College.
If I understand this correctly, Wellesley remains a "women's college," but "woman" is now defined by identity rather than biology. I wonder what Hillary Clinton thinks?