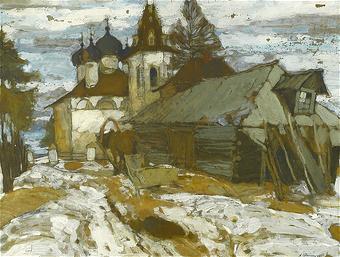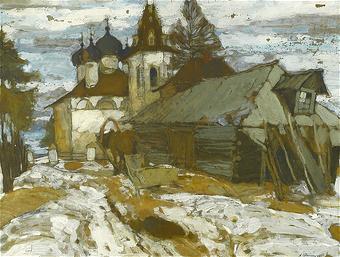 Perhaps the first sensation you experience as you walk in is the smell. One way to describe it is musty, but that is not entirely it. It is not entirely unpleasant. The wooden walls of the old cabin have absorbed smells of all kinds of the years, but soaring over all others is the distinctive aroma of old books, a scent so wonderfully indescribable but readily recognizable to those in the know.
There is something intoxicating about holding a book whose pages have yellowed with age, reminding you to be as gentle when turning its brittle pages as you might be when caressing a newborn babe. You hang up your coat on the rack by the door, already anticipating the joys to come. Then you pull a book off the shelf and find a chair or a spot on a bench close to the fireplace, ready to settle in for an evening of quiet communal reading.
At least, that is how I imagine a phenomenon that I have never experienced myself, but which had become a part of the Russian nostalgic imagination, even as we are over a century removed since the end of its existence: izba chitalnya, the village reading cabin. A rumored mainstay of villages in the days before the Revolution, it was a one-room library for a village. I wonder, just how many of those who visited could read the books shelved within, considering the low literacy rates of the serfs or the agricultural villagers that the serfs eventually became after the abolition of serfdom in 1861. And yet, surely there was something powerful and wonderful that all who visited the izba could feel: the sense of togetherness that books, whether one could read them or not, have wrought.
I thought of the reading cabin recently, prompted by my favorite read of the new year so far: Eugene Vodolazkin's novel A History of the Island. I will refrain from spoiling the plot for those eagerly awaiting the novel's English translation release in May (and rest assured, we will be publishing a review at Current!), but one small episode in the novel involves the construction of the first library in the island's capital city. Enthralled with the beautiful building, the city-dwellers discover the pleasure of going to the library regularly to touch and peruse its books.
While some go so far as to, well, read the library's books, for the many visitors who are illiterate, the pleasure consists instead solely in sitting quietly in the reading room and turning pages, running a finger along line after line of text. Just like my four-year-old does, as she sits with a book next to her older and literate brothers. But for all patrons, literate and illiterate alike, there is a profound joy to be discovered at visiting the library regularly. Furthermore, while the visitors know that they can check out books from the library to take them home, they do not see the point in doing so. The chief pleasure lies in the communal aspect of the library and in being seen there by others—another community-building element.
Of course, historians who do research in the archives know well both the pleasures and challenges of reading in communal spaces. For literacy alone might not be sufficient to read cursive script of the long departed. Arlette Farge's gloriously sensory description of reading archival documents in her book The Allure of the Archives readily comes to mind: "Whether it's summer or winter, you freeze. Your hands grow stiff as you try to decipher the document, and every touch of its parchment or rag paper stains your fingers with cold dust. The writing, no matter how meticulous, how regular, is barely legible to untrained eyes."
And yet, as Farge's delightful book shows overall, there is the thrill of discovery, the pleasure of reading something that perhaps no one else has touched or read in centuries. We all instinctively love being allowed in on someone else's secret, even scandal, and the archives are filled with them. Furthermore, archival reading is often communal, even if not quite in the same sense as one might find in the izba chitalnya. Those mining an archive for information may find themselves sequestered in the same room for hours or even days on end with their fellow-researchers, to the point where they recognize each other's occasional sneezes without even looking up from their own work.
But the English title of Farge's book obscures another sensory dimension of reading that her book's original French title brings out: Le Goût de l'archive literally means "the taste of the archive." The experience of reading can involve chewing on ideas and perhaps finding a book tasty. I am reminded of the gustatory compliment that John Wilson—a dedicated life-long reader, reviewer, and editor—has for essays and books he finds particularly enjoyable: they are "tasty" or "delicious."
There is also something cross-cultural and ancient in this language of eating when applied to reading. The references to the literal consumption of scrolls in the Bible in Ezekiel 3:2-3 and Revelation 10:9 come to mind. In both, the eating becomes communal in another sense: each initial eater is asked to deliver God's message that he has consumed to those who need to hear it. Speak what you eat.
I find a thrilling parallel here to the task of the historian, who consumes and digests archival materials and primary sources of all sorts in order to produce a meaningful narrative for others who will benefit from it. Of course, history in and of itself is not salvific—meaning, the knowledge of accurate history is not sufficient to save us. Sola Historia has never been a rallying cry of the faithful. Still, for all of us, regardless of faith stances and commitments, an accurate understanding of the past is important for a good and compassionate life in the here-and-now.
As we return to the communal aspect of reading, one in which all of these other sensory and even possibly spiritual reading experiences collide, we cannot leave out the wonder of mutual love for the same book. Whenever we read something that moves us, there is a joy magnified in finding others for whom that same book was meaningful, moving, worthwhile. "You too, friend?"—we think with delight whenever this occurs, feeling perhaps reassured that in a world increasingly apart, there is an intellectual community for each of us still.