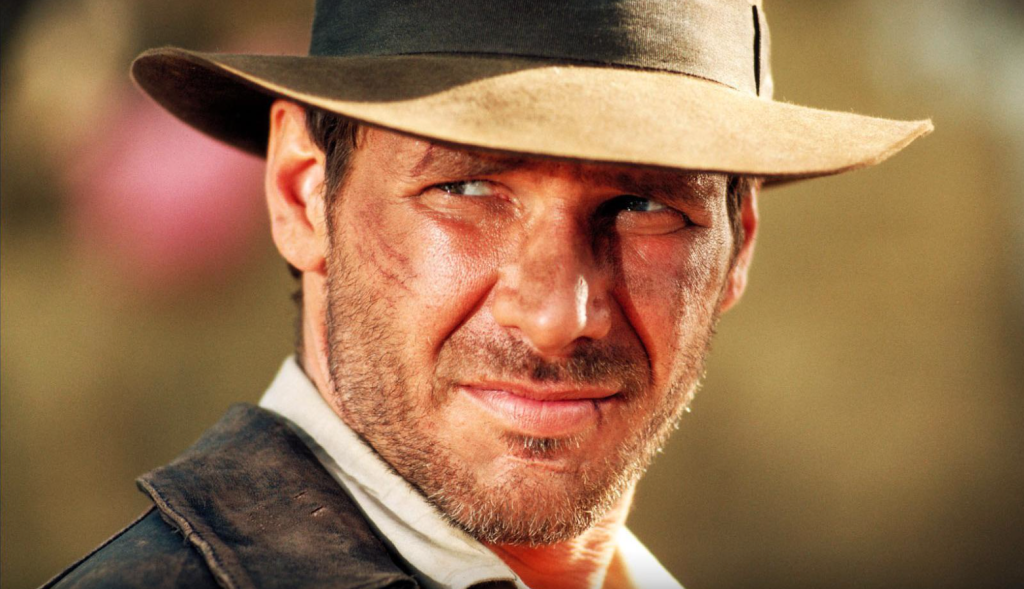 It's not about fortune and glory 
We begin in a remote jungle somewhere. A dashing hero in his trademark fedora retrieves a priceless ancient artifact from a labyrinthine cave-like edifice where for logic-defying reasons it had been displayed on a pedestal, surrounded by booby traps. Of course there are villains on our hero's trail who would like to steal the hard-won artifact. And so, this initial action sequence follows the hero on his escape route as he navigates deadly traps and avoids the occasional bullet, all while playing catch with the priceless archaeological object. No big deal.
It all ends fine. We next see our bespectacled hero at a museum, all cleaned up and looking again like the respectable archaeology professor he is. Opening his briefcase, Dr. Jones takes out the artifact that he heroically rescued. The museum curators thank him profusely and express hope that he might bring them similar goodies from future trips. There are no questions asked about such awkward issues as provenance or ethics. The most important thing is that the object is now in a museum, so why worry about peripherals?
Archaeology movies have long glamorized the unethical treatment of material culture, presenting a utilitarian approach to filling museum displays: So long as the object has been rescued from an inopportune setting and is now available for all to view and admire, all is well. But how accurate is this picture of the archaeological profession in this day and age? The simple answer is: not very. As some have quipped about the latest installment in the Indiana Jones franchise, coming in summer 2023, the most realistic aspect of the film is an eighty-year-old professor who just would not retire. Ouch.
But here is another tale, similarly adrenalin-laced. Three brothers looking for trinkets to sell for extra income break into an ancient warlord's tomb at night. No, the warlord's mummy doesn't come to life; you're thinking of a different film. Instead, the brothers find a horde of priceless artifacts from a previously unknown civilization. But eclipsing all other objects is a massive backflap made of a single hammered sheet of solid gold. The problem is, how does one sell something so identifiably unique and expensive on the black market? We follow the brothers along their misadventures as they try to sell the backflap and make a fortune that would ensure their comfortable retirement.
Alas, the object turns out to be cursed, at least as far as the brothers are concerned. One after the other they face ill health, death, and misery, both before and after they finally offload the backflap. But this is no fictional movie plot. This is, rather, the subject of investigative journalist Roger Atwood's gripping book about the contemporary looting of antiquities in Peru. At the conclusion of the tale, after a long series of international debacles, including multiple FBI sting operations, the backflap returns to Peru with honors. The Lord of Sipán and his treasures are at last ceremoniously installed in a place of honor in a new museum.
These stories raise an important question about which non-experts are generally less than sure: how do objects get from the earth into a museum anyway? As it happens, the field of archaeology has only grown more painstakingly scientific and cautious in its approach to excavation over the past five decades. The process, which now might involve such scientific tools as the latest lidar technology for determining where to dig, can take years of planning even before anyone puts a tool into the ground. Once the digging begins, every discovery, however minuscule, is documented carefully because context matters as much as—or more than—the objects that are found.
Paying attention to the layers of the site is particularly important as each new layer uncovers a different period, allowing us to reconstruct the history of the place and the people who lived there. Eventually the archaeological site reports are published, often lagging decades behind the digging process. Careful work takes time. When done well, the stories the reports reveal through both the artifacts and their context enrich our historical knowledge. The story of Pompeii is one such striking example—a city whose history we know so intimately through its material record.
It is worth emphasizing, of course, just how recent these best practices in scientific archaeology are. When Heinrich Schliemann was conducting his now legendary excavations of Troy in the late nineteenth century, he could dig fast, not worrying about documenting things too much, looking for the one layer he cared about—Homeric Troy—while carelessly destroying all else. The formulation of best practices in modern archaeology has been driven by outrage over such cautionary tales.
But there is a problem: Archaeology done according to best practices makes for a very slow and expensive process. And so, it is fitting to ask the question: Is it worth it? Professional archaeologists would obviously say yes. Archaeologist Eric Cline poignantly puts a number on the loss, arguing that looted objects without provenance have lost 90% of their value when they are reduced to a mere pretty object, rather than something that is a part of a larger context. And Atwood estimates that if the looting of antiquities from the ground is not stopped now, there will be little to nothing left to excavate globally by the year 2050. He highlights examples of knowledge that we wouldn't have without modern archaeology:
Through modern archaeology we know that Iraqis invented the wheel about 3000 B.C., that Vikings reached America five centuries before Columbus, that humans first crossed from Asia to Alaska about fourteen thousand years ago and filled the American continent within a few centuries, that the Incas practiced a form of brain surgery, that plagues of European diseases like smallpox swept through Indian settlements in Florida a few years before any Europeans arrived there, that early Mexicans took a weed and cultivated it over centuries to turn it into corn. None of this knowledge was handed down orally from generation to generation; nor, in most cases, was it written in ancient texts.
And yet, the illicit global trade in antiquities, driven by market demands, challenges this work. Archaeologists today pursue their work slowly and meticulously, ideally leaving the found objects in the country where they have been excavated. But operating in ethical contrast is the demand for antiquities from private collectors and until recently some of the world's greatest museums. Unable to obtain impressive objects legally, both private collectors and some museums have continued to play fast and loose with the law. For some, the end has justified the means.
And so, we've come back full circle to Indy and his shoddy excavation practices. Just dig into that mound or raid that cave, grab the object, and get out. For modern looters such a modus operandus seems to lead to victimless crimes. But are they? It seems that we forget that at its core the study of the material past, just as the study of history in general, is about people, not objects. We should desire to learn the stories of the people of the past, rather than just hunting for their treasures. For it is through the telling of these stories that we endeavor to understand the people of the past—people made in the image of God—while also striving to understand their inextricable influence on our own present and future.
And besides, truth is often more fascinating than fiction. It is a late November night in 1936, and in the Metropolitan Museum of Art the museum attendants and the night guards are setting up for the eighth annual pistol competition. It is gun range night at the museum. No, this particular story is not a movie plot. It really happened.
Nadya Williams is Professor of Ancient History at the University of West Georgia. She is a monthly contributor to the Anxious Bench, and her essays have also appeared in Plough, Front Porch Republic, and Church Life Journal. Her book, Cultural Christians in the Early Church, is forthcoming in October 2023 from Zondervan Academic. She is the Book Review Editor for Current.