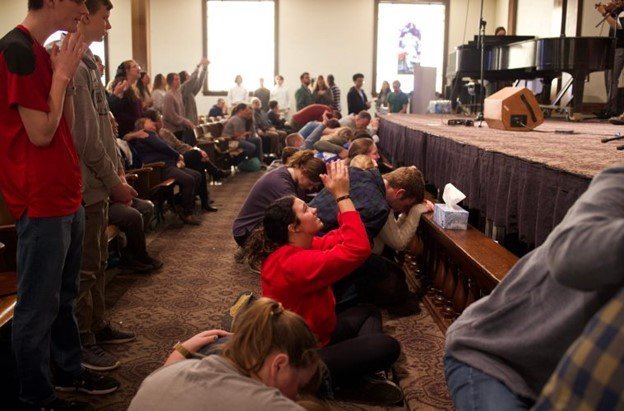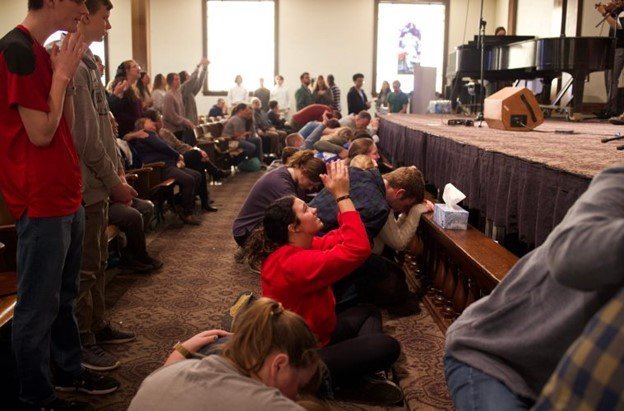 Read all of these posts , including the original post (covering Day 1 to Day 3 of the revival), here.
The revival continues:
A "prophetic reformer" named Amanda Schiflett on FB:
Many have said that the Asbury Revival was the one that sparked the Jesus Movement in 1970. I am believing this is a spark as well, and as many of us have seen and prophesied, there will be many other "fires" of awakening and revival that will begin to blaze in many places around the nation, and yes even the world!
Of course, what makes this (Chiefs winning) so very prophetic, is that it was prophesied that revival would coincide with them winning. Also, I don't believe it is a coincidence that the Jesus Revolution movie is set to be released next week, which speaks of this exact time when the movement was sweeping the nation back in the 70's. #Issachar#TimesAndSeasons
Oh Jesus, we've waited so long…it's as if we were in a dry and barren land where no water is! HOLY SPIRIT RAIN DOWN!!! LET YOUR FIRE FALL!! #RevivalFires#Awakening2023
She also shared this: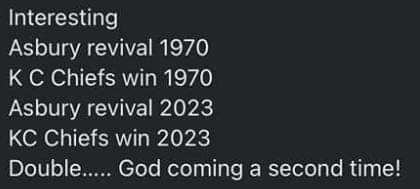 More on this here. (For the record, the Chiefs won the Super Bowl in 2020 as well):
South Korea:
The logistics of revival:
Historically, revivals have produced as much division as unity:
Not everyone is happy about Shane Claiborne's endorsement of this revival:
Asbury revival vs. "He Gets Us":
Christian Broadcasting Network reports on the revival.
More Kansas City Chiefs–Asbury revival comparisons:
NOTE: The international interest in this revival on Twitter, especially in Latin America, is strong. I just don't have time to translate all the tweets.
Nathan Finn hopes the revival comes to North Greenville University and other schools:
I missed this February 8 Facebook post from the Asbury president, Matt Barnes:
God is on the move in a special way at Asbury University and Asbury Theological Seminary!
Beginning during their chapel service at AU, God began pouring out his love among the students in a profound way. The students continued praying and worshiping even though chapel had concluded, very reminiscent of the 1970 revival in Wilmore.
And a few minutes ago when I left at 1030pm, there were still hundreds of people there worshiping, being prayed for, repenting, and beginning to follow Jesus!
Pray for this move of the Lord to continue! Pray for people's hearts to be fertile ground for the move of the Spirit! Pray that all of this would be to the glory of the Father!
More Old Light commentary.
Critics say the revival is not diverse enough:
More Old Light commentary:
It's COVID-19:
It's just Jesus:
I've heard that some revivals include laughing: