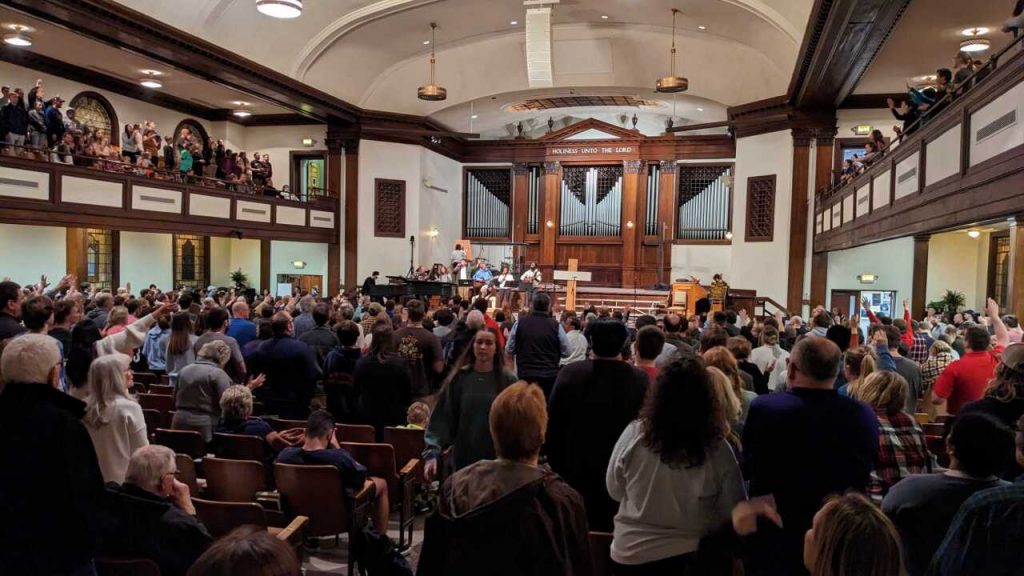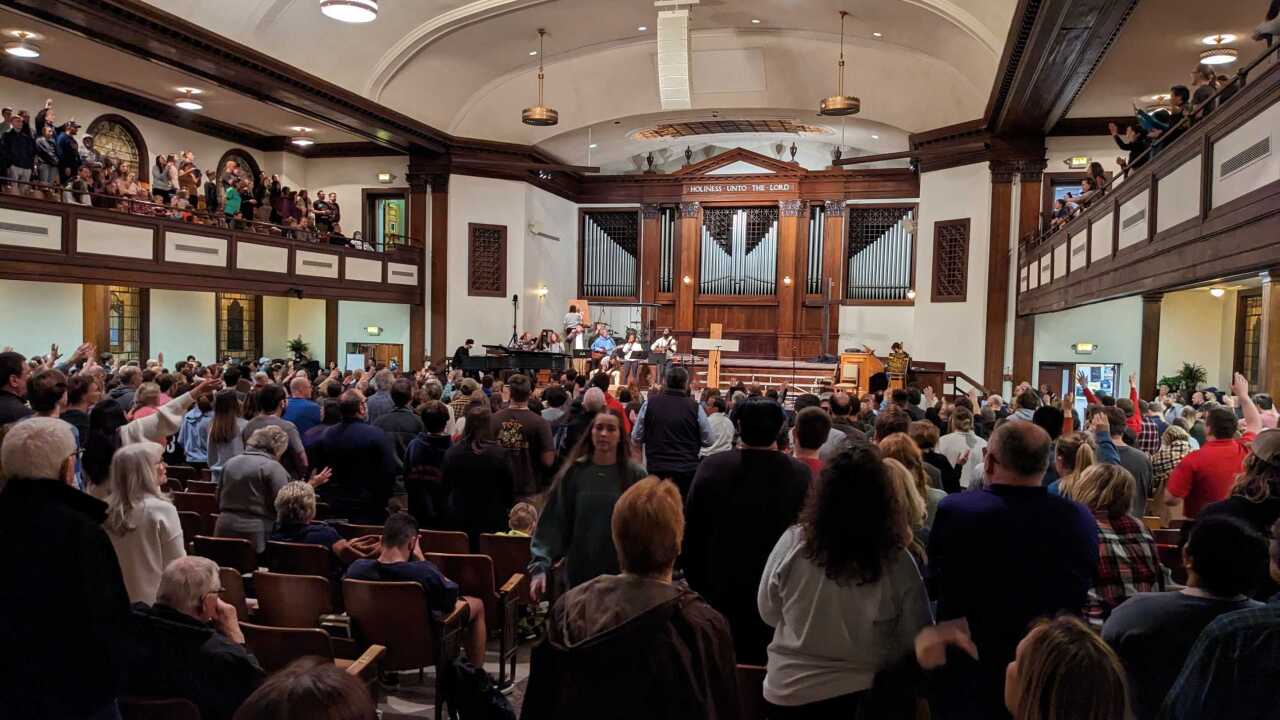 Read all of these posts , including the original post (covering Day 1 to Day 3 of the revival), here.
A theology professor at Oklahoma Baptist University weighs-in:
A student at Asbury Theological Seminary:
Here we go:
The leader of The Salvation Army:
Josh Waught, a Southern Baptist worship minister writes:
As someone who has read about the Asbury Revival of 1970 and has preached about it several times, I asked Susie last night if we could drive up to Kentucky for the day and see what the Lord is doing in Hughes Auditorium at Asbury!! One speaker said, "Isn't this great that we aren't dismissing our kids to children's church right now? Or telling the students to go to youth group now? This is every generation coming together to worship. It's not about a building, or a cool service, just worshiping Jesus as one." 🙌 In homeschooling our kids for the first time this year, we have been intentional about talking through experiences together and we were able to talk about what "revival" is and how it can be exciting to go to a specific place to worship… but to know the Lord is everywhere! And it is no longer about a place, but that we can worship Him in our own home and experience revival even at our home church! ⛪️ We modeled to them kneeling in prayer and praying for others even if you don't know them. 🙏🛐🙏 We talked to our older kids about entering a place of worship, asking the Lord, "What are You saying and doing in this place, God? What are you saying to my heart right now?"❤️❤️ We were able to sing together and know it wasn't about how awesome it looked, sounded, or the venue we were in, but we were singing to Jesus.🎶🎵🎶 Seeing such a diverse group of people come together to worship at Hughes Auditorium was a great experience. To worship with brothers and sisters from all over, to see students hugging, crying, praying, confessing, repenting… it is revival. But… Seeing my own children be in the building—dancing, laughing, singing— in the building where God has moved so much in people's lives and in our nation through the last several decades was surreal for me.
I left encouraged and at peace knowing God was moving powerfully at Asbury University, but He is not limited to Hughes Auditorium. God is on the move and wants revival to happen in our home, in our family, in our city, in our church, and beyond. God is not limited to Asbury. The time is coming and has now come where we worship in spirit and in truth. And that's what I want my kids to remember… What God is doing at Asbury is truly revival, but God can do that in our lives and in our church at any moment… if you are willing! Draw near to Him and He will draw near to you. Lord, let revival come! And let it begin with me!
Some are connecting this to a recent revival in Uganda:
The Chinese balloon is a Satanic distraction:
Julie Roys is covering it.
Are Beshear and Rand Paul aware of what is going on? What about McConnell?
Does a revival influence one's views of women in the church?
Brownsville boondoggle?:
An evangelical pastor:
The "prophets" saw it coming.
Yet another participant/witness:
I wanted to make a quick post about what is going on at Asbury University. Four days ago, a few students lingered after chapel to pray and worship. Four days later, hundreds if not thousands of people from all over the United States are flocking to Asbury to see what is happening and possibly experience a renewed touch from the Holy Spirit. That's not what I want to talk about.
There have been some people criticizing and questioning the validity of what is happening. Some wondering if it's manufactured or manipulated. Some are wondering if faculty are using this for selfish gain for the school. Friends, tonight I had the chance to walk around behind the scenes, and let me tell you what I saw.
I saw an amazing group of faculty, staff and students doing their absolute best to create space in this beautiful auditorium for hundreds of people to encounter a touch from God that they so desperately long for. The staff and faculty didn't plan any of this. In fact, I know many of them are sacrificing their plans(both on campus and with families) so that they can be here to serve. Keep in mind this is an educational institution that currently has classes going on and mid-terms are looming! Did I mention it's almost mid-terms(that's incredibly poor planning if this were manufactured or pre-planned)?!! I can't image the weighty challenge of suddenly needing to host people from all over the country, and at the same time making sure safety codes are kept in place for the health and safety of the people and keep classes going! I've never witnessed Hughes so packed in all my life. Large amounts of trash being produced, toilets needing constant cleaning, staff bringing in food for workers and bringing water and snacks for the public(for hundreds of people they don't know), Faculty and staff organizing prayer teams, worship teams, and so many other things. They are praying and trying to create a beautiful space for people to experience the power of God's presence. There is so much that goes on behind the scenes. And they are planning completely on the fly. They've been going for four days straight.
So, to the Staff, Faculty and students of Asbury University, THANK YOU for all that you have done and continue to do to facilitate and shepherd what God is doing. Seriously, thank you. I know many of you are tired and worn out. You are doing an excellent job. We appreciate you and are lifting you up in prayer!
Another first-hand student account from the The Asbury Collegian. "This must suck for the devil."
Jim Garlow, one of Trump's many court evangelicals and a pray-leader for the overturning of the 2020 presidential election, is covering this extensively. He says that buses of students are arriving from the following schools: Anderson University
Bethel Univ (Mishawaka)
Campbellsville University
Eastern Kentucky University
Georgetown University
God's Bible School (Cincinnati)
Indiana Wesleyan University
Lee University
Midway 
Mt. Vernon University
Ohio Christian University
Olivet University
Oral Robert's University
OSU
Purdue University
Southern Wesleyan University
Spring Arbor University
Taylor University 
Trevecca Nazarene University
University of Kentucky
United (OH)
University of Cumberlands