In case you missed the news, Christianity Today is reporting on a pattern of spiritual abuse on John MacArthur's Grace Community Church in Los Angeles. Here is Kate Shellnut:
Last year, Hohn Cho concluded Grace Community Church had made a mistake.
The elders had publicly disciplined a woman for refusing to take back her husband. As it turned out, the woman's fears proved true, and her husband went to prison for child molestation and abuse. The church never retracted its discipline or apologized in the 20 years since.
As a lawyer and one of four officers on the elder board at Grace Community Church (GCC), Cho was asked to study the case. He tried to convince the church's leaders to reconsider and at least privately make it right. He said pastor John MacArthur told him to "forget it." When Cho continued to call the elders to "do justice" on the woman's behalf, he said he was asked to walk back his conclusions or resign.
It's been 10 months since Cho left Grace Community Church, and he has not been able to forget the woman, Eileen Gray, whose experience was described in detail last March in Julie Roys's news outlet, The Roys Report.
Though Cho stepped down quietly, he continued to hear from other women from his former church. They had also been doubted, dismissed, and implicitly or explicitly threatened with discipline while seeking refuge from their abusive marriages. Even at his new congregation, Cho began to meet visitors with connections to Gray's case, which he saw as a sign of God's providence.
No, he couldn't "forget it."
The more he learned, the more people he talked with, the more the injustice weighed on his conscience and the more concerned he grew about the church's biblical counseling around abuse.
As Cho wrote in a 20-page memo to top leaders at Grace Community Church last March, "I genuinely believe it would be wrong to do nothing. At the end of the day, I know what I know. I cannot 'un-know' it, and I am in fact accountable before God for this knowledge, and if you have labored mightily to read this far, you are now accountable before God for it as well."
Read the entire piece here.
Hohn Cho has responded to Shellnut's Christianity Today article on his Facebook page: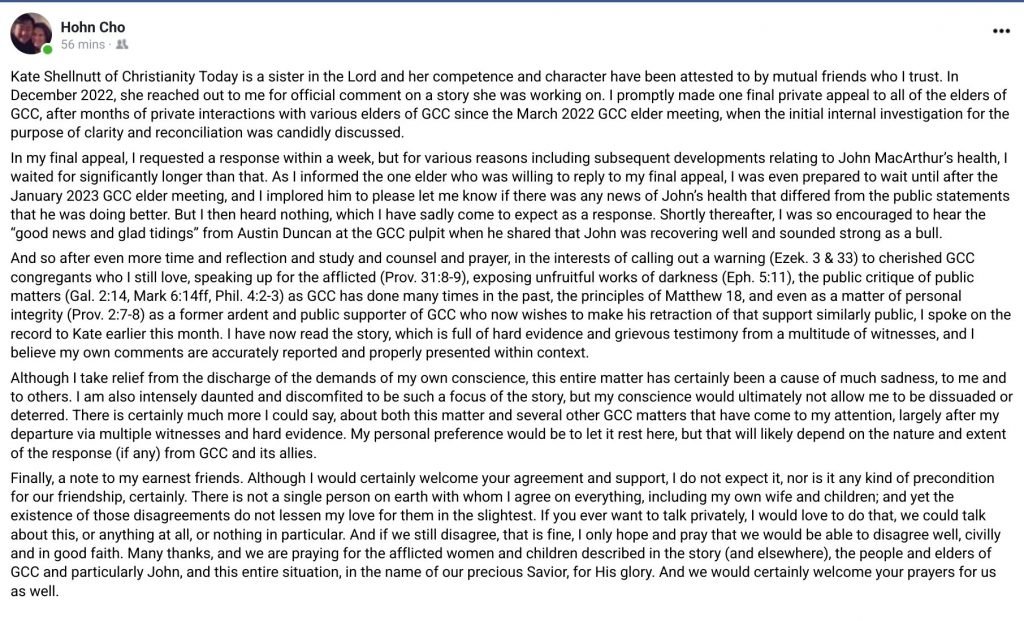 The elders of Grace Community Church have responded:
Here is some online commentary:
MacArthur has his defenders. Seems like blind loyalty to me:
Meanwhile, The Christian Post seems completely tone deaf. Today they published this piece on MacArthur.
But it is really the silence of the MacArthur-loving Twitter loudmouths that speaks volumes:
Jenna Ellis: Silent. She is too busy discussing the China balloon, attacking Joe Biden, Andrew Cuomo, Liz Cheney, and Mitt Romney, and celebrating John Fetterman's illness,
Tom Buck: Silent. He is criticizing the leadership of the Southern Baptist Convention.
Tom Ascol: Silent. He is writing about abortion politics.
Jack Hibbs: Silent. He is doing his usual grievance-based stuff.
Albert Mohler: Silent. He is fighting CRT and Satanism at the Grammys