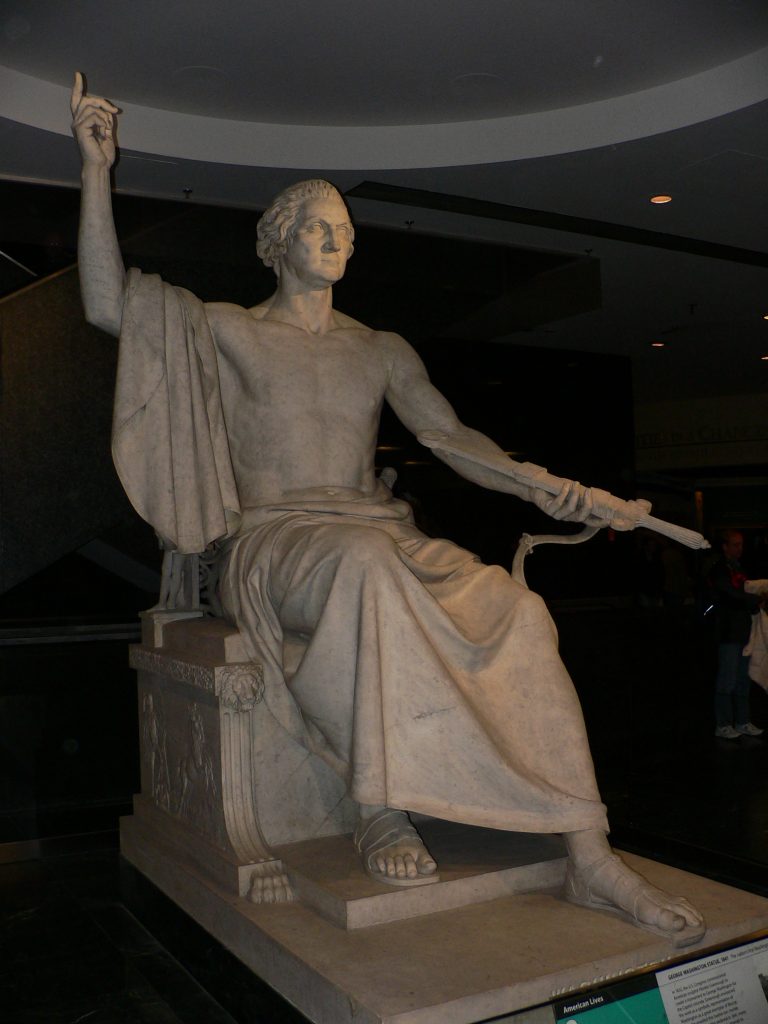 Whatever happened to that statue of George Washington in a toga?
Here is Ronald Shafer at The Washington Post:
Slowly, some of the U.S. Capitol's many statues and other artworks honoring enslavers have been slated for removal, most recently a bust of Roger B. Taney, the chief justice who wrote the Supreme Court's Dred Scott decision denying Black people citizenship. But the first statue Congress voted to remove from the Capitol was one of George Washington — not because Washington was an enslaver, but because the statue was scandalous.
The first president was portrayed naked to the waist in a toga with his right finger pointing toward the sky and his left hand clasping a sheathed sword.
"The man does not live, and never lived, who saw Washington without his shirt," complained Rep. Henry Wise, a Virginia Democrat.
Of the thousands of statues of Washington, this one, by American sculptor Horatio Greenough, is the most controversial. To mark Washington's 100th birthday, in 1832 Congress authorized the creation of what it expected to be a reverent rendition of the United States' most revered founder. President Andrew Jackson picked the 27-year-old Greenough for the task, and Greenough labored on his creation in Italy for more than eight years. When his 12-ton marble statue was squeezed into the Capitol Rotunda in late 1841, during the presidency of John Tyler, many onlookers were aghast.
The 12-foot-high statue showed Washington's head atop a very buff and bare-chested body, resembling a Greek or Roman god. He sat on a chair wearing sandals and a toga, part of which was draped over his bent right arm.
"I fear this statue will only give the idea of entering or leaving a bath," said Charles Bulfinch, the former architect of the Capitol. He added that the statue should be sent to Athens "to be placed in the Parthenon with other naked great men." Former New York mayor Philip Hone wrote in his diary that the statue looked "like a great herculean Warrior — like Venus of the Bath — undraped, with a huge napkin lying on his lap." Sen. William Preston, a South Carolina Whig, called the statue "the most horrid phantasmagoria I have ever beheld."
The Washington Post led a campaign to remove the statue in 1908. It is now inside the Smithsonian Institution castle on the National Mall.
Read more here.