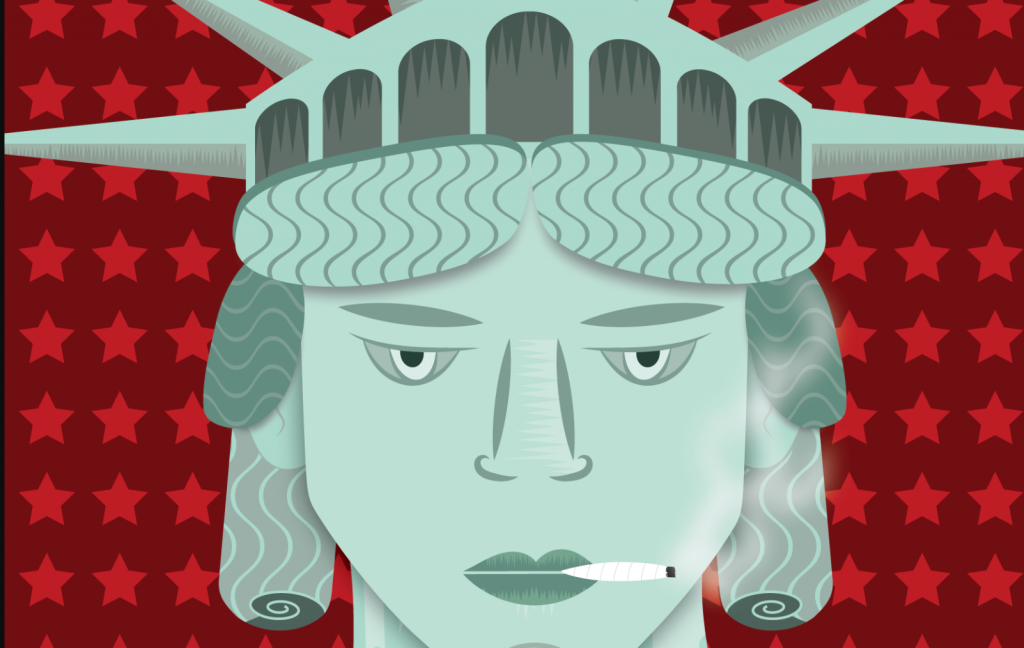 In de Dijn's history of freedom, the relationship is not entirely clear
Freedom: An Unruly History by Annelien de Dijn. Harvard University Press, 2022 (paperback). 432 pp., $22.95
St. Augustine of Hippo famously made the transition from unbelieving scoundrel to Manichean devotee to confirmed Christian. The Manichean sect to which Augustine belonged for just shy of a decade believed creation to be divided between competing forces, those of light and goodness and those of darkness and evil. Today the word "Manichean" is used to describe a person who neatly divides the world into good and evil, black and white. We are generally critical of Manichean worldviews, as they tend to be reductive and ignore the considerable nuance of human activity.
Yet it is just this Manichean mindset that Annelien de Dijn brings to her ambitious work, Freedom: An Unruly History. De Dijn, Professor of Modern History at Utrecht University, has a straightforward thesis: In ancient times "freedom" was defined as the people's active participation in their own self-government, the more direct the better. This concept of freedom has faced opposition throughout history. In fact, in modern times this idea of freedom has been turned on its head. Redefined as freedom to do as one pleases, rather than democratic governance, the new definition of freedom is the enemy of true freedom. Those who redefined freedom did so in a wish to defend undemocratic—even anti-democratic—politics by suggesting that regimes other than unruly democracies are better at defending individual liberty. De Dijn argues that the concept of civil liberty, as opposed to political liberty, is actually a tool of freedom's enemies to snatch power away from the people.
Freedom: An Unruly History is largely an intellectual history, tracing rival conceptions of government over the course of the last 3,000 years or so. To this extent, I can say that de Dijn has produced a tour de force of scholarship that is largely well-written and engaging, if a bit repetitive toward the end. In brief, she sketches the rise of republican thought in ancient Greece and Rome, showing how in each case defenders of democratic rule arose, only to spur defenses of more concentrated power.
The ancient conception of freedom as broad-based political participation dissipated at the end of the Roman Republic. By the end of imperial Rome, freedom was in full retreat. Imperial rule, buttressed by Christian quietism, had accommodated elites and commoners alike to autocratic power. During the Renaissance, humanists, with a rededication to ancient ideals, revivified the ancient ideal of liberty. Modern thinkers such as John Harrington, John Locke, and Jean-Jacques Rousseau borrowed from ancient and Renaissance sources to promote liberty, their ideas coming to fruition in the American and French Revolutions.
Here is where we see the anti-democratic turn in de Dijn's narrative. Largely in response to the excesses of the French Revolution, late-eighteenth and early-nineteenth century thinkers—Benjamin Constant looms large—redefined liberty as freedom from government control, advocating for strict limits on government. These counterrevolutionary thinkers professed considerable skepticism regarding the compatibility of this new conception of liberty and unfettered democracy. What follows is a declensionist tale in which true liberty—meaning political liberty—is consistently replaced by a truncated view of freedom as civil liberty.
De Dijn impressively takes readers through this rollicking tale, yet ultimately her presentation takes the form of a polemic rather than a thoughtful presentation of complex ideas. Hers is a tale of heroes and villains. For instance, she crudely summarizes Plato's thought as "believing there is nothing wrong with slavery" and Augustine's defense of the tranquility of order as an "enthusiastic embrace of political subjection as divinely ordained."
In the American context, she detects a whiff of authoritarianism in Henry Knox's concerns about American government in the wake of Shay's Rebellion, a concern that put Knox in good company, as the Constitutional Convention, changing the fundamental law of the United States, occurred shortly thereafter. De Dijn even denounces the Statue of Liberty because its sculptor, Auguste Bartholdi, professed some reticence regarding democracy. She notes cryptically that the Statue of Liberty wears a crown, not a liberty cap, and holds a law book, code for the rule of law being more fundamental than democracy.
One could point to the book's many errors of interpretation, largely the result of over-interpreting those who question democracy and taking at face value any paeans to popular rule. Ultimately, what de Dijn demonstrates is that the notion of freedom, far from being obvious, has always been contested. She notes that the Atlantic Revolutions (as she calls the American and French Revolutions) were "riddled with inconsistencies." Yet de Dijn papers over the inconsistencies, depicting a monolithic interpretation of freedom that does not bear scrutiny. She labels anyone who evinces the slightest skepticism regarding popular democracy as either a defender of slavery or a counterrevolutionary.
It is notable that de Dijn spends little to no time on the problem of demagoguery, which was central in the thought of the American Founders. While she hints in a couple places that demagoguery is a concern, she does not ponder what the threat of demagoguery means for democratic theory. She shows little appreciation for the fact that democracies can be corrupted, just as kings and emperors can. This is why Hamilton warns in Federalist No. 1 "that of those men who have overturned the liberties of republics, the greatest number have begun their career by paying an obsequious court to the people; commencing demagogues, and ending tyrants."
Can we dismiss the concern of figures such as Plato, Aristotle, and Ambrose (depicted by de Dijn as enemies of freedom) that for a regime to function well it must have some level of virtue, some concept of the good toward which it strives? This feeling was also held by the humanists, so lauded by de Dijn, and by Thomas Jefferson, surely a friend to political liberty. These figures all put great emphasis on education. They agreed, democrats and skeptics alike, that some preconditions must be met before any regime, including a popular regime, can be called good. If this is the case, then we must conclude that democracy is not good in and of itself but only to the extent that it produces other, higher goods.
Forgive the Americanist if he focuses on the American example. De Dijn notes, rightly, that the use of Roman pseudonyms by Founding era authors indicates their appreciation for ancient concepts of freedom. Yet two pages after she praises the Federalist Papers for choosing the pseudonym Publius, defender of the Roman republic, she denounces Hamilton for his "horror and disgust" over the "petty republics of Greece and Italy," words penned by Hamilton in Federalist No. 9 precisely under the name Publius. In that paper Hamilton notes that since the time of ancient republics a "new science of politics" has emerged, one that recognizes the value of representation (as opposed to direct democracy), separation of powers, and an independent judiciary. This new science allows not just for the sense of the people to rule, but the deliberative sense of the people.
Madison alludes to this new science in his justly famous Federalist No. 51. He notes that "Justice is the end of government." Consent of the governed is a tool to achieve justice, but not justice in itself. To achieve justice, Madison says that governments must first control the governed, making order, not democracy, the primary good. Second, the government must control itself. "A dependence on the people," writes Madison, "is, no doubt, the primary control on the government; but experience has taught mankind the necessity of auxiliary precautions." This tells us that popular rule is necessary but not sufficient for good government. The history of democratic government has shown that it too can be an enemy of justice. Hence the need for "auxiliary precautions."
Conspicuous by its absence in de Dijn's presentation is the Declaration of Independence. It does not even rank a mention in the book's index. This follows from de Dijn's remarkable claim that the concept of natural rights is not central to modern concepts of liberty. Yet the Declaration puts protection of natural rights front and center, even ahead of consent of the government, as the central aim of the American republic. It says, "That to secure these rights, Governments are instituted among men," and only then adds the clause "deriving their just powers from the consent of the governed." It is notable that the various "he has" statements denouncing George III in the Declaration imply that it isn't the fact that the king is unelected that makes him contemptible but rather that he has misused his power.
Concomitant to de Dijn's silence regarding the Declaration is Abraham Lincoln's virtual absence. Lincoln, perhaps the democratic statesman par excellence, warrants only one passing reference in the entire book. But this makes sense, given that Lincoln does not fit nicely into de Dijn's paradigm. Lincoln, while vigorously defending "government of the people, by the people, and for the people" was also cognizant of democracy's limits. De Dijn finds herself defending Jacksonian Democrats against American Whigs, whom she paints as democratic skeptics. Lincoln, of course, cut his political teeth in the Whig party.
De Dijn chides the Whigs for emphasizing rule of law, which she consistently depicts as code for attacking democracy. Yet it is Lincoln, in his most famous early speech, 1838's "Address Before the Springfield Young Men's Lyceum" on "The Perpetuation of our Political Institutions," who defends the rule of law against mob rule. It is odd that de Dijn would cast her intellectual lot with the Jacksonians, the arch-defenders of slavery and Manifest Destiny, against the more modest claims of the Whigs. It is the inheritors of the Jacksonian mantle who would either become "positive good" defenders of slavery or, like Stephen Douglas, defend the people's right to pass laws legalizing slavery.
Indeed, the conflict between Lincoln and Douglas highlights the shortcomings of de Dijn's paradigm. It was Douglas who defended democracy. If the people wanted slavery, they should have it. If not, that was fine, too. Popular sovereignty should rule. It was Lincoln who proclaimed a natural rights theory that put limits on democratic action, going so far as to say, in the 1858 debate at Alton that the people have no right to do a wrong. Lincoln consistently argued that both rule of law and natural rights put rightful limits on democratic rule. But to de Dijn, these qualifications on popular rule render someone like Lincoln suspect. Perhaps recognizing that attacking Abraham Lincoln in a book defending freedom is not a keen rhetorical strategy, she chooses silence.
On the whole, then, Freedom: An Unruly History is an elegant but misguided project. This is a shame because de Dijn's concerns are valid and pertinent to current debates about democracy. To what extent should we emphasize rights and procedures? When do commitments to procedures and rights unjustly limit democratic majorities? What is the difference between a democratic majority and a mob? Recall Madison's famous dictum: "Had every Athenian been a Socrates; every Athenian assembly would still have been a mob."
We recognize that we need to channel popular opinion through institutions and procedures to make sure that what we decide is the deliberate sense of the people, not simply some passing whim. But when do commitments to institutions stifle needed reform? De Dijn too casually dismisses concerns over majority tyranny, but no one with a passing knowledge of the history of race in America, for example, can doubt that such concerns are legitimate. Further, surely claims regarding rule of law and order can be used to crush democratic aspirations. So too can claims of speaking for the people be abused, whether by such obscenities as "The People's Republic of China" and "The Democratic People's Republic of Korea" or the demagoguery of a Huey Long or Donald Trump. Simply observe the concern in recent years over rising populism to see that there is no easy, unproblematic defense of democracy.
There is a real tension between order and democracy, one that de Dijn elides. Perhaps this explains why she has almost nothing to say about democratic statesmanship. One notes that the great modern statesmen, such as Washington, Lincoln, Churchill, and de Gaulle all go essentially unmentioned. At the heart of democratic statesmanship are the virtues of prudence and moderation. Moderation, in that the statesman must balance many competing goods, of which democratic consent is but one, and prudence in that the statesman must resolve these opposing claims within practical circumstances.
Those concerned with the hopes and fears of democratic government will learn much from Annelien de Dijn's Freedom: An Unruly History, but perhaps more from the questions it raises than the answers it gives.
Jon D. Schaff of Professor of Political Science at Northern State University in Aberdeen, South Dakota. He's the author of Abraham Lincoln's Statesmanship and the Limits of Liberal Democracy and co-author of Age of Anxiety: Meaning, Identity, and Politics in 21st Century Film and Literature.