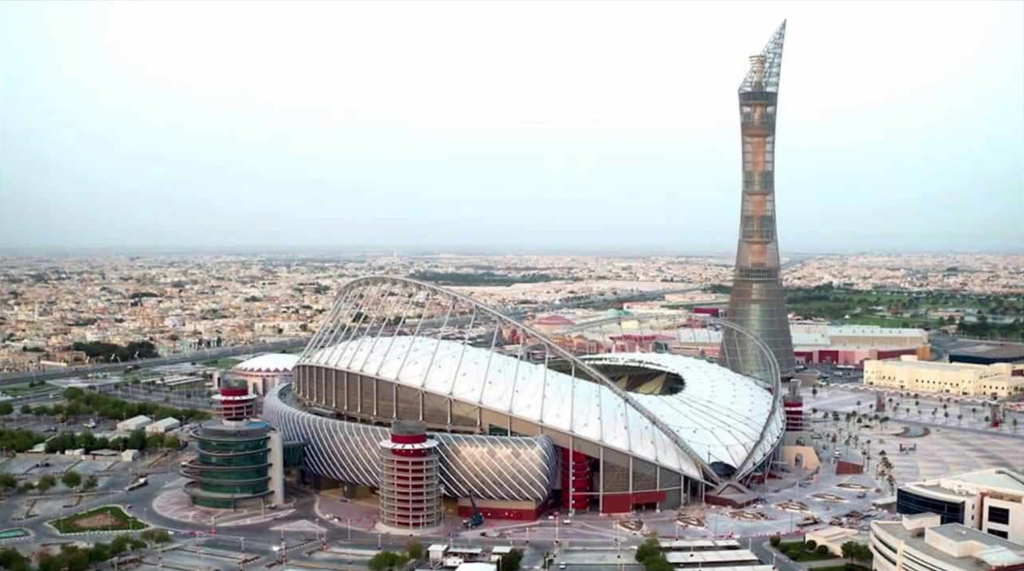 To see our global moment, we need look no further than the Qatari pitch
After three years of captivity to a virus's fever, it's a sanctifying relief to see the world in the grip of a fever of another kind. Fans are chanting and singing and screaming. Players are sweating and sprinting and grunting. The ball rolls on. When it finally stops, tears flow, pain softened and jubilation heightened in parting hugs. This is what tens of millions have come to know as the World Cup, now ninety-two years old.
The virus rolls on, too. But just where it's rolling is harder to detect. Panic roiled Brazil, the top-ranked team going into the Cup, when after its second game one of its players let slip that Neymar, Brazil's notorious superstar, was suffering "a touch of fever." Could it be, might it be . . .COVID? Podcasters and journalists dared to utter the word, while rumors of "flu-like symptoms" among the players circulated. But have no fear: Where there is no testing, there is no Covid. And there's definitely not much testing going on in those quarters.
What is going on is as vivid a display of our collective moment as one could ask for—globalization in a grain of Qatari sand. Of the thirty-two teams that survived the elimination rounds, only two—Qatar and Saudi Arabia—feature players exclusively from their own domestic leagues. Of Brazil's roster of twenty-six, just three play for Brazilian clubs; the rest, with one exception, play throughout Europe. The high quality of play at the Cup reflects an increasingly homogenized form of the game: inflected by regional styles but Euro-centered and shaped. England's mighty Arsenal Football Club plucked one of Brazil's young strikers out of São Paulo at age eighteen, when he was playing for a team in Brazil's fourth division. That's what we call scouting. There are other names for it.
We've seen this movie before, this hunt through the backlands for gold. Still, each of global capitalism's succeeding eras brings surprises. In 1981 I witnessed something nearly impossible to imagine today, at least in the world of international soccer. Fourteen years old, I was living in Brazil, where the anticipation for the 1982 Cup was already at fever pitch. A fabled generation of Brazilian players had arisen, and that May they traveled to Europe for friendly matches—amistosos—against West Germany, England, and France: powerhouses all. Brazil's national team, its seleção, had not played a European team since 1978. All its members were on Brazilian clubs. The result of the tour was stunning: not for Brazil's three victories so much as for the revelation of an elevated style of play that came to be celebrated around the world as futebol arte, the next instantiation of Brazil's jogo bonito, "the beautiful game." As my brother put it, it was as if a new technology kept under wraps in some other land had been unveiled.
No, we won't see that movie again. (Or rather, we'll only see it in the movies.) Finally, the proportions of a "global village" are coming into view. In this Cup two brothers play for different countries. The father of the player who scored the U.S.'s first goal in the Cup is the president of Liberia. The newly fashionable G.I. haircut that most of the players sport will buzz around the world for the next year or so, as the "mullet" and "faux hawk" did after the World Cup in decades past.
If we are the world, we see ourselves at the World Cup.
It's also where, alas, we also see our common guilt and shame. One of Qatar's officials finally admitted to 400 or 500 deaths while constructing the infrastructure the tournament required; credible outside estimates place it many times higher. But who, finally, is to blame? That an affluent nation ill-equipped to host the world's most beloved sporting event saw fit to preside over the maltreatment and death of thousands of migrant workers is certainly a world-class scandal. But these scandalous conditions were in fact underwritten by the sport's governing body, FIFA, an organization so corrupt that the Brazilian scholars with whom I was working in 2015—no admirers of strong-armed American internationalism—erupted with spontaneous whoops when the news broke that the FBI was indicting more than a dozen FIFA officials on corruption charges.
But FIFA is us, too. No? We could shut it down. We could change the channel, withhold our dollars, mount a campaign, wage war. We do not. Instead, we watch. As consumers will.
Across the peninsula from Qatar, a couple thousand kilometers to the northwest, the COP27 climate conference took place in Sharm el-Sheikh, Egypt, in the weeks before the Cup—another meeting of the world on sand. Here there were no elimination rounds: 196 nations showed up.
Promises were made: The participants agreed to set up a fund to aid peoples suffering the ravages of rich nations' unaccountable ways.
Promises were not made: no vows to turn away from fossil fuels, for instance. Some African nations, in fact, pushed for their right to develop as natural gas suppliers.
The muted lingua franca of diplomats gives some indication of the conference's net results. "It is more than frustrating," said German Foreign Minister Annalena Baerbock, "to see overdue steps on mitigation and the phase-out of fossil energies being stonewalled by a number of large emitters and oil producers." The less muted lingua franca of activists tells us more. "We have brought with us a campaign called 'Payment Overdue,'" said ten-year-old Nakeeyat Dramani Sam, an ambassador to the conference from the Climate Vulnerable Forum, in a November 18 statement. "I'm sure you already know about this. Yes, you are very smart. Because some of the communities in my country Ghana are paying heavy prices since our planet was lit on fire by some people. This puts a simple question on the table of these fire-starters: When can you pay us back? Because Payment is overdue" (emphasis in the original).
Yes, it is. But such payment will require a global matrix of justice, or at least mercy, and we know this movie well enough to doubt the possibility of both. As the neoliberal order creaks and quakes, battered by protest and shaken by failure, we find ourselves face-to-face with haunting questions: What lies beneath? What comes next?
After Brazil's tumultuous October election, in which the once-disgraced former president Luiz Inácio Lula da Silva defeated the democracy-denying incumbent Jair Bolsonaro, the reporter Ariel Palacios issued a breathless description of the "ideological cartography" of Latin American nations. "It's not just 'the left' and 'the right,'" anymore, he warned. While Chile's new government fits the contemporary American progressive profile, the "progressive left" in Colombia, which has recently assumed power, is against abortion. Mexico, meanwhile, is led by Andrés Manuel López Obrador, whom Palacios calls a "conservative progressive": a liberal regarding abortion who nonetheless opposes feminism, gay marriage, and environmentalism. (For their part, the nation's evangélicos mainly threw their support behind him.) Peru's president (er, make that, as of December 7, former president), while a Marxist, is also "fervently Catholic," and stridently opposes abortion, gay marriage, and instruction regarding gender in school. Bolivia's current government is led by socialists of the same stripe. And this isn't even to mention the "conservative dictatorships" of Venezuela and Nicaragua—or the other "colossal nuances" of ideologies, as Palacios puts it, that pulse through the hemisphere
What is going on—here, there, and everywhere?
The ideological vectors that emerged across Christendom as we turned toward liberal democracy two centuries ago have lost cogency and coherence, a sure sign of deep cultural—yea, civilizational—shifts. Left? Right? What do they mean today? Are they equal to the challenges we face?
We have good reason to doubt they are. We know the way we build stadiums. We know the way we light fires. These are not local problems. These are global patterns. We need new vision. We need truer union.
As we seek pathways forward, it's well to remember that sand is no place to erect an enduring edifice, whatever the powers that try to do so may think. Fortunately, an earth with plenty of rock remains—along with its people and their crazy games. That's something to celebrate. And to build upon.
Eric Miller is Professor of History and the Humanities at Geneva College, where he directs the honors program. His books include Hope in a Scattering Time: A Life of Christopher Lasch, and Brazilian Evangelicalism in the Twenty-First Century: An Inside and Outside Look (co-edited with Ronald J. Morgan). He is the Editor of Current.