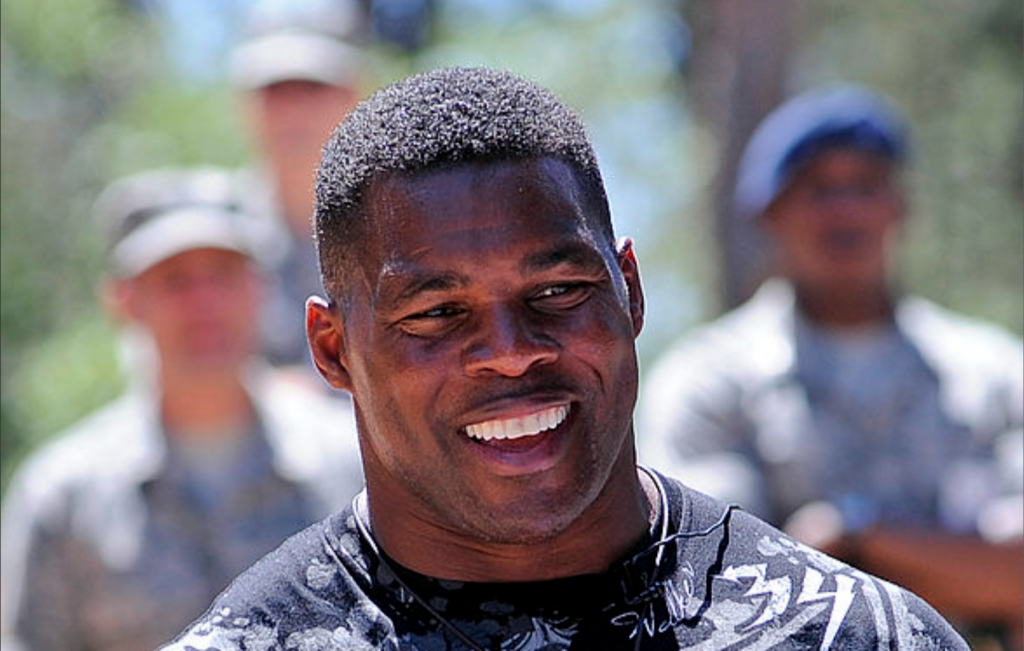 Running to resign may be his best move—and Team GOP's best move, too
On election night all but one of the Republican candidates for statewide office in Georgia won outright, clearing the 50% threshold needed to avoid a runoff. The one is significant. While Herschel Walker's fumble will not put control of the United States Senate into the hands of Peach State voters (again), that does not make the December 6 runoff meaningless. Much remains at stake.
Walker's legacy in the NFL centers on a trade. The Dallas Cowboys set the stage for their Super Bowl winning teams of the 1990s by swapping the running back for numerous draft picks from the Minnesota Vikings. Walker approved that trade in 1989. Doing something similar today could become Walker's lasting political legacy, and prove a boon to his soul and family life.
Walker ran a troubled campaign. It followed a troubled life. He has fathered multiple children with multiple women, and during the Senate race two women alleged that he encouraged and paid for their abortions. The second woman spoke to the camera with attorney Gloria Allred by her side. The first, whom Walker later acknowledged was the mother of one of his children, provided a receipt for the 2009 abortion, a contemporaneous check to her from Walker, and a "get well" card in his handwriting. She said that during a second pregnancy Walker suggested abortion again, but she refused and had the child.
Another of Walker's children, son Christian Walker, took to social media between the two abortion revelations to declare himself "done" with his father's pattern of lies and neglect. Christian—a Trump-supporting conservative political activist—described his father as a sexually promiscuous and violent man who has been largely absent from his children's lives. Christian also called out the "family values people" who are supporting his flawed father's candidacy.
As the saying goes, it is never too late to do the right thing. But doing the right thing here is complicated for those like me who want to see the unborn protected by law. Despite his checkered past, Walker has pledged to be a pro-life vote while his opponent, the liberal Senator Raphael Warnock, is staunchly pro-abortion (refusing, in his sole debate with Walker, to support any restriction on abortion). Sending Walker to the Senate looks hypocritical, but sending Warnock is clearly counterproductive.
Walker's response to the controversies included a television ad in which he said he was "saved by grace." Yet Walker's talk of redemption on the campaign trail has seemingly come without the crucial step of repentance, as a writer at Christianity Today has highlighted. Rather than going to D.C., perhaps Walker should be going to the office of a Christian counselor.
Walker could give himself and the pro-life voters of Georgia some relief by pledging to resign if elected in the runoff. Governor Brian Kemp soundly defeated his opponent Stacey Abrams on November 8 and would appoint Walker's successor after a resignation.
Following the release of the infamous Access Hollywood recording of Donald Trump, an opinion piece in the Wall Street Journal unsuccessfully floated a similar run-to-resign strategy. Notably, Trump was not running in 2016 as a redeemed Christian. Walker is. Sacrificing a chance to be a senator to protect one's family and faith from ridicule would be unselfish, but Christians are called to live out such values. As the Apostle Paul told the Philippians, "Do nothing from rivalry or conceit, but in humility count others more significant than yourselves. Let each of you look not only to his own interests, but also to the interests of others." Further, a Christian should prayerfully consider whether he should be taking public office while failing to meet Paul's requirements for church leaders, including that one "must manage his own household well."
Georgia pro-lifers need only look west to neighboring Alabama to see the risks. Judge Roy Moore lost a special election to Doug Jones in December 2017 after multiple women alleged that Moore acted inappropriately with them when they were teenagers. In 2017, Republican Senate Leader Mitch McConnell famously said, "I believe the women." Today, McConnell is saying nothing.
Pledging to resign would give pro-life voters and GOP leaders a pathway to the policies they favor with far fewer corrosive effects. Following a season demonstrating—as the Book of Common Prayer puts it—"true repentance" and "amendment of life," perhaps Walker can then enter public service afresh. Even if not, allowing himself to be part of a major trade could again make history.
John Murdock is an attorney who writes from Boise. His online home is johnmurdock.org and he hosts the Brass Spittoon podcast at FrontPorchRepublic.com.