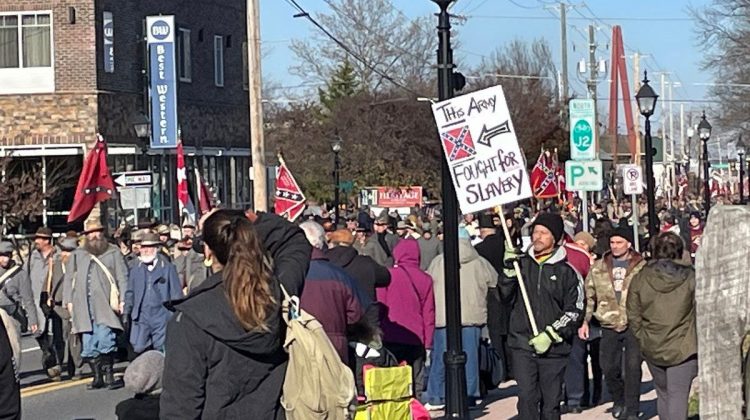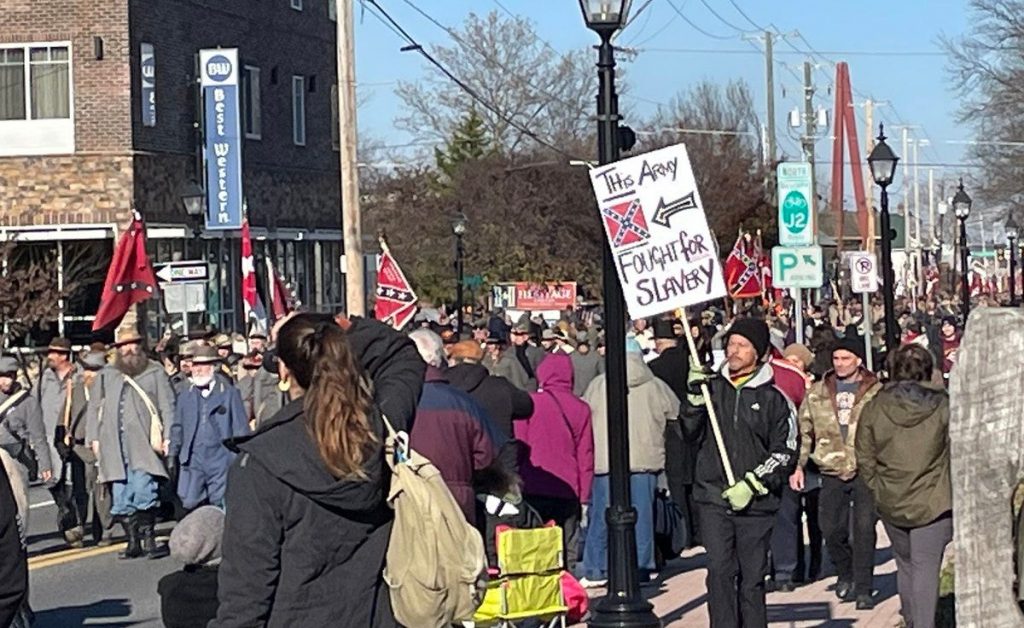 I was going to take some students in my Civil War America course to Gettysburg this weekend. They were excited about going to the cemetery and reading the Gettysburg Address on November 19, the day it was delivered by Lincoln in 1863. Sadly the busyness of the semester intervened so we had to change the date. And then it rained on our new date. We will try to get to the battlefield next semester.
When I asked my park ranger friend about November 19 he told me that it would be quite busy that day at the park–Remembrance Day.
And that is enough context for historian Kevin Levin's recent piece at his Substack. Here is a taste:
Every year Confederate reenactors are invited to march alongside United States soldiers in Gettyburg's Remembrance Day Parade, which commemorates Lincoln's famous address.
That's right. On the same day that the community gathers to reflect on Lincoln's words, Confederate flags are marched through the streets.
Over the past few years, Gettysburg College historian Scott Hancock has taken the initiative to remind his neighbors of their complicity in this sad spectacle.
Few people know that Lee's army included thousands of enslaved men and that it functioned as a slave catching army throughout the war.
Remembrance Day commemorations began in 1957 and within a few years Confederate reenactors were invited to take part in the parade. Their inclusion dovetailed with the beginning of the Civil War Centennial and its emphasis on the theme of reunion that was embraced by most white Americans, before calls for civil rights reminded the nation of its "unfinished work."
Throughout this time, according to historian Jill Titus, Black Gettysburgians experienced discrimination and segregation on a daily basis. African Americans in Gettysburg and on a national stage called out the hypocrisy of the centennial celebrations as a betrayal of what the nation fought for and the role that Black soldiers played in helping to save the nation and end slavery.
This history's absence from our collective memory of the war is compounded by the culture of the town. There is no shortage of Confederate flags and other Lost Cause-inspired gifts in the shops that line Steinwehr Avenue and the Baltimore Pike.
A first-time visitor to Gettysburg with no knowledge of the Civil War might be excused for not knowing who won the battle or the war for that matter.
Read the entire piece here.
And if you want to know more about the work of Gettysburg professors Scott Hancock and Jill Titus please listen to our interviews with them at The Way of Improvement Leads Home Podcast. We discussed America's history of systemic racism with Hancock in Episode 70. And we talked to Titus about her book on Gettysburg and civil rights in Episode 94.
I also encourage you to watch Hancock deal with states rights advocates at the Robert E. Lee monument: