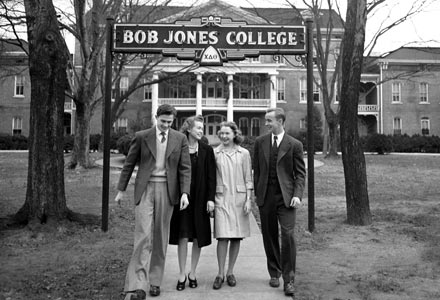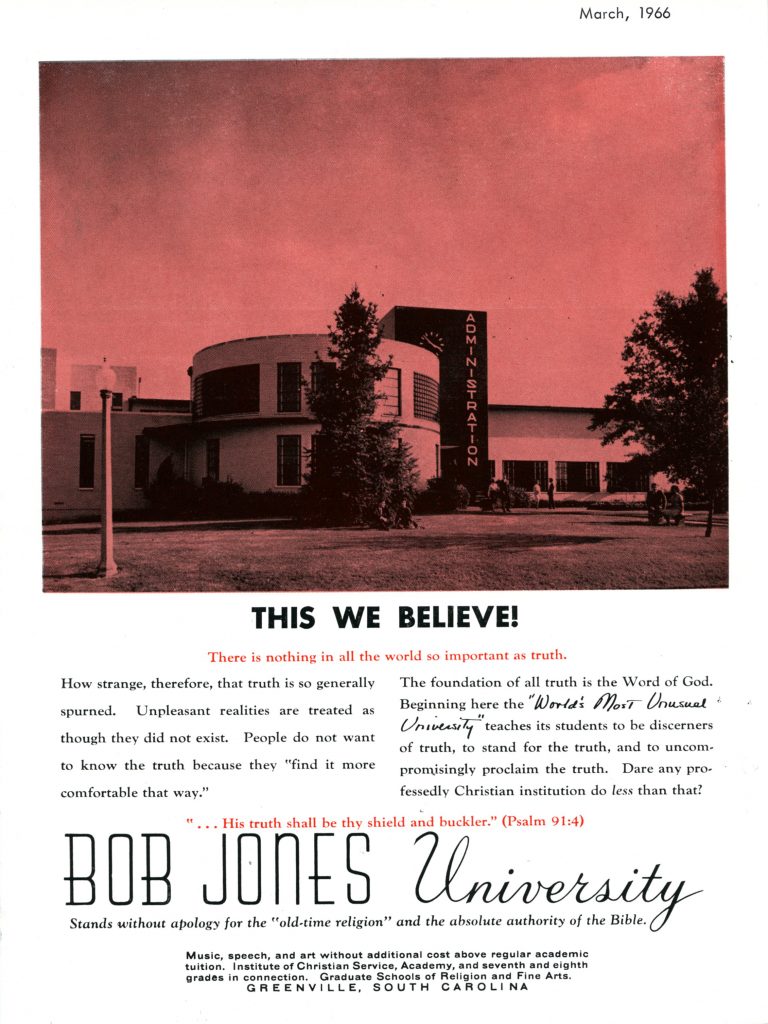 If you aren't familiar with this story yet, get up to speed here.
John Ellis, a former Bob Jones University student who blogs at "Practically Known Theology," has more. Here is a taste of his post, "The (Possible) Slow, Strange, Suicide of Bob Jones University":
From all accounts, BJU's Board of Trustees is preparing to dismiss the university's current president and CEO Steve Pettit, if not simply fail to renew his contract. This is the type of thing where caution is often advised because the epistemic waters can be murkier than realized. Except, in this case, I have spoken to or texted with several people who are intimately connected, in various ways, to BJU and the situation. I have also read online reports by conservative voices whom I know to be sober-minded and not prone to knee-jerk hyperbole. Many of these voices have direct access to the board and the university's administration. And they all agree: A minority of the board members, supported and prodded by long-standing supporters and players at BJU who are unhappy with what they see as a liberal drift in the university's standards and mission, want Steve Pettit out.
And this:
Important for this article, at that time, in the 80s and 90s, a large system of feeder churches and schools for BJU existed. Across the country, especially in the Midwest and the South, institutions that looked to Greenville, SC, for direction funneled teenagers to the epicenter of their version of fundamentalism. That version doesn't really exist anymore. Now, most people who claim the title of a Christian fundamentalist are staunchly KJV-only, anti-Calvinist, and even more entrenched in the lust for secondary separation than past generations. Self-described fundamentalists in 2022 loath BJU. Even apart from Steve Pettit, the fact that the school is not KJV-only, allowed girls to wear pants while playing sports ever since its founding, as best I can tell, and has tolerated Calvinist-leaning professors in the seminary for generations are enough to earn BJU the status of anathema. This isn't new. That fundamentalist camp has existed for decades. They've always been suspicious of Bob Jones, and some have always gone so far as declaring the school apostate. What's new is that it's the only fundamentalist camp of any size anymore.
If you're not KJV-only, don't think it's a sin for women to wear pants, and occasionally go to the movie theatre to see the latest Kendrick brother's release, well, you probably also listen to the Getty's and describe yourself as a conservative evangelical. And that's the space BJU exists in, and it's the space BJU has existed in really going back to Stephen Jones' tenure as university president. This is the reason why the school was hemorrhaging students prior to Pettit's arrival. Their "consumer base" had shifted and the school hadn't caught up yet. It has now, thanks in large part to Steve Pettit and many of those who serve under him, including many of my faculty friends.
If the board moves BJU back in time to some desired halcyon days, their current "customer" base will disappear. And unless the board is willing to adopt positions that Bob Jones Jr. would be livid over, the university will never placate the larger group of self-called fundamentalists. The student pipeline will quickly dry up. Current students will transfer en masse. No doubt, faculty members are already updating their CV. It may take a few years, but BJU will not be able to sustain itself for long.
So, why would the board do this? I mean, I've not uncovered some grand secret about the changing landscape of fundamentalism. No doubt, the board is painfully aware of the consequences of removing Steve Pettit. At this point, I can only speculate about their motives. If you want to know my complete thoughts, reach out. I'm more willing to share my thoughts in private than to speculate in depth about others' motives in public. Besides, it's largely irrelevant. I will add, for the sake of readers who have little knowledge of BJU, that every year at graduation, the seniors promise to come back and shut the school down if it drifts into liberalism and compromise. From its very start, BJU had a sort-of poison pill mentality built into it. And I'll say this, my only public speculation, I believe that there are members of the board and in related institutions/organizations (like the FBFI) who have concluded that their only option is to kill off BJU while they still can.
Read the entire piece here.