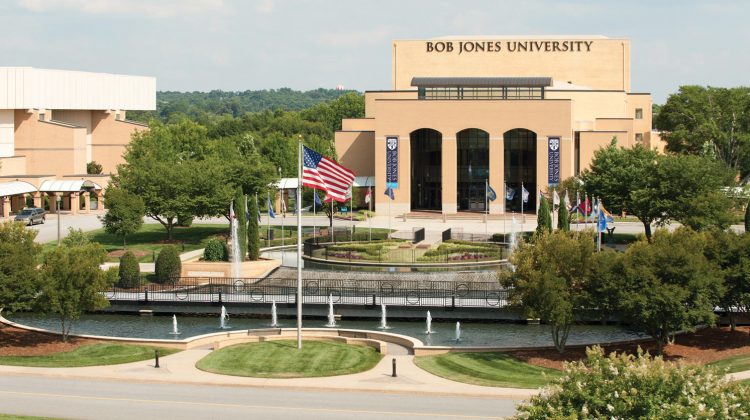 According to reporter Steve Rabey, the Bob Jones University may be facing an old school fundamentalist revolt. The board of the university may remove president Steve Pettit for allowing the wrong kind of worship music in chapel, letting female athletes wear "immodest clothing," participating in a bluegrass music band, and firing conservative professors.
Under Pettit's leadership, the school regained its federal-tax exempt status and earned accreditation. As an outsider observer, it is apparent that Pettit is trying to bring Bob Jones University into the 21st century. (Or maybe the 20th!).
Here is Rabey:
Christian institutions face a never-ending challenge: Which cultural changes should we embrace as we prepare for the future? The challenge is starker at Bob Jones University, the bastion of American fundamentalism for nearly a century.
Disagreements over changes made at the school during the eight-year tenure of Steve Pettit, the school's fifth president and first from outside the Jones family, broke out following an October 4 board meeting in which some board members said they would let Pettit go rather than renew his current contract.
That decision has now been delayed until Nov. 17. Pettit's current contract ends at the end of the 2022-23 academic year, on May 5, 2023.
The opposition to Pettit has nothing to do with morality or doctrine, but with "preferences of Christian practice," according to one alumnus.
The alumnus, who talked to board members, said Pettit had been criticized for the style of worship music played at student chapel services, "immodest clothing" worn by female athletes, questionable performances and musical selections from the fine arts program, and even Pettit's participation in a bluegrass music band.
Some board members have also blamed Pettit for firing some of the school's most conservative professors during a time of budget cuts. But defenders say that decisions about which professors to release were made by college deans and leaders, not Pettit.
Jones III, who served as the school's president from 1971 to 2005, wrote an open letter defending Pettit's critics. "Your concerns for the future of the University are not unwarranted," he wrote:
"Over the last year some embarrassing, antithetical things, historically uncharacteristic things, which would have never happened in the past have occurred. From all over the country the Board received pleas from graduates, and others, to look into these matters fearing that the University had veered in its direction, and unique distinctives without which it would become irrelevant. Naturally, the Board was obligated, by reason of its existence, to step in."
Jones called the board "the protector of the institution's character" and said it would work to seek "the root cause from which the declensions of the last year have emanated and firmness to do whatever is necessary, however painful, to stop the hemorrhage."
A petition titled "Support Dr. Steve Pettit" is circulating. As I write it has 6,844 signatures. The petition reads: "Our president is under evaluation for a renewal of his contract in the coming months. It is vital for the student body, faculty, and any others to show their support for Dr. Steve Pettit."
Here are some of the comments on the petition:
–Being almost forced to attend BJU in 2016, I imagined I was going to a BJU very similar to the one my parents attended in the 1980s – emphasising desired Christian lifestyle out-workings above nearly everything else. I anticipated gritting my teeth and "doing my time". While there, I slowly realized that, rather than being taught a listing of "standards", I was actually being taught about God and His Word foremost, with an emphasis on how a Christian worldview naturally affects my life (along with my academics, of course). This much deeper approach gave me a burning desire to know more about how the Bible beautifully guides us applies to daily living and philosophies of life. The increasing freedom I sensed in the faculty to discuss difficult issues and allow me to challenge ideas is what I loved most about my time there as a student. I grew so much during that time and started reading my Bible like never before. I've been surprised to find I'm proud of BJU and have recommended it to many teens as a place to get an excellent education while simultaneously grounding their faith in Christ. If BJU chooses to let Dr. Pettit go and reverts to focusing on externals, I won't be able to recommend BJU anymore.
–I graduated from BJU in 1981, married an alumnus and taught at BJA for 4 years, earning an M Ed there during that time. We sent all 3 of our children there, the last one graduating in '21. While I will always be grateful for the rock solid education and strong Christian impact it had on our lives, I strongly believe that God used Steve Petitt to save BJU from perhaps having to close its doors as other Christian colleges have been forced to do in the recent past. I have wondered if perhaps Stephen Jones' illness was an act of God to bring a man of GOD's choosing to the helm of BJU at a critical time. While I will forever be thankful for the role the BJU of the 70's/80's played in my life, I can say this about the BJU since Steve Petitt became president: the atmosphere is still one of unwavering fidelity to scriptural truth and authority, but now it seems the policies are more centered in what is best for the students it serves rather than just on what it deems best for the university. There is now compassion that was at times missing in my day when punishments (albeit necessary) were sometimes excessively harsh. In my day, BJU preached strongly against compromise. It may be that whoever is disenchanted with the state of affairs at BJU considers changes under Steve Petitt to be "compromise." Change is not inherently good or bad. The BJU of my era had undergone many changes from the Bob Jones College that began 50 years prior. Praying for wisdom and grace for all in the days ahead.
–I was a student during the transition years of Stephen Jones and Steve Pettit. I transferred in thinking I was gonna keep my head down, get my degree, and get out. In my first year I was able to experience what many would consider the traditional BJU structure but by year two Steve Pettit was onbaorded and began to transition our school to focus on discipling the students and on the status of our hearts and walk with the Lord rather than simply the appearance of such things. To watch an administration stop and train leadership (from the top down) to help the student body live as authentic Christians changed me. If they could admit and implement change was necessary in a school-wide scenario then I could admit that and implement it in my own life. I knew immediately this was leadership I wanted to learn and serve under. Not only did this new approach allow so many amazing mentors to pour into and edify me, but it allowed me to grow, edify, and pour into so many others. That is the most significant thing that came out of my time there and I wholeheartedly believe it came from God-given wisdom to Dr. Steve Pettit.
–Signing this petition is probably the first thing I've done In support of my alma mater since graduating in the late 90s. When I left, I had doubts about my faith and had little interest in it. I did not enter BJU with these doubts. In my first job after BJU in government, I was surrounded by colleagues from top schools and over time, I realized my education was seriously lacking. I was never taught to think, to debate, or defend my positions. Growing up in fundamental schools and then attending BJU, I realized I was ignorant in American government history and processes. I began reading and studying to get caught up, all the while becoming frustrated that so much emphasis in my college years was spent on rules such as walking on the grass instead of preparing me spiritually and educationally for the world. In short, I was unprepared and I vowed never to support BJU. However, a few years ago I noticed things began to change. Students seemed to be happier and have a confidence in their faith. The opportunities for educational and spiritual growth seemed to increase. I watched with cautious optimism, and now today, I realize that caution was wise. I'm shocked that some on the board want to take the University back. Students and parents should pay careful attention to these board members. BJU in recent years, has been on a course to correct past wrongs and focus on the gospel. Because the reputation is so poor and so much hurt has been done, it will probably take a generation to repair. However, the school is well on its way. The world is in desperate need of spiritually strong, loving, and well trained Christian young people, it's imperative that Steve Pettit and the changes he has directed at BJU be allowed to continue. There is an amazing role BJU can have in influencing the world for Christ. In my opinion, this will not happen if we turn back the clock. The legacy of the past teaches us that. BJU requires leadership that clearly understands the world our young people are entering. Past leadership did not understand this. Steve Pettit understands Christian students need an excellent education and a spiritual foundation to enter a world that will increasingly oppose them but needs the gospel message BJU students can boldly share.
–I predict a second exodus if Dr. Pettit's contract is not renewed.
–I'm an alumnus and I would never recommend anyone go to BJU… until Pettit started implementing reforms. Now, I'm proud that my daughter chose to go to BJU. I'm currently considering enrolling my 2 younger children in BJ Academy, but if Pettit is removed, I will look at other private school options.
–Dr. Pettit has been the best thing to ever happen at Bob Jones. If Dr. P is out, and a Jones-like president is appointed, the school will ultimately close.
—I am a 2002 graduate of BJU, and I only wish I could have been there under Steve Pettit. While I received a good education, I can't say the same in the area of spiritual discipleship. I have been mostly removed both by distance and largely by choice of most association with the university since then, watching quietly from a distance. It's hard to not want to support or even identify with your alma mater because you know the reaction that often comes with that admission, and while sometimes exacerbated or one-sided, is largely deserved due to the former structure and heart (or should I say lack thereof) of the institution. What I do know is the testimony of those that have been there under Steve Pettit's leadership and the huge (good) difference I have seen in that progression. I have not once been concerned that the university is straying from true Biblical foundations. The further it "strays" from man-made law and coercion the better. The latter, I suspect is why Dr. Pettit's leadership is coming under fire. I have a senior in high school with several more to follow. She visited BJU last year with a group, and I told her I couldn't have recommended it 15 years ago, but I think that I could now. I will have to rescind that recommendation if Dr. Pettit is ousted. If the old boys network is still that strong there, then I don't think I could trust it to continue on a discipleship model rather than revert to a legalistic course. If they would rather see it close than support their agenda, then I can equally say that I would rather see it close than regress to it's former state. I'm not entirely surprised this is happening as satan is never happy when people are truly growing in true Biblical grace and knowledge, and it is evident that is what is truly happening under his leadership. I can't see the devil passing up an opportunity to take advantage of man's prideful tendency to cling to the law instead of grace. I hope and pray that BJU stays the course, and that one day I can confidently say that it can be trusted to follow God rather than man.
–As a 2017 grad, I was there when Dr. Pettit helped make some phenomenal changes to the school to focus less on fundamentalism and focus more on the relationship with Christ and loving God and others. The resultant effects on the student body, faculty, staff, and countless others is a true testament to godly leadership.
This already is a huge blow to the school, and if this continues, I do not see this school lasting long. If people on the board "would rather see the school close then become liberal," congratulations. You may very well get your wish. Finally, consider that the "world" you so desperately speak evil of is watching and further laughing and mocking Christianity.