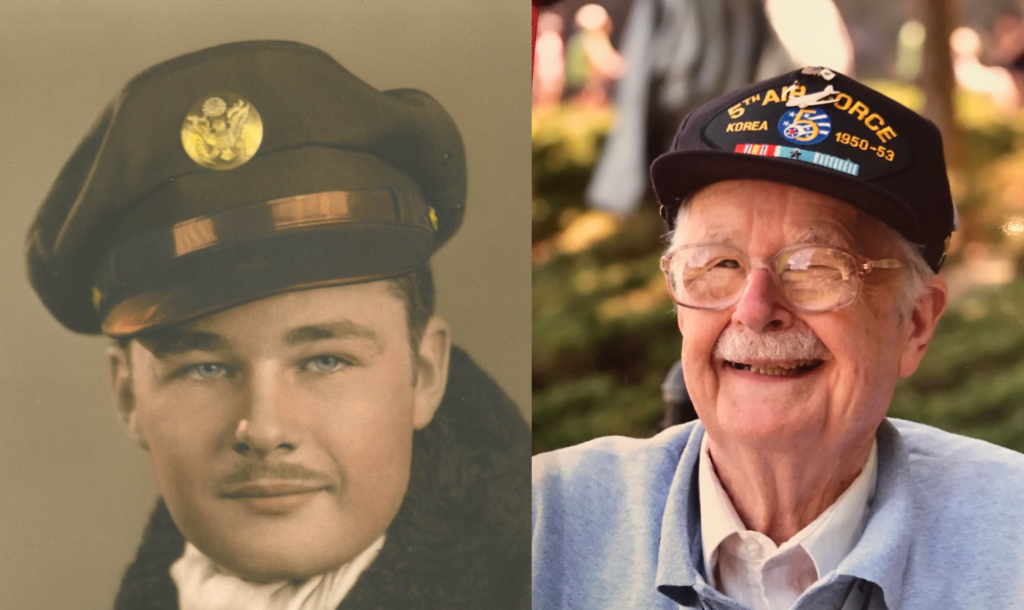 An Honor Flight gives an Airman First Class the first-class treatment
The last time my father ever traveled by air was on August 10, 2016. It was an Honor Flight. These trips are made possible by a range of non-profit organizations under the umbrella of the Honor Flight Network. They raise the money and make all the arrangements so that groups of veterans can fly to Washington DC and see the war memorials.
As a teenager, Dad had struggled with mental health issues. He was institutionalized. He was given electric shock treatment. I can't say I would recommend it, son. He dropped out of high school.
As soon as he turned seventeen he joined the Air Force. He fought in the Korean War. Who won that war, Dad? I suppose you would say it was kind of a draw. The military, he testified gratefully, got his life back on an even keel. Still, he did not exactly have what is called "a good war." He was bombed into shellshock. He was hospitalized. He temporarily went blind. They didn't give out Purple Hearts for shellshock back then, but they say I could apply now and they would send me one.
Early in my childhood, he bought an RV. He drove our family across America in search of old battlefields. We would stop and meditate on how many lives were lost and what it must have been like to have been in the thick of it. At night, he would play a guitar and sing to us the songs of wars long past: When this cruel war is over. We took America's highways north, south, east, and west. Throughout my childhood he never wanted to get into an airplane.
Sometime during the Ford administration, he took us to Washington DC. The Korean War had come to its stalemate end around a quarter of a century earlier, but there was still no monument. They call it the forgotten war. I did not return to DC until 2006. I was there for a conference with a full schedule, but I snuck away to see the Korean War Veterans Memorial. I was mesmerized by the field of ghostly soldiers out on a patrol, neither heroic-looking in dress uniforms nor heroic-looking in death, but simply ordinary young men in the grind of a day's work. I told Dad he had to go see it, and he agreed with me.
Other parts of his identity—especially being a church member—seemed more central for most of his life. Once he reached his eighties, however, Dad's status as a veteran came more to the fore. He would often wear a hat that commemorated his military service. He took pride in the fact that he could be treated in a VA hospital and buried in a national cemetery. He was pleased to receive from the Republic of Korea the Ambassador for Peace medal. They say the Korean government would arrange for me to go back to visit for free.
He didn't follow up on either the Purple Heart or the trip to Korea, but the buzz among fellow veterans about Honor Flights was so strong that he did put his name down for that. Earl Morse first began to arrange these visits to the capital's war memorials because veterans always told him they wanted to go but never seemed to get around to doing it. That was Dad all over. His was a generation that thought in terms of service, and I suspect prioritizing such a trip would have felt self-indulgent to him. He and Mom spent their vacations visiting relations or friends, especially those in need of a bit of support. The older they got, the more their trips (always by car) would double as a wellness check.
His turn for an Honor Flight came up two years after he had put his name on the list. A devout Christian, he saw this timing as providential. Along with including a donation, here is what he wrote in a thank-you letter to his Honor Flight Ambassador: I am even more grateful for having had this wonderful day because within weeks of my honor flight, I was diagnosed with cancer that had already spread extensively. I am now receiving hospice care and am confined to a hospital bed. If I had not flown when I did, I would not have been able to participate in the program. Fortunately, I am able to live at home, am now relatively pain free, and my mind is sharp and able to relive my memories of the honor flight. If you are ever near Elwood, Illinois, you can stop by Abraham Lincoln National Cemetery and look up the grave of Kenneth Warren Larsen, Airman First Class.
Honor Flights include a tradition of "mail call." Secretly, friends, relations, and officials are approached and asked to write a letter of gratitude to the veteran. They receive them in a bundle on the return flight. Dad's letters included one from Richard J. Durbin, the senior United States Senator for his home state of Illinois. At the airport the veterans are paraded through cheering, sign-waving crowds that have been waiting eagerly for them. So as not to make any distinctions between them based on their level of mobility, all the veterans are put in a wheelchair. Each of them is accompanied by someone currently serving in the military who has volunteered to give their time in this way.
My brother and I found this homecoming parade more poignant than expected. There was a long line of veterans from the same generation as our father, all of them looking so similar in so many ways—a little frail, a little worn out by all that life had brought their way, yet so pleased with the moment. And they were being escorted by military personnel in immaculate uniforms who looked so disconcertingly young. It is their turn to be seventeen.
They also sent Dad a DVD of his trip. He would sit in his adjustable bed watching it with tears moistening his face. It's just that it's so moving. He updated the announcement to be used at his funeral to say that memorial donations could be made not only to his home church but also to Honor Flight Chicago.
Timothy Larsen teaches at Wheaton College and is an Honorary Fellow at Edinburgh University. He is the author of John Stuart Mill: A Secular Life and the editor of The Oxford Handbook of Christmas. He is currently working on a book about military chaplains who served in World War I.