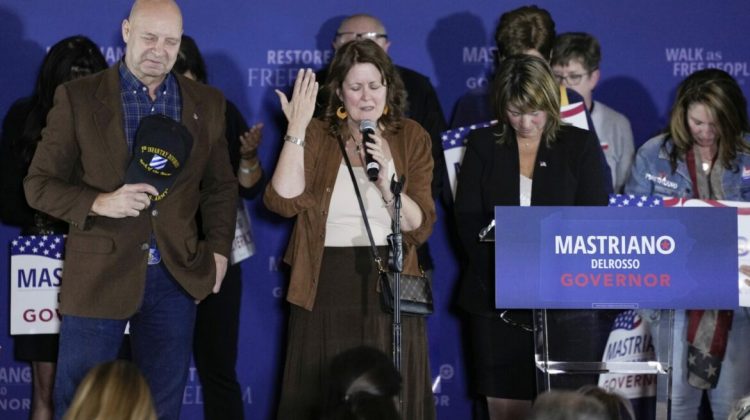 How is Evangelical land responding to the 2022 Midterm Elections?
88% of Georgia evangelicals voted for Herschel Walker.
81% of Wisconsin evangelicals voted for Ron Johnson.
Jim Wallis working as a polling chaplain:
Christianity Today: "Republicans Win on Inflation but Lose on Abortion"
Blast from the past:
Christian nationalism is still very much alive in the GOP.
Weed, student loans, lockdowns, and casinos:
Franklin:
Some pro-lifers are not happy with what happened in this election.
Robert Luna was elected Los Angeles County sheriff. The shofars blew.
Jack Graham congratulates Sarah Huckabee Sanders:
From James Dobson's Facebook page:
Still Counting… The Dr. James Dobson Family Institute is following the election results very carefully. While we are non-partisan, we know that elected officials at all levels of government have tremendous power and can impact our parental rights, religious liberty, the sanctity of life, marriage, family and much more. While votes are still being counted, as of now (Wednesday, November 9), it appears when all the races are decided, the House of Representatives will go from a slim Democrat majority to an equally slim Republican majority. The United States Senate still has three races where a winner has not been determined. One of those races, in Georgia, is headed for a run-off on December 6. It is thus possible we won't know who has a slim majority in the full Senate until then. We want to thank each one of you who took the time to vote and exercise your responsibilities as a Christian citizen. We want to particularly thank pastors who led your congregations on important Bible-based issues being debated in the political process. America needs Christian citizens to step forward if we are going to solve the pressing problems facing our country.
Jack Hibbs calls out his fellow pastors:
Lance Wallnau offers a "prophetic word":
And let's not forget the "blood moon":
Trump's Truth Social claims the former president was prophesied in the Bible. Adam Kinzinger hits back.
Jenna Ellis, in obvious pain after her guy Doug Mastriano got trounced, stirs the election fraud pot:
She's also worried about a shift in the GOP:
Trump evangelical court journalist has it all figured out:
Eric Metaxas complains about the voting procedure in New York and pokes fun at an election official wearing a mask:
What happened last night was a sign of the end times. Tony Perkins talks to a pastor with a Washington praying at Valley Forge picture behind him.
More from Perkins:
Huckabee:
Huck loves his daughter:
Ed Stetzer on voting:
One man's view of the "red wave":
And this:
And this: