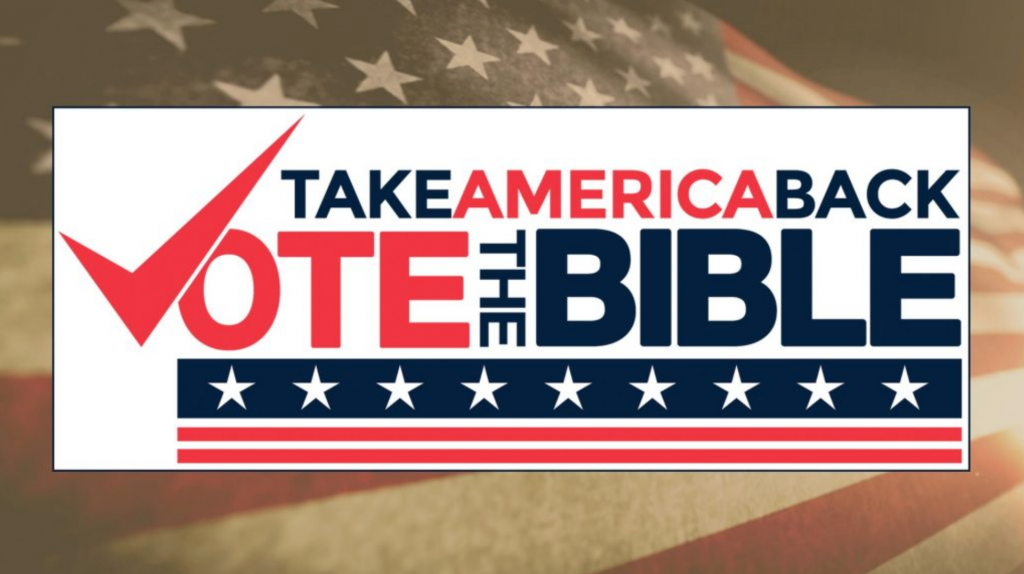 It's a big ask. But it's a big election.
NOTE: This letter is for patriotic Christian Republicans or Republican-leaning voters worried about or cringing over their vote. Others can read it, but it's not for you. This isn't a joke and it's not snark. I'm trying to say what's on my heart. So if you're still reading, and you're a Christian conservative, I'd like three minutes of your time.
Hi.
I'm Adam Jortner. I'm an American. I love being an American. I say the word "golly" unironically and with some passion.
If you are like me, then we need to talk about our republic.
I don't know your name or where you live or how you understand the church and how it should act in the world. But you decided to read this, so I will guess you are like my friend Kevin, a committed, conservative, Bible-believing Christian who was sick to his stomach watching January 6.
I feel like you are caught in an impossible situation. You have strong conservative principles and a love for the republic. The Republican party takes you for granted, while it dallies with election deniers, violent militias, and outright January 6 rioters. Meanwhile, the Democrats seem to expect you to vote for them, just because, but it seems like they never get around to asking you.
Twitter and other cultural touchstones don't ask for your vote either. They might try to cajole, shame, or tease you, but they never actually ask you.
So I will ask you.
Who am I? I'm nobody, just an American who sees fellow Americans—Christian Republicans worried about Trump and Trumpism—in a bad bind.
I know you grimaced as election deniers won Republican primaries and extremists like Marjorie Taylor Green refused to apologize for blaming wildfires on Jewish space lasers. You grieved when Republicans stayed on the sidelines when President Trump refused to return classified information on Iran and China, then complained when the feds seized it.
If you are still reading this, then I'm going to assume that you either did not vote for Trump or that you agonized before voting for him. And maybe you're asking: Why aren't the Democrats trying to get my vote?
The short answer is: I don't know. The long answer is: They are trying, but they are bad at it.
So I am asking you instead. Maybe that's not good enough. But there was a time when an American carried no greater title than citizen, and that's all I am. I am asking you to vote Democratic 2022.
Here is why:
The Republican party has not moved on from January 6. They continue to claim that the election was rigged and that no elections can be fair if they do not win. Tucker Carlson, speaking about Kari Lake (election denier running for Arizona governor), said, "If the election is fair, she will win."
They are not saying only their side will win, or should win. They are saying only they can win. And they have every intention of following that policy in courtrooms and at voting booths this year.
Yes, I know I sound alarmist. But ignoring the alarmists is what got us here. We believed sensible voices when they promised us that Donald Trump would accept the results of the election. And when the Electoral Count was finished in December, we believed them when they said he would come around.
He didn't come around. There was a riot at the Capitol. Rioters defecated in the halls of Congress.
Not every Republican is an authoritarian. But enough Republicans have decided to ally with authoritarians. The people shouting about a stolen election and defending January 6 are part of their coalition. And since the GOP cannot deny or denounce those people, the party itself is implicated in authoritarianism. Though many Republicans are true patriots and love this country, those who are on the ballot this November have made a deal with these folks against democracy, and they intend to see it through.
We can ask why they would make such deal. Perhaps they think they will be the puppeteers? Perhaps they like tax cuts? But the why is irrelevant. The deal's done. The last six years have proved that while not all Republican officials are anti-democratic radicals, it is the radicals who are in charge of the coalition. If they win in 2022, the radicals will rule. Space lasers will not be a joke; it will be a legitimate topic of congressional inquiry.
I know, too, that there are real issues you cannot share with the Democrats. I know you worried when President Biden sat down with trans activist Dylan Mulvaney—among others—for a chat at the White House. It is for many evangelicals an issue of deep moral importance.
Yet I still believe these questions can be worked out in a democracy. It will not be easy, and it will require a lot less sanctimony from everyone involved. (I would glare at lefties at this point, but I told them not to read this.)
But we have to have a functioning democracy first. I believe the threat to our democracy outweighs those concerns, which can be dealt with.
The GOP looked at violence—the breaker of democracies—and they shook their heads. But they went along with it. Some of them really liked it. In the runup to the riot, GOP operative Roger Stone said, "F*** the voting, let's get right to the violence." Already, voters in Arizona have been harassed by armed militants associated with the Oath Keepers—a right-wing group that raided the Capitol in January 6. Paul Pelosi was beaten in his home last week. The FBI in Cincinnati was attacked in August.
The GOP is standing by as some of their supporters use violence against Americans—and some is too many. Once some people use violence against elections, then there is no democracy. Even if you prefer the Republican platform as it was in 2014 or 2018, that is not what you will get. You will get January 6.
I know that you feel that the Democrats don't deserve your vote. And even though I'm a Democrat, your feelings are not without basis.
So I know that I am making a big ask.
Voting Democrat—i.e, not sitting it out—is a big deal. I know the left has often irritated you and insulted you. I know social media amplifies the ugliest anti-Christian stereotypes. I know that holding certain biblical beliefs about gender and sexuality is sometimes construed as backwards—and that enormous efforts are made to associate every Christian in America with the most violent, homophobic pastor on YouTube. I know that in a normal year, the only-okay quality of our economic recovery and gas prices would be a good reason to vote Republican.
But this is not that year.
I hear you. But I also believe that these are not reasons to side with subverting the republic. The Republican promise of 2022 is to make the right to vote subject to their own approval. In other words: If this lot of Republicans succeeds, there will never be another free election—which means that our republic will in effect fall.
Perhaps you are wondering why you should bother. Why, if I see the country lying in the ditch, should I bother to help it when it won't even ask me?
Because that is what Christians do: "Which now of these three, thinkest thou, was neighbour unto him that fell among the thieves? And he said, He that shewed mercy on him. Then said Jesus unto him, Go, and do thou likewise."
I am asking you, with humility, to do something I know you don't want to do: Set aside your own needs and feelings for the good of the nation.
I am asking you. I am not telling you. I cannot order you. But I am asking you, when neither choice is personally satisfying, to choose to save the republic and fight again the next round.
I am asking you, for the sake of our common country, to cast your vote for whatever Democrats are on your ballot. 
Adam Jortner is the Goodwin-Philpott Professor of Religion in the History Department at Auburn University. He is the author of the Audible series Faith of the Founding Fathers and was part of the creative team behind Where in Time is Carmen Sandiego?