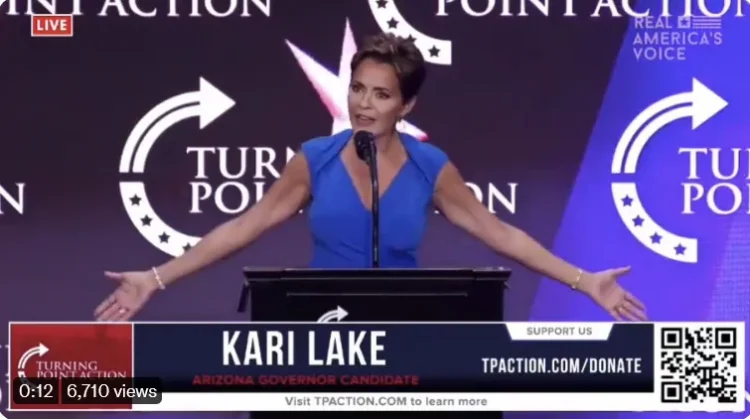 In case you haven't heard of Kari Lake, she is running for governor of Arizona. She has the endorsement of Donald Trump. She is also an anti-masker, anti-vaxxer, and 2020 election denier. She believes that the Biden administration is advancing a "demonic agenda." And she wants to deport undocumented immigrants.
In a recent event in Scottsdale, Arizona evangelical leaders prayed for her, laid hands on her, and anointed her with oil. One of those participating in this ritual was Mark Driscoll, the scandal-ridden megachurch pastor, co-founder of The Gospel Coalition and the Acts 29 Network, and plagiarizer. He was the subject of a scathing Christianity Today podcast series titled "The Rise and Fall of Mars Hill." After Seattle's Mars Hill Church removed Driscoll as pastor, Driscoll resurfaced as the founding pastor of Trinity Church in Scottsdale.
In the Christian tradition, anointed men and women are set apart to do the will of God. Sometimes oil is used in anointing ceremonies.
In other words, these evangelical pastors believe that God will use Kari Lake to advance His purposes in the world.
Watch:
A lot of folks on social media are making a big deal about Driscoll's presence here. Fair enough. But this is sacrilegious whether Driscoll was present or not.
Matthew Boedy, a rhetoric professor at the University of North Georgia, keeps a close eye on the Christian Right. He just shared a recent Driscoll sermon. Here is a taste (italics are mine):
All right, you ready to jump into a brand new book of the Bible? If you've got your Bible, find, it's a book in the Old Testament called Nehemiah, some of you may be familiar with it, most of you are not, we're gonna spend 13 weeks going through it, as you find your place in Nehemiah, last week here at Trinity, we looked back at God's faithfulness for, in, and through you wonderful people, for six years, we had a great celebration, this week we're starting to look forward, what does God have for us next? As the people we're gonna take our cues and clues from the great book of Nehemiah, let me set it up for you. They are dealing with some cultural, spiritual, economic, practical circumstances that will sound very, very familiar, I believe that God's Word is timeless, but this particular book is incredibly timely. Here's what they're dealing with, tell me if this sounds at all familiar, number one, they had a godless, corrupt, overbearing government that God's people were unhappy with, can I get an amen?
[Congregation] Amen.
All right, so they were frustrated, they're living under the rule of the Persian empire, these people don't know God, they don't love God, they don't serve God, and they're creating policies that make it hard for God's people to enjoy faith, freedom and family, in addition, they were in the middle of an economic downturn and decline, supply line was jacked up post-COVID, they had a hard time making ends meet, the government was just minting money and raising debt, squeezing the middle class and the families who were filling an inflation pinch, can I get an amen?
[Congregation] Amen.
All right, we've only begun, number three, the culture was against them, corrupt, hostile, indoctrinating their children, terrible entertainment, bad options, God's people were inundated all the time, everything from what they saw on their phone to every single aisle at Target was against them, can I get in amen?
[Congregation] Amen.
In addition, the media had set a negative narrative against their faith, every time a leader said or did anything, they were publicly attacked, you're gonna see PR statements for Nehemiah sent out repeatedly, just attacking him by enemies and critics weaponizing the media to create fake news and a negative narrative, does that sound familiar?
[Congregation] Amen.
Amen, all right. And so the result was there were exiles, many of God's people had scattered, they were living in horrible cities that were difficult to worship God and raise your kids and be normal, and so they were moving and scattering and fleeing, trying to find a place that they could establish as their new home, haha, welcome to Arizona. Can I get a
[Congregation] Amen.
Amen. And then the problem was though, the church was not faring well, much of the church had become apostate, teaching was compromised, leaders were corrupted, and there was just this epidemic of wokeism where they had embraced this Persian, horrible, godless, demonic agenda, can I get a
[Congregation] Amen
Amen, and so, here's the good news, there was a small group of people that still did love and serve the Lord, they're gonna be called today the remnant, they are a small group that realizes this isn't going well, we are outnumbered and surrounded, we do love the Lord, but it is difficult for us to exercise our faith. It is difficult for us to lead our family, because everything and everyone is against our freedom. And so what they really need is a leader with a plan who loves and cares for them. The government, the media, the economy is not going to care for God's people, so Nehemiah will, before we get into the message and the man, let me just say, there was one other cultural detail as you read Nehemiah, that doesn't have anything to do with us today, but it is a significant part of the storyline, and that is that they did not have a wall on their border, so they could not secure their culture from invasion. I'll just say this, somebody send a copy of Nehemiah to 1,600 Pennsylvania Avenue, it's a book about why we need to build a wall, otherwise people can't live there, us who are in Arizona said.
Read the rest of the entire sermon here. I think this explains why Driscoll was praying for Lake.
Boedy also references an article on Lake at the Trump-loving New Apostolic Reformation mouthpiece Charisma Magazine. Here is a taste of that article:
Kari Lake, a Ron DeSantis-like politician, is running for governor in Arizona, but she communicates like a prophet operating in the gifts of the Holy Spirit. She doesn't just speak; she prophesies in almost everything she says, painting a picture of a more wholesome, wise and prosperous future for her state and for America with boldness.
"God has given us all an ability, a talent, and this is the moment to use it," Lake says. "We're in the eleventh hour to save this country. We need to wake up and get moving and save it right away." She adds, "We're dangerous because we're telling the truth, and [the corrupt politicians in power] have to have lies to keep their tyranny going, and we're not going to allow it anymore."
Vocal on many issues that the majority of people care about, Lake is a self-described "woman of faith" who defies the model of a "politician," but she is leading in her gubernatorial race—reportedly "leading by a mile."
She is a paradox in today's prevailing, anti-Christian culture. She has not allowed herself to be cancelled. She doesn't give up espousing her faith in Christ as a guide as she runs for significant political office. She is not compromising her Christian values.
Because she relentlessly tells the truth, she may be one of the most dangerous women in America today—and exactly the type of person the Holy Spirit can use to bring real change to America. Does she represent a new breed of political leader with a prophetic gifting?
President Trump has publicly endorsed Lake as an America-first agenda candidate, but she may actually be a throwback to American Revolutionary times as a Jesus-first political leader, believing that, as she says, "God had a hand in creating this country." As a leading Christian conservative with humility, eloquence and impeccable character, she aims to help bring America back to God.
Read the rest here. An election denier who "relentlessly tells the truth." That sums it up nicely.