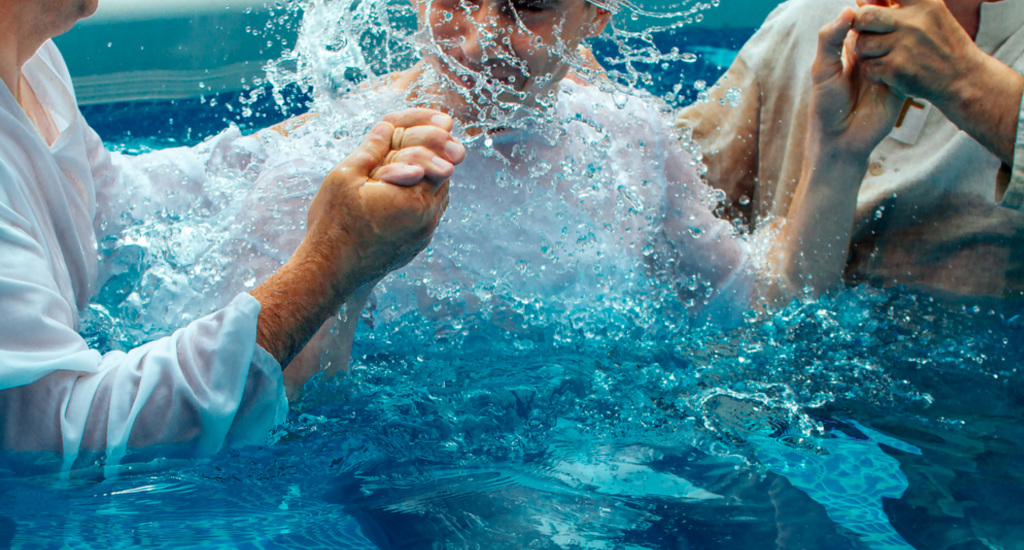 "There are many rebellious people, full of meaningless talk and deception."
I was baptized twice.
My first baptism took place on March 20,1966 at St. Virgil's Roman Catholic parish in Morris Plains, New Jersey. Rev. John A. Tracey administered the sacrament.
My second baptism took place sixteen years later in a freezing, mountain-fed lake in the hills of West Milford, New Jersey.
About a year earlier my family left the Catholic Church and joined Gilgal Bible Chapel, a non-denominational evangelical congregation that doubled as a day camp, youth outreach center, and Habitat-for-Humanity style ministry. Unlike my first baptism, which took place when I was one month old, I remember my second baptism. I stood before the congregation on a small beach where I testified to a born again conversion experience and dedicated my life to following Jesus. Pastor Dan, a mammoth of a man who was a former basketball star at The King's College in Briarcliff Manor, New York, took me in his arms, probably said something like "I baptize you in the name of the Father, and of the Son, and of the Holy Spirit," and then plunged me beneath the frigid water.
If there was any conversation with Pastor Dan about why I needed to be baptized a second time, I don't remember it. At some point he probably explained that evangelical Protestants do not recognize Catholic baptisms. Gilgal taught "believer's baptism": Baptism was not a sacrament, but an ordinance of the church performed after one made a commitment to the Christian faith through conversion.
My entire nuclear family was baptized on that summer Sunday morning in 1982. For my parents, who were also baptized as infants in the Catholic Church, it was a defining moment. Neither my father's Italian family nor my mother's Slovakian family understood why we left Catholicism. They saw our conversions as a form of betrayal—a departure from the one true church. I am sure that some of them even feared for our eternal souls. The only extended family member who came to our adult baptisms was my mother's sister. She had had a similar conversion experience, and although she remained in the Catholic Church she wanted to offer support and encouragement.
The older I get, the more I admire my parents' courage. With the help of some good people at Gilgal, they remained firm in their newfound faith and in the process changed the entire trajectory of our lives. As for me, two years later I was taking classes at Philadelphia College of Bible, preparing for a life of what back then we called "full-time Christian service."
Though I have never attended a church with the name "Baptist" in the title, I continue to adhere to the practice of believer's baptism. Thirty years after my second baptism I sat in a lawn chair on the campus of Messiah College and watched both of my daughters stand before a congregation and talk about their desire to follow Jesus. It was now their turn to take the plunge. (I was happy to learn that the Yellow Breeches Creek, which runs through the center of campus, was a lot warmer that day than my North Jersey lake.) As they grow older and reflect back on their own spiritual journeys, I hope they will remember this moment as vividly as I do.
In the Great Commission, Jesus told his disciples to "go and make disciples of all nations, baptizing them in the name of the Father and of the Son and of the Holy Spirit, and teaching them to obey everything I have commanded you." Jesus was calling Christians to share the good news that the Kingdom of God is near, inviting people to citizenship in a kingdom defined by humility, meekness, mercy, peace, and justice. Those who partake of the waters of baptism commit themselves to a self-sacrificial life of civic duty as a member of this kingdom. It is a high calling that is not to be taken lightly.
I've been thinking a lot about baptism this week after learning that 100 Donald Trump followers were baptized last weekend in Lancaster County, Pennsylvania as part of something called the "ReAwaken America" tour, a traveling road show designed to bring a spiritual revival to the United States through the election of Trump-style political candidates. Speakers at these events include former Trump National Security Director Michael Flynn, anti-vax pastor Greg Locke, former Trump adviser Roger Stone, conservative pundit Charlie Kirk, Eric Trump, Mike "MyPillow Guy" Lindell, and worship-leader Sean Feucht.
The New York Post coverage of the Lancaster County event features a man with his hands raised in worship wearing a shirt that says "Jesus is My Savior, Trump is My President." He stands next to a woman in the same posture wearing a "We the People, 1776" shirt. (For the record, "We the People" are the first words of the United States Constitution, which was written in 1787, not 1776.) A woman at a merchandise table holds-up a t-shirt with the names of Jesus (Redeemer, Emmanuel, Messiah, etc.), while another woman at the table looks at a "Trump Save America, 2024" tank top. Two women lie on the floor, apparently overwhelmed by the spiritual experience of their baptisms, while another is lifted out of a water-filled baptismal tub wearing a shirt that reads, "Do Not Comply, or America Will Die."
What is going on here? What should we make of these baptisms?
First, it is obvious that those in attendance at the ReAwaken America event in Lancaster believed that they were experiencing something deeply spiritual. The Washington Post reports that one new convert explained her baptism at the event as part of a move away from the Catholic Church and the Democratic Party, a decision that culminated on the day Douglas Mastriano announced his candidacy for governor of Pennsylvania. "I feel more confident now," she said. "My eyes have been opened." This woman, and others like her, worship an American Jesus, a culture warrior who wants to empower true believers to make the country great again. This Jesus speaks through the prophet Trump and lesser prophets such as Flynn, Kirk, Lindell, Stone, Locke and Feucht.
Second, while there is no doubt that the ReAwaken America tour is converting people to something, it is not Christianity. These blasphemous pro-Trump Republican evangelicals desecrate one of the most important sacraments (or ordinances, depending on your ecclesiastical tradition) in church history—baptism—and employ it to advance a nationalist agenda. When such a sacred Christian rite is used as an initiation into a political movement that looks nothing like the Kingdom of God Jesus preached in the Sermon on the Mount, it is a sacrilege.
"For there are many rebellious people, full of meaningless talk and deception. . . . They must be silenced, because they are disrupting whole households by teaching things they ought not to teach–and that for the sake of dishonest gain" (Titus 1:11).
John Fea is Executive Editor of Current