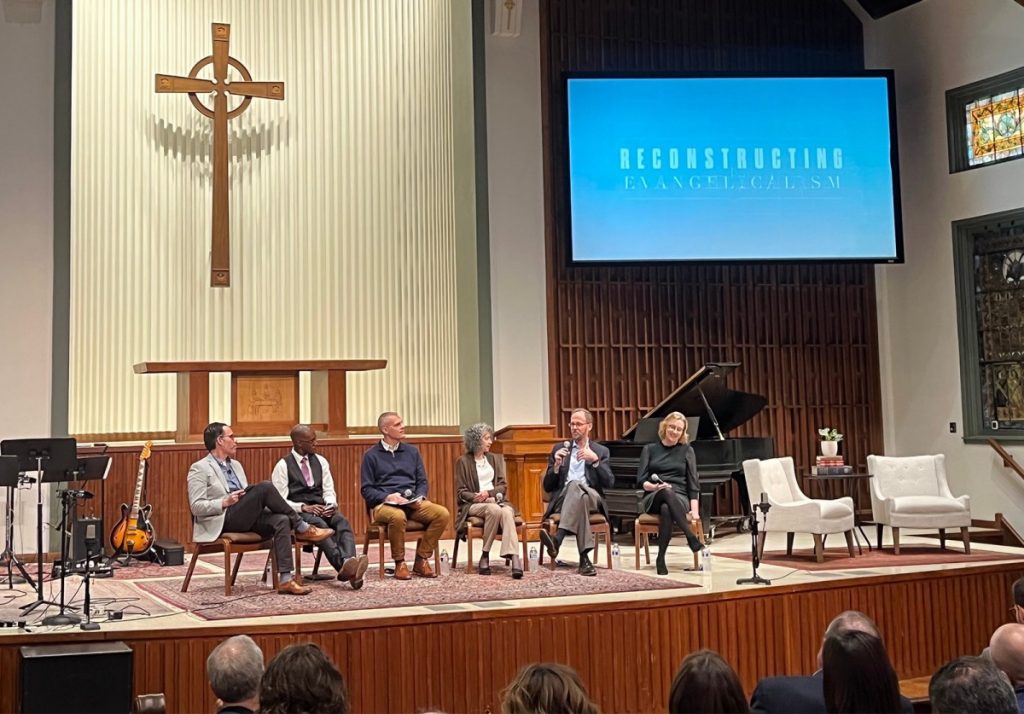 The speakers include Elizabeth Conde-Fraizer, Kristin Kobes Du Mez, Carl Ellis Jr., Walter Kim, Russell Moore, Gavin Ortlund, Karen Swallow Prior, Love Sechrest, Mark Noll, Jay Augustine, Vince Bacote, Gayle Doornbos, Benjamin Espinoza, Malcolm Foley, Ernest Gray, Emily Hunter McGowin, Michael Niebauer, Babatunde Oladime Ji, Matt O'Reilly, Kaitlyn Schiess, Doug Sweeney, Kevin Vanhoozer, and Zachary Wagner.
Here were some of the presentation titles:
"A Call for Prophetic Leadership to Address White Christian Nationalism and the Great Replacement Theory"
Jonathan Augustine
"Loving Imperfect Traditions"
Vincent Bacote
"In Search of Disciples of Christ: Winnowing through Layered Lies and Loyalties"
Elizabeth Conde-Frazier (Plenary)
"Irenic, Ecumenical, and Non-Anxious: Seeing through Bacinckian Eyes"
Gayle Doornbos
"Which Evangelicalism, Whose Purpose, and Why Even Bother? (On Reconstructing Evangelicalism: The Purpose and Promise of a Movement)"
Kristin Kobes Du Mez (Plenary)
"Reconstructing or Recovering? Misión Integral and an Evangelical Heritage"
Benjamin Espinoza
"Against Sentimentality: Towards a Truly Evangelical Antiracism"
Malcolm Foley
"A Home for the (Evangelical) Homeless: Heading Off an Impulse Toward an Errant Gospel
Ernest Gray
"The Architecture of Evangelical Curiosity: Constructing a Biblical Theology of Knowledge"
Walter Kim (Plenary)
"The End of the Christian Family: Repentance, Renewal, and Resistance"
Emily Hunter McGowin
"The Devil We Don't Know: Three Temptations of the Evangelical Moment"
Russell Moore (Plenary)
"Mission after Evangelicalism"
Michael Niebauer
"Evangelicalism in Nigeria: A Bowl of Mixed Fruits"
Babatunde Oladimeji
"The End of the Gospel: Refocusing Our 'Why' to Reconstruct Evangelicalism"
Matt O'Reilly
"How Church History Can Help Reconstruct Evangelicalism"
Gavin Ortlund (Plenary)
"Reforming the Evangelical Social Imaginary"
Karen Swallow Prior (Plenary)
"The Uneasy Conscience of Modern Evangelicalism: Recovering Evangelical Gifts for Political Theology"
Kaitlyn Schiess
"Modern Evangelicalism and Global Christian Identity"
Douglas Sweeney
"Evangelicals and the Sign of Jonah: A Womanist Reads Matthew 12"
Love Sechrest (Pre-Conference)
"The Gospel According to John (Webster): Towards an Evangelical Evangelicalism and Theology"
Kevin Vanhoozer
"In Search of Virtuous Masculinity: Reconstructing the Church's Vision of Male Sexuality"
Zachary Wagner
Bob Smietana covered the event at Religion News Service. Here is a taste:
A conference about the future of the nation's largest religious tradition began with a bit of honesty. "Nobody knows exactly what an evangelical is," said Joel Lawrence, executive director of the Center for Pastor Theologians, at the opening of the Reconstructing Evangelicalism conference Monday (Oct. 24).
The conference, which drew about 400 pastors and other church leaders to Calvary Memorial Church in the Chicago suburbs, was inspired by a recent trend among evangelicals and other Protestants to "deconstruct" the faith they grew up with — examining core beliefs and often rejecting the conservative politics, sexism and racial divides evangelicalism has come to be known for.
The question "What is an evangelical?" led to a spirited, thoughtful and sometimes pointed conversation during the conference's opening panel about the movement's flaws and how to mend them.
Doug Sweeney, dean of Beeson Divinity School in Birmingham, Alabama, admitted that for much of the American public, the word evangelical is synonymous with MAGA-style politics. "That would not be one of my favorite characteristics," said Sweeney, who argued that "evangelical" should be tied more to theology than politics.
Historian Kristin Kobes Du Mez, who gave a plenary address Monday evening, defined evangelicalism as a political and consumer culture. She said she has long wondered if the more important thing to ask is, "Who is not an evangelical?"
"Who gets to decide that?" she asked.
Elizabeth Conde-Frazier, academic dean of Esperanza College in Philadelphia, said the theological gatekeeping among evangelicals is often "quite ruthless." Evangelical Christians from Latin America or other parts of the church outside the United States, she said, are largely ignored by American evangelical pastors.
"Why don't you know their names?" she asked the pastors at the conference. "Why don't you quote them in your sermons?"
Conde-Frazier argued that any reconstruction of evangelicalism must include a more robust understanding of human sinfulness. While evangelicals often focus on personal sin, they tend to miss the way that power can be misused by sinful church leaders or movements.
"Sin turns into a monster when you have power," she said.
Malcolm Foley, who directs the Black church studies program at Truett Theological Seminary in Waco, Texas, advocated for an activist form of evangelicalism, one that combines evangelism with social action. "That is the only evangelicalism that I think is worthy of talking about," he said.
At the same time, Foley was skeptical that the word "evangelical" could be saved or reconstructed.
Read the rest here.
This is the best we can do in terms of coverage right now since our Current budget is not large enough to cover the $169.00 admission fee to watch the event online. 😉
I noticed that there were no papers or presentation framed in terms of social class. Perhaps this is the key to understanding American evangelicalism–a movement of middle-class and upper middle-class pastors and academics who charge people $169.00 to watch them discuss the meaning of evangelicalism. 😉