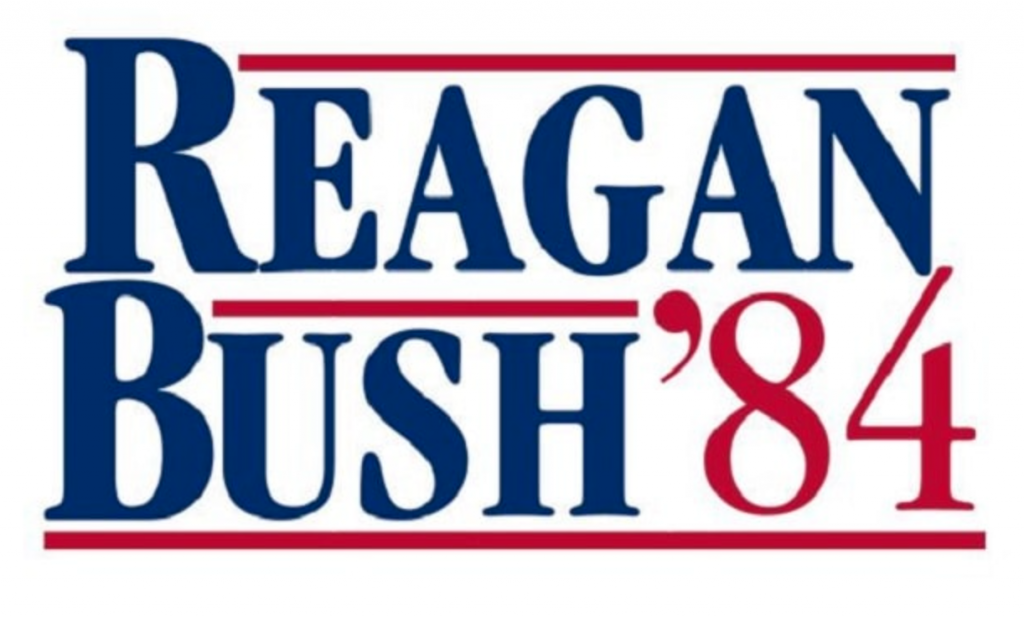 I never thought about how my new born-again faith might affect my politics. Then I went to Bible college.
On November 7, 1984, I was two-thirds of the way through the first semester of my freshman year at Philadelphia College of Bible. I was seated in the back right corner of Chatlos Chapel as the assistant to the college president—his name was Jamie—opened our required morning service with a word of prayer. He gave thanks to God because the previous day, Election Day, Ronald Reagan won a second term as president of the United States in a landslide victory over former Minnesota senator and vice-president Walter Mondale.
Students and faculty at Philadelphia College of Bible were not usually prone to emotional outbursts during chapel. After all, this was a school that taught the Holy Spirit-inspired emotional manifestations on the Day of Pentecost ceased with the age of the apostles. During chapel we usually sat attentively and listened respectfully in accordance with the staid and rational faith informed by the college's dispensational approach to biblical interpretation. But I swear I heard someone yell "Amen" as Jamie, with what appeared to be clear insight into God's plan for the direction of the United States, offered his prayer of gratitude. Reagan was re-elected. God's will was done on earth as it is in heaven.
About three years earlier, on a warm July afternoon, I was seated at the kitchen table in the northern New Jersey house where I grew up. I was also praying. With all the faith I could muster I was reading a prayer of salvation I found in the back of a small devotional booklet called Our Daily Bread. That prayer changed the trajectory of my life. From this point forward I would identify as a "born-again Christian." I was fifteen years old.
My parents prayed this prayer, or at least a similar one, months before I did. They left the church of their (and my) childhood and joined a congregation made up of other born-again Christians. Gilgal Bible Chapel was no ordinary church. It was more like an intentional Christian community run by twenty-something graduates of evangelical colleges who all lived together on a few dozen acres of land in West Milford, New Jersey. When we arrived, Gilgal was entering a stage of maturation. More and more families were joining the community and the congregation's outreach to the greater West Milford area was growing. Gilgal welcomed our family with open arms, and for the next several years I threw myself into the life of this evangelical commune with reckless abandon. I was a regular at Wednesday night youth group, served as a leader in the junior high ministry on Friday nights, devoted my summers to working as a counselor in the church's day camp, and spent Saturdays hammering nails as part of a Habitat for Humanity-like construction ministry that helped those in need.
During these years—roughly 1982 to 1984—I do not remember having a single discussion about politics. Our pastor did not preach political sermons. There were no Sunday School classes about politics. And people rarely discussed politics in informal settings.
I had always been a political junkie. Growing up, the greatest political influence on my life was my Italian grandfather, an immigrant who spent most of his life as a Teamster, driving delivery trucks for Newark breweries and making daily runs to Albany, New York Wilmington, Delaware, and Riverhead, Long Island. "I am a Democrat," he used to say, "because the Democrats are the party of the working man." Every Sunday when we would visit my grandparents' house for dinner I would get a lesson in American political history that usually centered around the Democratic icons of my grandfather's generation. I felt as if FDR, JFK, and LBJ were long-lost uncles. When it came to my own personal convictions, I was a Democrat. But now the whirlwind of activity at Gilgal Bible Chapel made it hard to stay abreast of the comings and goings of life in Washington D.C. Following politics was a nice hobby, but there was more important work to do—kingdom work.
This was the cultural baggage I carried with me into that chapel service in November 1984. I had never thought about how my new born-again faith might affect my politics. It was complicated enough trying to learn the books of the Bible and the language, music, and influential voices of this strange new evangelical subculture I had just entered. So needless to say, I was startled when Jamie thanked God for Reagan's victory. I was even more surprised that his clearly political prayer did not seem to faze any of my fellow classmates—mostly kids who grew-up in the evangelical church, "asked Jesus into their hearts" when they were six-years old, and attended Christian schools during their K-12 years.
My eighteen-year-old self now began to wonder: Does God care about the winner of a presidential election? Did Gilgal forget to tell me that when I prayed that kitchen-table prayer I was not only taking-up my cross and following Jesus in a life of discipleship but was also joining a political party? As I look back on that morning, I now realize that Jamie's prayer was the first time I actually realized that my experience at this Bible college was not only preparing me for a potential career in the Christian ministry. It was also, in an extracurricular way, trying to initiate me into a political movement—the Christian Right.
But this was only the beginning of my enculturation. For the next couple of weeks I want to use this space to reflect on what I experienced during those "born-again" years and how the 1980s shaped my understanding of faith, politics, and vocation.
John Fea is Executive Editor of Current