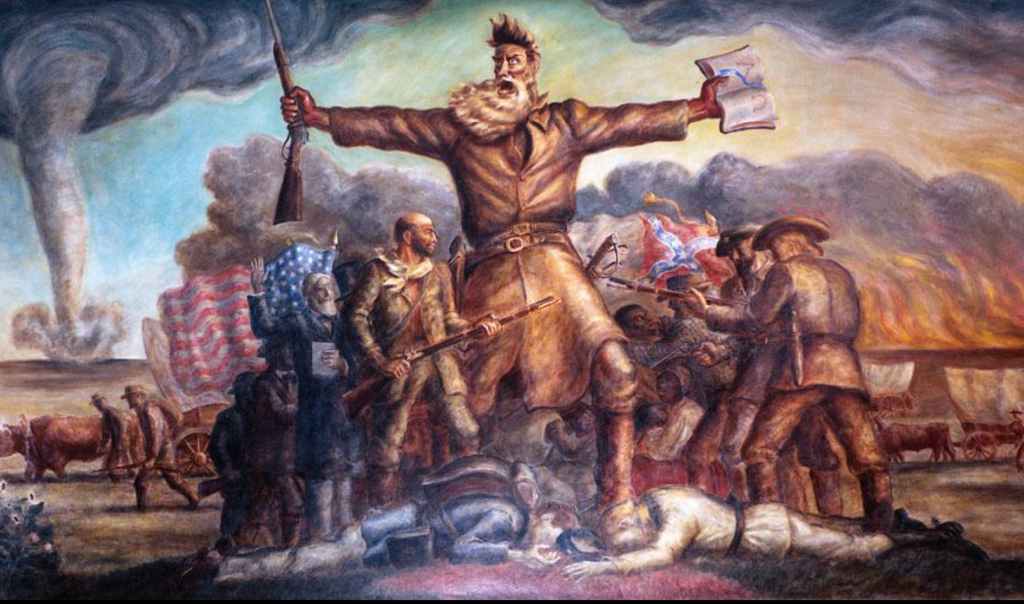 A history lesson for Timothée Chalamet
While promoting his new movie at the Venice Film Festival last month, actor Timothée Chalamet—a twenty-six-year-old fashion icon, Academy Award nominee, and the actor The Guardian has called "the movie star of his generation"—spoke in apocalyptic terms about social media's influence on American life. "It's tough to be alive," Chalamet said. "I think [a] societal collapse is in the air—or it smells like it." His quote is now a popular TikTok trend.
While I am sure there is a lot one could say about Chalamet's sense of smell and his credentials as a cultural critic, I first heard his words about societal collapse at precisely the time the students in my Civil War and Reconstruction class were studying for an exam on the 1850s. While I rarely, if ever, draw specific comparisons between the past and the present in my United States history courses, I often challenge my students to think in general ways people living in the past were asking similar questions to the ones we are asking today. I want them to see that we have been here before. (And the occasional "And you think it's bad today!" never hurts.)
In 1850 the American Republic was indeed on the verge of societal collapse, although most people could not have predicted the bloody Civil War that would follow. The early part of the decade, at least in terms of national politics, was defined by compromise over the contentious issue of slavery's spread to the West. Those concerned about saving the Union—Henry Clay, Daniel Webster, most of the Whig Party, and, to some extent the Democrat Stephen Douglas—were open to the possibility of allowing slavery to spread into Missouri, Kansas, and New Mexico if it meant keeping the nation intact. They were also willing to endorse the Fugitive Slave Act, which made it legal for slaveowners to travel to the north, capture their escaped slaves, and return them to slavery.
While some thought the approach to the spread of slavery taken by the congressional architects of the so-called Compromise of 1850 and the Kansas-Nebraska Act were morally reprehensible, they also believed such compromises were necessary to preserve the United States. As Abraham Lincoln put it in an 1854 speech in Peoria, Illinois: "[As] Much as I hate slavery, I would consent to the extension of it rather than see the Union dissolved, just as I would consent to any great evil, to avoid a greater one."
Others refused to tolerate any such compromise with slavery. Three months before Lincoln's Peoria speech the Massachusetts abolitionist William Lloyd Garrison publicly burned a copy of the Fugitive Slave Act and the United States Constitution. He called the Constitution "a covenant with death, and agreement with hell" and cried out, "So perish all compromises with tyranny!"
And still others—the ardent champions of Southern nationalism, white supremacy and chattel slavery—rejected compromises with self-proclaimed Free Soilers because these anti-slavery advocates were trying to place limits on their constitutional and God-given right to carry their slave property to any region of the country. As I often tell my students, a compromise can be a "settlement of differences by arbitration or by consent reached by mutual concession" or a "a concession to something derogatory or prejudicial."
One wonders: What kind of compromises are we willing to make for the sake of national unity?
When the Kansas-Nebraska Act allowed the people of Kansas to decide whether they wanted to permit slavery, both defenders of slavery and Free Soilers rushed into the territory. Slaveholders won a fraudulent election. Free Soilers responded by forming their own government in Topeka. The pro-slavery faction then formed its own government at Lecompton. President Franklin Pierce and the U.S. Senate backed the pro-slavery government. The U.S. House of Representatives supported the anti-slavery government.
And then there was the violence. Pro-slavery forces burned down two anti-slavery newspaper offices and destroyed homes and public buildings in Lawrence. Back in Washington, Republican Senator Charles Sumner delivered his "Crimes Against Kansas" speech on the floor of the House. He described his Democratic colleagues as lying in bed with "the harlot of slavery" and compared South Carolina senator Andrew Butler's pro-slavery views to the raping of a virgin. Two days later Butler's cousin, South Carolina congressman Preston Brooks, approached Sumner at his desk in the Senate and beat him with a cane so badly that Sumner nearly died. Southern Democrats praised the caning and reportedly sent Brooks a new cane inscribed with the words "Hit him again."
In New York, Henry Ward Beecher, the abolitionist Christian minister whom historian Debby Applegate has called "The Most Famous Man in America," published an article calling the Sharps Rifle "a truly moral agency" with "more moral power . . . than a hundred Bibles." Meanwhile, back in Kansas, John Brown and his sons, radical abolitionists who believed God was calling them to purge slavery from the Union, pulled five pro-slavery men out of their homes in the settlement at Pottwatomie Creek and hacked them to death with swords.
Don't let anyone tell you that political violence is un-American. Such a claim does not stand up to the scrutiny of history.
As the country read about the bloodshed in Kansas, a major political realignment was underway. The Republican Party was formed in 1854 with the primary goal of stopping the spread of slavery. The Democratic Party began to divide between Southerners who championed their right to take their slaves anywhere in the nation and those committed to democracy—that is, to letting the people decide whether or not they wanted slavery in their territories.
And if such division was not enough to sink the republic, in 1857 the Supreme Court, under the leadership of a pro-slavery chief justice named Roger Taney, declared that enslaved men and women were not citizens but private property. Cries of judicial activism echoed through the north. Southerners rejoiced. President James Buchanan supported the court's decision. In essence, the highest judicial body in the land was saying that there were no such things as "free states" and "slave states." All states had the potential of becoming slave states if slaveowners settled in these places with their human property.
The decade ended with John Brown arming slaves and staging an insurrection on a federal arsenal in Harper's Ferry, Virginia. Brown was an activist who saw the world as a spiritual battle between good and evil. Before he was sentenced to death for treason he said, "If it is deemed necessary that I should forfeit my life for the furtherance of the ends of justice, and mingle my blood further with the blood of my children and with the blood of millions in this slavey country whose rights are disregarded by wicked, cruel, and unjust enactment, I say, let it be done." John Brown was not a man of compromise. His raid exacerbated the country's intense political and cultural polarization. As he stood at the gallows awaiting his death, his reported last words proved prophetic: "I, John Brown, am now quite certain that the crimes of his guilty land will never be purged away; but with blood."
What a mess. It must have been tough to be alive during this period. Societal collapse was in the air. And perhaps some people could smell it.
John Fea is Executive Editor of Current