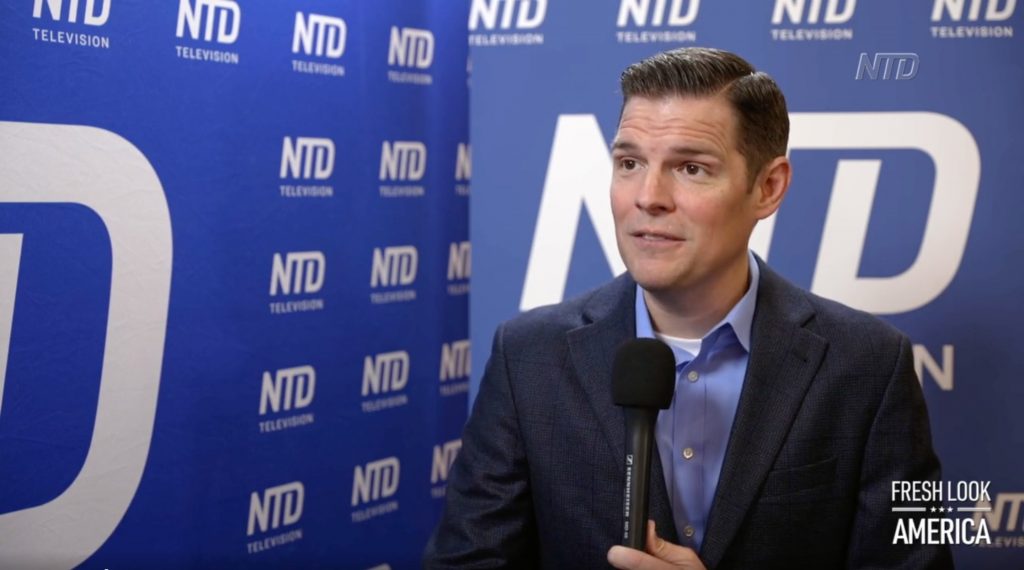 The son of Wallbuilders founder David Barton recently gave a rambling "history" sermon at Christian Missions Church in Jacksboro, Texas.
This is what can happen when the past is only useful as a form of activism.
Here is Barton:
Let's break it down:
3:20ff: Barton says that the country is experiencing an attack on truth. But all of Barton's truths are convenient truths. Notice that he never addresses the inconvenient truths that might hurt the platform that he and his father have built at Wallbuilders. If he was such a great cultural observer, as he claims to be, he might realize that the political agenda he is pushing is built on a web of lies. Tim Barton and his father David Barton appear regularly on television and radio programs that have supported the most corrupt, dishonest presidential administration in American history. They have helped to propagate one of the biggest lies in American history– the belief that Donald Trump won the 2020 presidential election.
5:00ff: Barton starts talking about George Orwell's book 1984. He quotes Orwell's famous line: "Who controls the past controls the future; who controls the present controls the past." Barton is right. But he is a lot more Orwellian than he thinks. To him, the study of history is all about power. In this case, he is no different than the activist Left. Barton does not care about exploring the past in all its fullness and complexity. Instead he wants to use the past to win a political battle in the present. This is not history.
5:40ff: Here is the classic Barton straw man. He portrays public school teachers and those responsible for history curriculum in school districts as believing that the United States is "evil" and "racist." I would encourage Tim Barton to read some state history standards. There is nothing in those standards that suggest that United States has always been evil or racist. Yes, the standards ask students to think about questions of slavery, race and racism, but they say nothing about the posture in which these subjects must be treated. I would guess-and it's just a guess–that for every teacher who says that the United States is evil or racist there are twice as many teachers who downplay the horrors of slavery, race, and racism in their classrooms. Barton also says that kids in public schools are told that if they are white they are racists or if they are black they are oppressed. I wonder how many public schools Tim Barton has visited. I am guessing the answer is none. Yet he and his father continue to drag hard-working teachers through the mud suggesting that they are all engaging in some kind of deep state attempt to undermine the republic. This is fear-mongering.
6:15: Barton suggests that there are people who believe the Constitution is "evil" and they are teaching this view to school children. What Constitution does Barton mean? Does he mean the Constitution as it was written in 1787–the document that Christian abolitionist William Lloyd Garrison said was a "covenant with death and an agreement with hell," prompting him to burn it after an anti-slavery speech in Framingham, Massachusetts? Isn't this the Constitution that students learn about in American history courses, especially those taking courses on the American founding? Or is he referring to the amended Constitution that gave slaves freedom, citizenship, and the right to vote? Is he referring to the amended Constitution that gave women the right to vote? In other words, the Constitution is a complicated document when one considers it historically. But Tim Barton is not interested in complexity because telling the Constitution's true history, as it unfolded over time, is not entirely conducive to his political agenda. Good history teachers, of course, know better. This is why they avoid such inflammatory words such as "evil" or "great" to describe documents from the past.
6:21ff: Barton suggests that "socialist" teachers want to overthrow capitalism. Again, I wonder just how many teachers actually use their classrooms as a venue for overthrowing capitalism. Because Barton needs to construct a straw man to stay relevant, he is incapable of thinking in nuanced ways about both the benefits and problems of capitalism. This kind of binary thinking is the essence of anti-intellectualism.
7:50ff: Barton goes after Howard Zinn's A People's History of the United States. Zinn's book is bad history. It's left-wing activism parading as history. What Barton doesn't understand is that he and his father are doing the exact same thing. They are a mirror image of Zinn. There is a reason why in 2012 historians named books by Howard Zinn and David Barton as the "least credible history books in print." Barton says that historians have "discredited" every "claim" Zinn makes. This is another lie pouring from the mouth of a guy standing before a Christian congregation giving a speech about truth. No historians have discredited Zinn's facts. They have criticized him because his People's History only tells one side of the American story. But why would Barton care about this distinction when he can just turn Zinn into a bogeyman to rally the base?
8:30ff: Barton rails on "deconstruction." This is another fear tactic. What Barton calls "deconstruction" trained historians call "interpretation" or "historical thinking." When historians understand the past in context, explore the past's relationship to other historical documents or events, and acknowledge the complexity of the past, they are, in essence, doing what Christian Right activists call "deconstruction." The Bartons would just prefer to read historical documents at face value, without any connection to context. This is why they like to boast about all the primary documents they have at the Wallbuilders headquarters in Aledo, Texas. This is why they hold up these documents as evidence that their view of American history is correct. Why interpret or "deconstruct" these documents if you can get your audience to vote Republican by simply displaying them, reading them, and then applying them to Joe Biden or Donald Trump.
11:00ff: Barton says that the Declaration of Independence "is now being removed from virtually every public school in America." Another outright lie. I challenge Barton to examine the history and social studies standards of every state in the Union. He will find that the Declaration of Independence is being taught in public schools.
12:30ff: Barton claims that Thomas Jefferson somehow came up with the ideas in the first couple of paragraphs of the Declaration of Independence and he extolls the Virginian for coming up with these ideas at the young age of 33. Wrong. Jefferson's ideas in the Declaration are just warmed over British ideas. Whatever agreement the Continental Congress had concerning the ideas set forth in these early paragraphs was the result of the fact that all of them were British. Jefferson even admitted this. See my book Was America Founded as a Christian Nation? where I cover this in depth. But how do I know that these are just warmed over British ideas that Jefferson employs in the Declaration? I know these things because I interpret the document in its larger eighteenth-century intellectual and political context. In other words, I "deconstructed" it. That's what historians do.
13:30ff: Barton once again argues that we must defend truth. But by this point he has already said multiple things that are not true. Even when he is defending the idea of truth in this segment of his talk he repeats, once again, the lie that public schools have removed the Declaration of Independence from schools.
14:00ff: I don't know many American historians who have made the specific claim that the Declaration of Independence is a "racist" document like Barton claims here. He outright dismisses the idea that the promises of the Declaration of Independence applied only to white people. Yes, the ideals of the Declaration were repurposed in the 19th century by the abolitionist movement and the women's suffrage movement to end certain forms of injustice in America, but when taken in the context of 1776 the phrase "all men are created equal" did apply only to white people. Why can't Barton see such nuance? I am guessing he is smart enough to understand this, but such a truth would not do much to advance his political message. Barton's appeal to the original draft of the Declaration's criticism of the slave trade is also disingenuous. It fails to recognize what historians call contingency, or the idea that the choices that people make in the past have consequences. In this case, the Continental Congress made a definitive choice to remove the slave trade grievance from the final draft. At one point Barton even says that Jefferson believed in the equality of white people and black people. He ignores the fact that Jefferson, in his Notes on the State of Virginia, wrote that Blacks "are inferior to the white in the endowment both of body and mind."
21:00ff: Throughout much of this presentation Barton makes the college freshman mistake of confusing opposition to the slave trade, abolitionism, and racism. they were three different things. For example, one could oppose the slave trade and still be a racist.
24:00ff: Barton essentially claims that race doesn't matter because the Bible says, "there is neither Jew nor Greek, there is neither bond nor free, there is neither male nor female: for ye are all one in Christ Jesus." While Christianity does teach this, Barton reveals, ironically for a "history" lecture like this, just how ill-equipped he is to think about race from a historical perspective. Anyone who studies American history must come to grips with the legacy of racism, segregation, and white supremacy that existed in this country. Barton pretends that this history never happened or, at the very least, we should ignore it because the Bible claims that we are all equal in Christ Jesus. Instead of dealing with the legacy of systemic sin that Americans, as a fallen people, have left behind, Barton dismisses the voices of those who are forced to live with this legacy on a daily basis.
27:00ff: Here Barton references Clinton Rossiter's 1953 book Seedtime of the Republic. Barton claims that Rossiter said that the ideological origins of the American Revolution came from six men (indeed, part two of Seedtime of the Republic was titled Six Characters in Search of a Republic) and four of them are clergy. Seedtime was a study of "libertarian" thinkers Thomas Hooker, Roger Williams, John Wise, Jonathan Mayhew, Richard Bland, and Benjamin Franklin. His book was the product of an older "consensus" or "liberal" view of the American Revolution that was popular in the 1950s. Since then, this view of the revolution has been either debunked or extensively revised by historians. In the preface to his book, Rossiter claims that his study of these six men "should satisfy all but the most insatiable longings for heroic symbols of a long-dead age." This is the kind of claim that warms the heart of folks like David and Tim Barton, activists looking for heroes in the American past. Moreover, Barton manipulates Rossiter's work to make it sound as if these men, several of whom were clergy, were the sole sources of revolutionary ideology.
29:05ff: Barton claims that all the members of the Continental Congress read Rev. John Wise's sermons before they came to Philadelphia. This is a stretch. Barton has no proof to support this claim beyond a reference to Jefferson's library, Samuel Adams, and a quote from Calvin Coolidge. In fact, we know very little about reader reception in 18th-century America, but this doesn't stop Barton from saying that people were reading Wise in every colony. Heck, why I am teaching Thomas Paine today in class when I should be teaching the sermons of John Wise? 🙂
32:00: Much of Barton's references to patriotic clergy are correct. But his speech lacks context and complexity. Like his father has been doing for years, he cherry-picks quotes and then injects those quotes with a significance that extends well beyond the significance they had in the larger intellectual world of American revolutionaries.
44:36: Barton's claim that John Quincy Adams taught Lincoln the necessity of freeing the slaves is mostly rubbish. It fails to understand the evolving nature of Lincoln's thoughts on slavery and confuses Lincoln's opposition to slavery with his views on racial equality. Of course no one in the audience knows this, so Barton can tell these stories unchallenged. The people in the audience want ammunition they can use in the culture war and Barton gives it to them. They eat this stuff up.
46:32: Barton makes the audacious claim that only Christians can truly understand the meaning of history.
I'll stop there. I think you get the point.