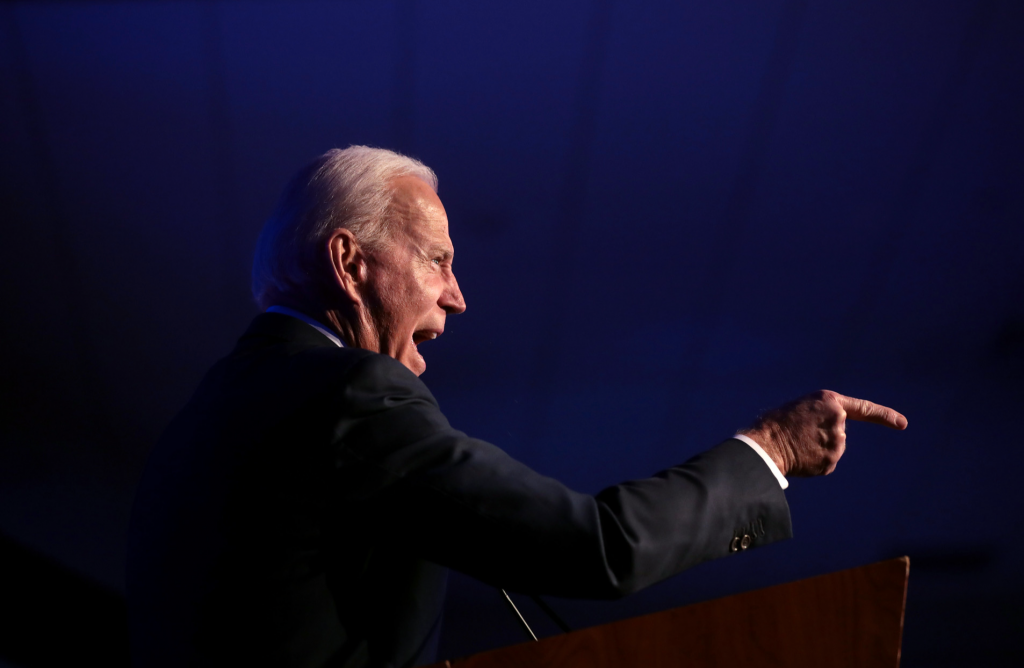 Another angle on President Biden's Philadelphia speech—word by word
Words matter. When one is the president, they matter more. The sitting president's words matter most. In fact, when presidents use words, what is happening is more than merely verbal. A speech is itself an act, a verbal act—a "deed done in words," as political scientists Campbell and Jamieson put it. And the most important takeaway from the rhetorical deed in question—President Biden's speech in Philadelphia on September 1—is his fear and loathing of MAGA Republicans.
The speech has been reviewed twice in Current, by John Fea and Russell Arben Fox. But their essays did not review the president's speech as a speech—a formal address. What kind of speech was it, and what did President Biden actually say? What words did the president use? And what did his use of these words indicate regarding what he considers desirable, despicable, and dangerous?
We all recognize that presidents give different speeches to different audiences, and on different occasions. One kind of speech will be given at Arlington National Cemetery on Memorial Day. Another will be given at a State of the Union address. We'll see a third kind delivered to adoring campaign crowds, a fourth in a time of crisis, a fifth when announcing a major policy initiative.
Was this a speech intended to be given to a nationwide audience of Democrats and Republicans? I think so. In his less formal Labor Day speeches before appreciative union members four days later President Biden ad-libbed more. Indeed, President Biden uses profanity so frequently that in my rhetorical word counts of his speech I include "damn" and "hell" along with "democracy," "justice," and "America." On Labor Day he had as many "damns" as he had references to Trump or uses of the word "Democrat," and he never mentioned such go-to words as liberty, equality, Constitution, or freedom. But on this occasion—a formal environment with a national audience—President Biden did not cuss at all. That in itself is a strong indication that President Biden considered this a national speech.
The speech's title was "The Continued Battle for the Soul of the Nation." This is a big idea. It suggests that the President wanted to address the nation. It was not intended to be a partisan speech given only to satisfy and energize his followers.
The location of the speech is also suggestive. President Biden addressed the nation from where the Declaration of Independence was signed and the Constitution drafted. The speech would be lent national importance because of the location with which it was associated.
Finally, consider the stagecraft. President Biden was not in a workout suit riding his bicycle or even in a business suit signing important documents in the White House. Rather, he rallied his listeners to "The Continued Battle" while flanked by U.S. Marines. The setting established him as Head of Government, Chief of State, Commander in Chief, and Chief Executive of the federal government. Wearing all these hats, he addressed us.
And what did he say?
Here is a spreadsheet of significant term used by President Biden, drawn up initially by my research assistant Leah Persons, who noted the important words, counted them, and weighed their usage on a simple Likert scale from "strongly negative" to "strongly positive."
The usage and frequency of words are both significant. The old standards—America, democracy—were used frequently and very positively. But there were also new words we are not used to seeing in national presidential rhetoric. The usual foil or villain—"Republican"—appeared, but so did new labels—"MAGA," "threat," "violence," even "Donald Trump." Presidents commonly attribute to their predecessors all problems for a couple of years but infrequently mention their predecessors by name. Both the frequent use—thirty-five times—and the strongly negative characterization in every single instance indicate that this was not a typical address to the nation, although it was carefully planned and rehearsed.
And what is the audience intended to feel? That MAGA Republicans (they are never "MAGA Americans") and their leader, Donald Trump, are hateful, destructive, violent people who pose an existential threat to the continued American experiment in democratic government. This is rhetoric much more commonly used in partisan speeches before friendly crowds, not in national speeches intended mainly to unite rather than alienate.
In the speech God, the rule of law, equality, dignity, liberty, fair, and the Constitution all score perfect 5s—very positive in connotation. Just behind, and more frequently mentioned, are America, democracy, American, and freedom, all scoring 4.25 or better. These terms are the stuff of national speeches.
In using these terms, what did President Biden say about the country?
The ideas embodied in the founding documents are "equality and democracy," and these ideas, we learned, "are under assault." The first time the crowd interrupted with applause was when President Biden stated, "Donald Trump and the MAGA Republicans represent an extremism that threatens the very foundations of our republic"; they are in fact engaged in "an ongoing attack on democracy." But he made it clear that he is himself "in a battle for the soul of this nation," as the speech's title declares. He then closed with a stirring "And may God protect our nation. And may God protect all those who stand watch over our democracy. God bless you all. Democracy. Thank you."
President Biden mentioned the Constitution three times, but these references were dwarfed by his twenty-four references to democracy. He emphasized the right to vote—a civil liberty guaranteed in three different amendments—as an expression of the peoples' will. But he also referred to the newer civil liberties in the "living constitution" progressives find both desirable and necessary—civil liberties found, in Justice Douglas's phrase, in "penumbras formed by emanations" of the liberties in the actual, written Constitution, and without which, as the president stated, "there is no right to choose, no right to privacy, no right to contraception, no right to marry who you love." These are essential to the President's understanding of democracy and are what he is fighting the "battle" for. 
The sheer number of words related to it vouches for President Biden's commitment to democracy—the standard by which he judges the Constitution. The "Battle for the Soul of America" is a battle over democracy, even more than over the Constitution.
In "The Historical Presidency: Fear and Loathing in Presidential Candidate Rhetoric, 1952-2016," Rhodes and Vayo find compelling evidence of increased fearful and angry invective in political campaign speeches over the years. The Philadelphia speech is an excellent example of President Biden's fear and loathing of MAGA Republicans. It may well be warranted. But that is not the point of this essay. Rather, I am more modestly observing that fear-and-loathing rhetoric has now moved beyond the customary Presidential campaign cycle. We are, after all, a full twenty-six months from the next presidential election. And, not insignificantly, this kind of rhetoric has also moved from partisan campaign speeches to speeches intended for a nationwide audience.
Peter Hill is a Visiting Professor of Political Science at Covenant College and Adjunct Instructor of National Security Law at the University of Louisville Brandeis School of Law. A retired federal agency attorney and Army officer, his graduate degrees are in political science, history, and law.