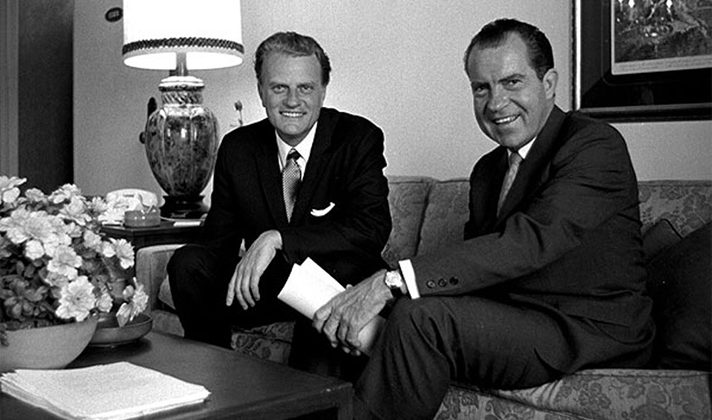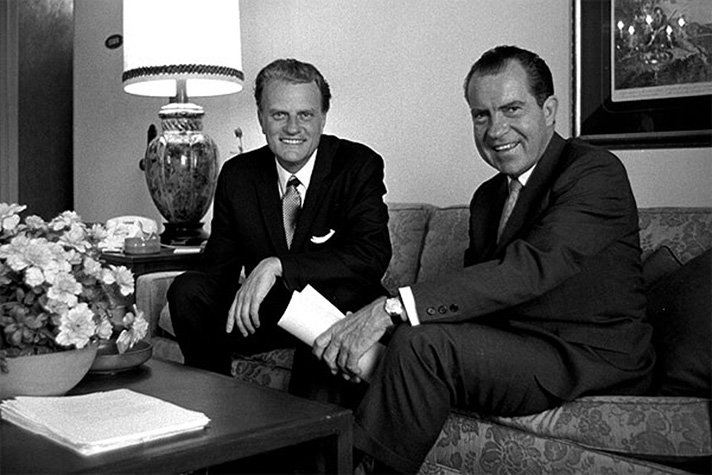 The Graham-Nixon conversations were much worse than we originally thought.
In late July 2018, the full conversation of a 1972 Billy Graham-Richard Nixon conversation was, according to researcher Mike Hertenstein, "quietly posted on the Nixon Library website." It was labeled "Conversation 662-004." A redacted audio of this conversation was originally released in 2002. It revealed Graham and Nixon exchanging anti-Semitic remarks. The release caused quite a stir and Graham was embarrassed by what he said.
The unredacted conversation was posted at the Nixon library website in 2018. It has received virtually no press coverage. It reveals Graham talking about Jews as part of the "Synagogue of Satan."
Thanks to historian John Haas for bringing this story to my attention.
Here is the pertinent exchange (edited lightly for readability):
Graham: "You see the Bible makes a distinction, Mr. President, between two groups of Jews. One is called the synagogue of Satan…In the latter days there will be…the remnants of God's people, which will be Jewish people, and then there's the synagogue of Satan. And nearly all of your religious deceptions in latter days [will come from what the Bible calls] the synagogue of Satan. In other words, they are energized by a supernatural power called the devil. This is what the Bible teaches. Whether you believe it or don't believe it, this is the biblical teaching. This is what I believe. And I believe [members of the synagogue of Satan] have a strange brilliance about them.
Nixon: "Oh! That's why they–because they're smart."
Graham: "They're smart. And they…are energized, in my judgment, by a supernatural power.
Nixon: "Also they do something else. They are not only smart…"
Graham: "And you see, and uh, of course Hitler didn't uh–. They had a stranglehold on Germany. On the banking of Germany, on everything in Germany
Nixon: "and the media."
Graham: "And the media! They had the whole thing, you see. And [Hitler] went about it wrong, but this stranglehold has got to be broken or this country is going to go down the drain."
Nixon: "Do you believe that?"
Graham: "Yes, sir.
Nixon: "Good Lord. I can't ever say it, but I believe it."
Graham: "No, but if you get elected a second time we might be able to do something."
Listen (see below for more context):
Several quick comments:
Graham is directing and initiating the conversation. The authority and certainty in his voice is clear. He is no passive listener who is merely approving and affirming Nixon's anti-Semitism. Nixon seems to be the one who is passive here.
Graham believes Hitler was right about the Jews, but he just went about things in the wrong way during the Holocaust.
Here is a description of the above video from the YouTuber who posted it. (He is known on Instagram as "newtranscendentalist"):
Immediately after the National Prayer Breakfast Feb. 1, 1972 President Richard Nixon and Rev. Billy Graham had a 90 minute meeting in the Oval Office. Unbeknownst to Graham, Nixon was in the habit of recording his private conversations and upon his incrimination in the Watergate Scandal was forced to release many of these conversations.
This one, "Conversation 662-004" was released in 2002 with several parts "Withdrawn" due to "privacy."
A link to a shocking part of the conversation that was included in the release: https://www.youtube.com/watch?v=6a94E…
Researcher Mike Hertenstein requested the full release but was denied until Graham's death in 2018 when he was notified by the Nixon Library that "with the passing of Rev. Graham, privacy withdrawals are no longer applicable, and the content you have requested would be releasable."
Read Mike Hertenstein's account here: https://medium.com/@mikeh_50175/conve…
The above selection starts about 29:00, listen to the full 94 minute conversation between Nixon and Graham here: https://www.nixonlibrary.gov/white-ho…
And here is a taste of Hertenstein's account, published at his Medium site in 2018:
The "Synagogue of Satan" language used by Billy Graham caught my attention more recently as I came across references to it while researching the Evangelical discourse of demonization, working on a theological studies degree at North Park Theological Seminary. In the course of that work, I looked into the story of the Nixon conversation and noticed that there was still material to be released. I later sent out a series of Freedom of Information Act requests to the National Archives. These were turned down: the Nixon tapes, for various governmental reasons, are not subject to FOIA requests.
This application and appeals process put me in contact with Cary McStay, an archivist at the Nixon Library, who helped me jump through the requisite hoops to make a formal request that the material on "Conversation №662–4" be recategorized. That process put me at the head of the line when Billy Graham died in February of 2018 — and so finally moved forward the process.
In late July, the unexpurgated part of "Conversation №662–4" that I was most interested in was quietly posted on the Nixon Library website and can now be heard here. The relevant portion starts about 27 minutes in.
Also relevant is Conversation 043-161 a 20 minute phone call on Feb. 21 1973 (you'll have to scroll down on this link to find that one). https://www.nixonlibrary.gov/white-ho…
Read Hertenstein's entire piece here.
Wow!