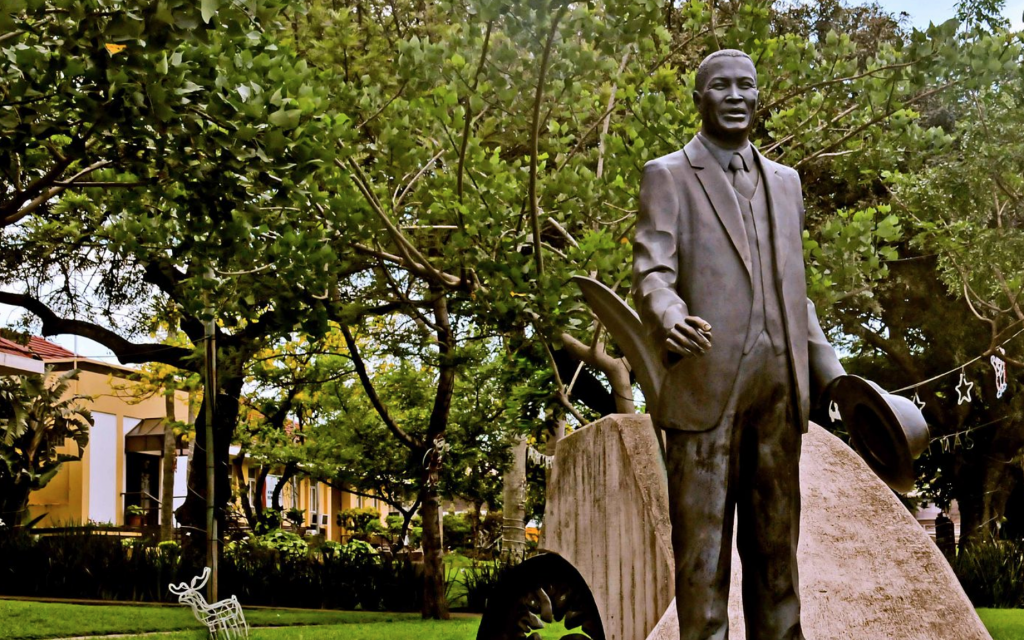 Christian witness—especially to other Christians—remains imperative today
Remembering Albert Luthuli a few days ago prompted me to write this essay. July 21 of this year marked the fifty-fifth anniversary of his death in a train accident in 1967. Luthuli, a Zulu tribal chieftain in South Africa in the early 1950's, became a major leader of the African National Congress and a powerful figure in the anti-apartheid movement. Repeatedly arrested and imprisoned, he was acquitted of absurd charges at one point with the help of young Nelson Mandela's legal defense. In 1960, Luthuli was awarded the Nobel Peace Prize.
Luthuli's life and witness should be especially pertinent and inspiring for many reasons to Christians in this country today. He consistently practiced and professed the deep Christian faith in which he was raised even though a number of black activists within the African National Congress understandably condemned Christianity as the religion of the oppressors. "We know Christianity for what it is, we know that it is not a white preserve," Luthuli responded. "I am in the Congress precisely because I am a Christian. My Christian belief about society must find expression here and now, and Congress is the spearhead of the real struggle. . . . My own urge, because I am a Christian, is to get into the thick of the struggle with other Christians, taking my Christianity with me and praying that it may be used to influence for good the character of the resistance."
The relevance of Luthuli's example to our present era of violence against Black people should be obvious. Luthuli's vehement opposition to a white nationalism wrapping itself in the garb of so-called Christianity is all too relevant. The complex but deep ties—historically, theologically, socially, and politically—between white supremacy, white nationalism, and purportedly Christian thought and speech in this country have been amply documented and analyzed in Current. Less discussed, however, is the critical importance of Luthuli's and others' consistent public linkage of their heroic resistance to racism and injustice with their Christian faith. Failure to do this enough in this country has led to a perilous misunderstanding of what the character of Christian witness should be in these times.
Too many Christian institutions, acknowledging the ugly and repressive attitudes and actions of many organized Christians and confessing the past sins of Christendom, have concluded that they have no choice but to downplay their Christian identity. I serve several institutions that are ecumenically Protestant (the latest term of art for what used to be called mainline Protestantism). Almost without exception these well-meaning organizations—recognizing the disaffection of many, especially young people, from Christianity—have decided to minimize their Christian witness, lest they give offense to many of those whom they hope to recruit to their enterprises. Sometimes the diminution of Christian witness is subtly incremental: amendments of liturgical forms to omit certain elements like creeds that might cause some to feel "excluded"; eliminating strong Christian language from mission statements; downplaying Christian identity in recruitment and fund-raising materials; altering websites in order to make the discovery of the Christian commitments and character of the institution an insurmountable navigational challenge. These practices and others like them reverse the proverbial wisdom about the cause of decline in mainline Protestantism. For years many scholars maintained that the mainline lost membership because it had lost its theological backbone and its public confidence in proclaiming the gospel. Whatever the truth of that view, today the very attenuation of Christian identity that was once thought to be the cause of membership loss is being deployed as an attempt to bring people back.
Though these dilution-of-identity strategies are misguided, in my view, they are certainly understandable. All of the Christian causes and organizations that I serve are woefully underfunded, some of them in perpetual financial crisis. They are, in popular parlance, in "survival mode." Thrashing about to maintain existence often means preservation at the expense of identity. These good places need repeatedly to ask themselves what price they are willing to pay for their own endurance, for "what should it profit [a Christian institution] if it should gain the world but lose its soul?" They should also ask themselves whether they are missing a major opportunity for Christian witness, perhaps the opportunity of a lifetime for such witness.
Traditionally Christians have witnessed their own way of life to the secular world. Today, I believe, Christians are called as always to witness—but especially to fellow believers. Christians need to challenge by positive example what their fellow believers are doing and saying in the name of a distorted and debased version of Christianity. Ecumenical Christians can learn from some of their evangelical brothers and sisters in this regard. When Christianity Today, still the flagship magazine of American Evangelicalism, condemned Donald Trump and much of what he represents and stands for, they did so out of their Christian convictions, and they made this very clear. In so doing they bore witness to fellow evangelicals and other Christians as to what "mere Christianity" requires in terms of justice and fidelity to the Gospel.
All of this will strike some of my good Christian friends as hopelessly naïve, unrealistic, and impractical. I would argue instead that my recommendations are both faithful and pragmatic. For in the longer view, what will sustain certain costly social and political commitments and actions if the initial impetus that gave them life and direction is allowed to wither and slowly disappear? Both the worldwide anti-apartheid movement and the civil rights movement of the 1950's and 1960's in this country prevailed in the face of overwhelming opposition and violence largely because people like Albert Luthuli and Martin Luther King, Jr. "kept the faith" and proclaimed it in uncompromising words and deeds. When so many fellow believers are losing faith and becoming "embarrassed by God's presence" it is time to double-down on Christian proclamation and witness, not join the critics in abandoning it!
Much if not most of the witness I am defending here will be educational. Millions, many of them self-proclaimed Christians, simply do not understand what Christian faith and practice actually entail. So when various ecumenically Christian organizations demonstrate to save the planet, join with the Black Lives Matter movement, advocate hospitality to immigrants, oppose injustice in all of its forms and guises, and seek justice for others before they seek it for themselves, they need to repeat over and over again what Luthuli said over a half-century ago: "We are doing these things because we are Christians."
Mark Schwehn is Senior Research Professor in Christ College, the honors college of Valparaiso University, and editor of the second edition of Leading Lives That Matter: What We Should Do and Who We Should Be.