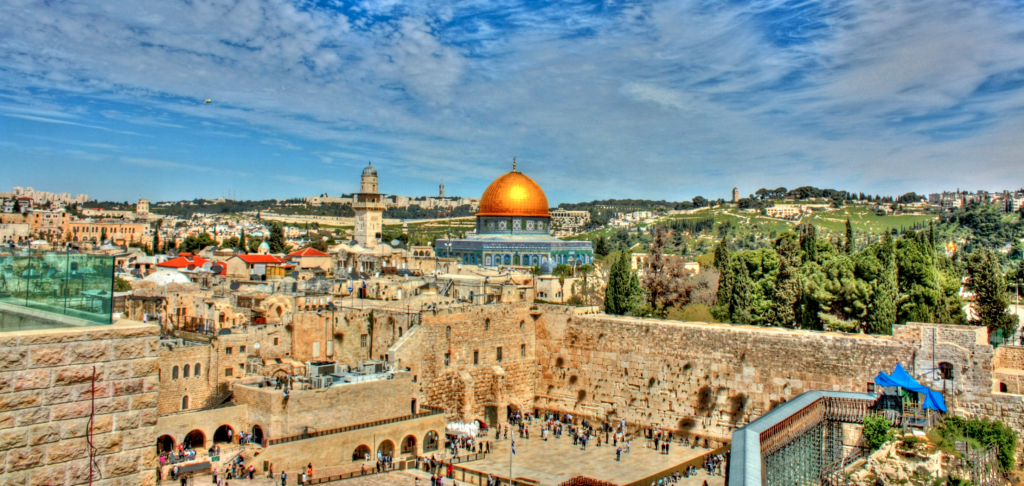 What are the politics of excavating the past in modern Jerusalem?
In the early 1990s, Zehu Ze ("That's It"), Israel's premier humor television program (à la Saturday Night Live), presented a curious skit featuring the Old Testament figure Joshua. Seated in front of his tent in what appears to be a desert landscape, Joshua has a number of pots lined up all around him. He carefully picks up each pot, sets it in front of him, and smashes it to smithereens. After watching him for a while a friend asks him what he is doing. Joshua explains: He is leaving a historical record of his existence for future archaeologists. The friend retorts with the obvious question: But how would anyone who finds these potsherds in the future know that they are evidence of Joshua? Joshua has a good answer: Before breaking each pot he made sure to scratch on it "Joshua was here." Problem solved.
Joshua's behavior in the skit is the dream of every amateur biblical archaeologist. Alas, historical figures have not behaved in so considerate a manner for modern researchers. If they left an archaeological footprint, it is often unclear, difficult to interpret, and may have no name attached. Joshua himself, in fact, left no material record. Even such major figures as David and Solomon are tricky to document archaeologically. Meager and difficult-to-interpret traces are all we have for both, such as the famed House of David inscription.
But this does not mean archaeologists are ready to give up. Sometimes we do get fascinating bread crumbs, such as the inscription about King Hezekiah, exactly the type of discovery that leaves amateurs and experts alike yearning for more.
In his far-ranging recent book Under Jerusalem: The Buried History of the World's Most Contested City, Andrew Lawler investigates the scandal and controversy-ridden history of the modern archaeology of Jerusalem from the nineteenth century to the present, as different generations of amateur and professional archaeologists have searched for traces of particular places and people in the ancient city that still lies buried beneath the modern one. The story that emerges is politically charged, and documents the deep investment of Christians and Jews alike in the endeavors.
Archaeology of Jerusalem began in the nineteenth century as a pet project for Christians of various stripes who were eager to verify the Bible and perhaps find some lost treasures to boot. Alongside these explorers, secular adventurers from most major European countries joined the fray, spending some time excavating and formulating their own pet theories for the location of key sites from the Old and New Testaments.
Because the modern city overlayed the ancient one, and because the Ottomans were notoriously prickly about granting excavation permits, on a number of occasions these excavators became overly enthusiastic in their methods. The practice of (sometimes illegally) tunneling under modern homes and roads, for instance, in order to explore the ancient city occasionally resulted in structural damage to the more modern structures, some of them several hundred years old and valuable in their own right. But these were the days of the amateurs, one could say.
Marking a new stage for Israeli Jews over the past several decades, the search and scientific study of what is below ground in Jerusalem has become a bona fide "legitimizer of the state." Or, as Lawler states on another occasion, "Beneath the Holy City, the real treasure is neither the Ark of the Covenant nor the riches of Solomon, but the ability to mine the past in order to dominate the present and future."
This use of archaeology as the "legitimizer of the state" and an instrument in the architecture of Israeli state power, which reached its zenith under Benyamin Netanyahu, has been striking in its ability to unite observant and secular Jews alike. But not everyone has been impressed. For the Palestinians, it is what is above ground that matters most. As a result, the archaeology of Jerusalem has always been of relatively little interest for them. Indeed, they have tended to regard it as an instrument of harm. Excavations have served as justifications of their displacement from ancestral homes their families have, in some cases, lived in since the Middle Ages.
But what if the premises behind such proof-digging projects have been all wrong? What would it prove if one were to find a bunch of broken pottery that clearly proclaims that "Joshua was here"? The entire vision for this use of archaeology has been about militantly proving one side right based on a very specific set of assumptions about what such proofs would bring about. Proving through the material record that particular biblical figures existed, or proving the early presence of Jews in the land, is an agenda-based vision that is certainly political but unlikely to impress anyone aside from those who believe these things already. Besides, the kinds of claims the Israeli state has wanted to prove are notoriously difficult to establish archaeologically. Absence of evidence does not mean the evidence of absence. But it still makes the modern self-assured creature of rational thinking and science uneasy. As Eric Miller wrote recently, the reign of scientism is unraveling at last. But the results of this unraveling are yet to be seen.
This weaponizing of the archaeology of Jerusalem has not only been about proving the veracity of the Bible. There is an added assumption that clearly not everyone is willing to share: Whoever has the claim that goes the farthest back on a particular piece of land is the rightful owner. This means that discovering concrete evidence of very distant past ownership has tangible benefits for securing political capital in the present.
To be fair, this way of thought comes naturally to many, and was widespread in the Ancient Mediterranean. These beliefs are reflected in founding myths of ancient cities. The ancient Athenians, in particular, adopted the myth that they were autochthonous—the belief that the earliest Athenian was spontaneously born from the local earth (auto + chthon), and as a result—unlike any other Greeks—were not foreigners and immigrants in their land. The Thebans too had a myth for how their founders grew out of the ground, springing forth as fully formed warriors from dragon teeth sown by the hero Cadmus. The desire to find tangible evidence for Joshua or David or Solomon seems to build on the same impulses, updating this line of thinking into the realm of modern scientific proof.
But not everyone is willing to buy these proofs. The Palestinians' lack of interest in archaeology is striking in this regard. Their claims are not built on thousands of years but hundreds, and emphasize the need for compassion in honoring the lives of all who reside in a particular place. And ironically, the same American Christians whose faithful readership has propelled the magazine Biblical Archaeology Review to success, and whose interest in archaeology has provided support for the controversial new Museum of the Bible in Washington, DC, share this view in their own lives: that proof of prior occupancy is no claim for modern ownership. This view, after all, is how the Native Americans lost their lands to, well, people like us.
Proof-digging, in the end, proves nothing at all, and only fuels the exploitative looting of antiquities, a problem that transcends biblical archaeology. Excavating honestly and ethically, on the other hand, will continue to yield new revelations with deep meaning for those who care, whether their interest is religiously motivated or not. As for those who don't care, any old broken pot will remain just a broken pot, Joshua notwithstanding.
Nadya Williams is Professor of Ancient History at the University of West Georgia. She is a Contributing Editor for Current.