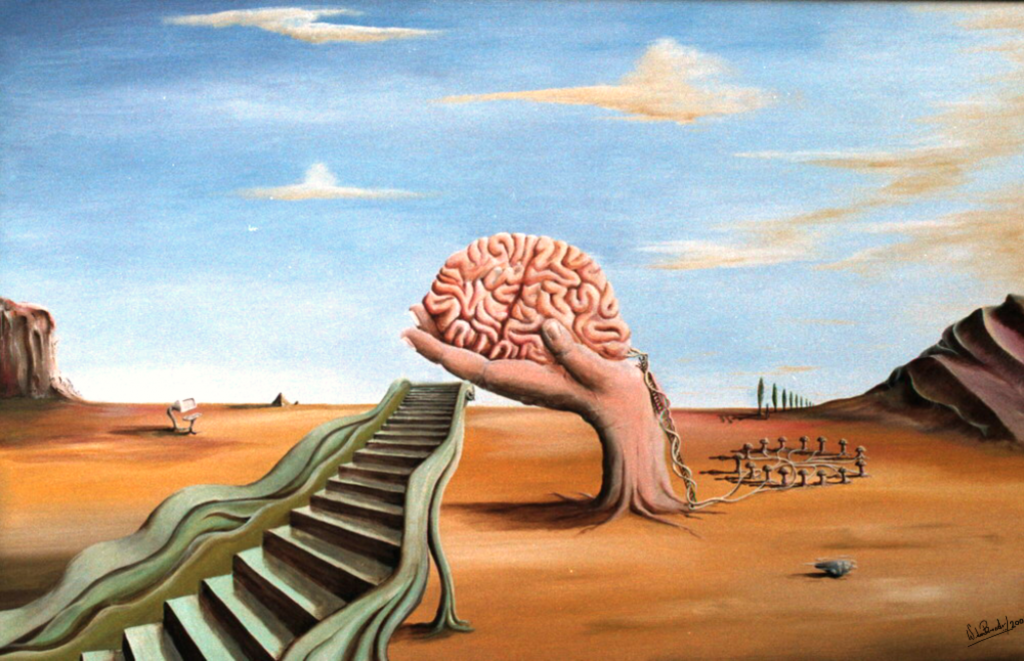 This time science and tech won't save us
Eventually any community that hopes to preserve itself has to fill in the blanks—the blanks left by foundational questions it hasn't bothered to answer, or hasn't answered well enough to confront the demands of a history.
In the field of logic this shortfall is known as "begging the question," a phrase that has bedeviled more than one writer or speaker. Contrary to popular use, it does not refer to a question that demands to be asked but rather to a question that's been skipped over without adequate attention or consideration. It's a question whose answer has been accepted without the question itself having been honestly raised.
One of Bob Dylan's most famous songs, his 1963 "With God on Our Side," mercilessly exposes a question millions of Americans have begged as an act of patriotism.
The cavalries charged
The Indians died
Oh, the country was young
With God on its side
The hidden question Dylan was unearthing: How do we know God is on America's side—or anyone's side, for that matter?
Crises (in Dylan's case, the threat of nuclear holocaust) lay bare begged questions.
Begged questions lead to crises.
The men who are created equal. Freedom of religion. The right to bear arms. We've long depended on a creaky and conflicted judiciary to supply applied meanings for such language. But clearly it's a containment strategy that is failing us. The begged questions are running wild. And they have sharp teeth.
We're fresh out of self-evident truths. What happened?
What were once reasonably well-answered questions have, over generations, become begged. We've moved on from our eighteenth-century consensus on human personhood and freedom (along with the cosmology that underlies them) without having taken care adequately to confront one another with our diverging and conflicting philosophic shifts—let alone worked out a way to live with them. We find ourselves in the position of a long-married couple that sees too late the damaging extent of their long-simmering differences. In such situations the courts can arrange a divorce. They cannot repair the marriage. This is the pathos of our moment.
A core part of the eighteenth-century consensus on our fundamental questions was what we imagined to be a keen, updated conception of rationality itself. We came to call it enlightenment, a science-grounded pathway to knowing. While we were already beginning to tilt toward what by the nineteenth century's end would become a full-blown scientism, we yet remained moored to the ontology the term created suggests: a Christian framework of meaning that had over centuries yielded a set of intellectual and moral beliefs that grounded the institutions of marriage, law, government, and education.
But scientism ended up devouring that base, and the superstructure eventually caved in. In his classic study of this process, Without God, Without Creed: The Origins of Unbelief in America (1985), James Turner observed that "The option of godlessness has dis-integrated our common intellectual life, both in formal disciplines like philosophy, science, and literature, and in those informal habits of mind by which we, as a culture, experience and order our world." He went on to add, not inaccurately, that "Our web of shared assumptions has not unraveled altogether—without some unity, a culture collapses."
But 1985 is a long way back. "Collapse" today seems an entirely credible description of our moment. The unraveling process Turner describes has, quite evidently, failed to reverse itself. And no adequate form of coherence has taken its place.
The postmodern crisis of the late twentieth century was as threatening to our public life as critics like Turner perceived it would be—it just had not by the 1980s arrived socially and politically, certainly not to the scale we now experience it.
We were jerked back from the forecasted abyss by the terrorist attacks of 9/11, which led to a brief revival of the old civil religion (twenty years later we still piously trot out "God Bless America" on Sundays during the seventh-inning stretch of major league baseball games—a ritual only begun after 9/11). And scientism's digital wave added its own quasi-religious unifying touch, symbolized by hopeful mantras like "big data," saintly names like Jobs and Gates, and renewal movements like "The New Atheism." But the optimism that we could turn this corner (think of the ever-less impressive ways Clinton, Bush and Obama employed the notion of hope) was just that: a state of mind that lulls begged questions back to sleep.
When in 2017 the narcissist to beat all narcissists took the Oval Office, we found ourselves staring at a man who had accrued the power to detonate the culture itself. Given all that Trump has achieved, effected, and destroyed, our deepest questions can no longer be evaded. We need consequential contention centered on one foundational question: What do America's sacred words—freedom, religion, human beings, equality, rights—mean in America today?
The begged question of religion is especially acute—and especially promising. What constitutes "religion"? And might addressing that question head-on help us to establish the grounds for a new—and renewed—form of union?
It's not simply those operating from conventionally religious premises who think so. University of Illinois-Chicago philosopher Sam Fleischacker, for instance, urges us to orient the debates about abortion around our shared belief in freedom of religion. A supporter of abortion rights himself, he acknowledges that "science cannot tell us when, why or even that human life is morally important. Indeed, science cannot tell us whether anything is morally important. Science does not deal in value judgments."
The regnant attempt to make science pronounce on questions of value—scientism—has contributed massively to our mayhem. Rather than aspiring toward a vision of life anchored in scientific inquiry, we would do well to acknowledge at the outset that we all depend on non-empirically verifiable beliefs to achieve intellectual and moral coherence. It is impossible for human beings to dodge the need to believe—which is to say that we are all, in this sense, religious to the core.
Religion, seen in this way, is that configuration of meanings and practices that makes words and actions hang together, however provisionally, and so offer direction, purpose, and hope. On these terms, religion is a universal reality, inalienably at the root of human life—and the foundation of rationality itself.
If we grant both the universality of religious framing and its ineluctable relationship to the phenomenon we call rationality, then perhaps we'll be freer to stop begging questions and enter into real debate, debate that might help us achieve some means of living together on terms that genuinely grant equality.
As a nation, this would be a big step. We established the constitutional "freedom of religion" without knowing what we were setting in motion, without foreseeing a post-Christian America. We thought the amalgam of scientific rationality and Christian ontology was an everlasting achievement, that somewhere in this heady brew America would remain fixed as a nation of scientifically oriented, fundamentally Christian people. And it was who we mainly were, for a time.
But we are that people no more. And we never will be again. The scientism to which we turned as our substitute religion—what Turner calls simply "progress"—can take us no further. The religion of science cannot fill in the blanks—not, at least, with the authority it professes to have. It cannot dictate our common decisions about rights, personhood, freedom, or even rationality itself. It's time for real debate, argument, and understanding. Our questions demand it. Dare I say, they're begging for it.
Eric Miller is Professor of History and the Humanities at Geneva College, where he directs the honors program. His books include Hope in a Scattering Time: A Life of Christopher Lasch, and Brazilian Evangelicalism in the Twenty-First Century: An Inside and Outside Look (co-edited with Ronald J. Morgan). He is the Editor of Current.