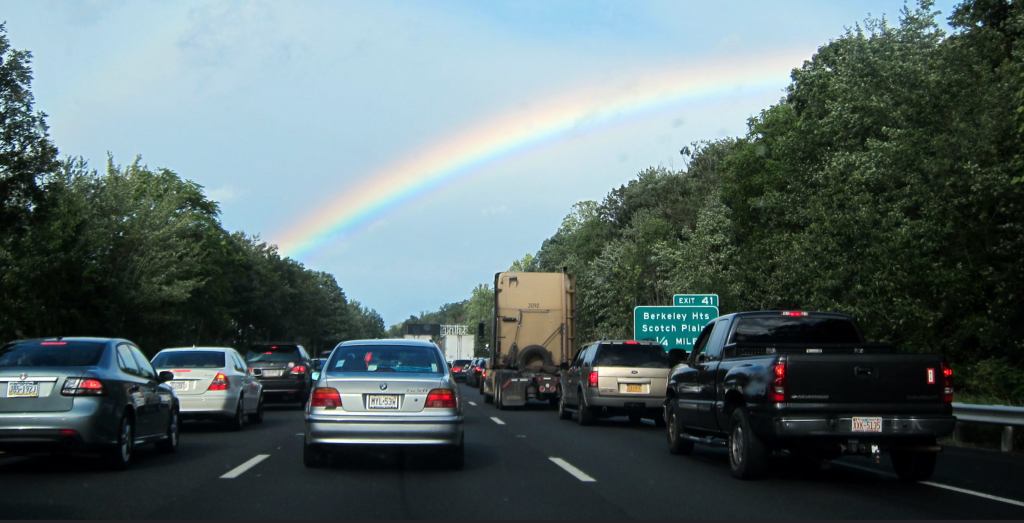 Today political power is king. Does it really rule?
We were whizzing east across the Pennsylvania Turnpike when we pulled off for dinner at Bedford, the half-way point across the state, high up in the Alleghenies. In 1794 George Washington led 13,000 militiamen in the opposite direction to put down the Whiskey Rebellion. He too stopped in Bedford—as you will have no choice but to learn should you visit. Later presidents followed suit, vacationing at the Bedford Springs Hotel.
My dad's family has lived in Bedford since the nation's early years. My parents met at the skating rink a half-mile from the turnpike exit. History abounds there, mine as well as ours.
Our twenty-year-old son felt it. "There's a certain charm about these places," he said as we sat down at Hoss's, a restaurant that's part of a regional chain of steak houses. Hoss's amps up the regional with classic photographs and advertisements and anything else antique. It should also post a trigger warning for anyone who suffers from nostalgia—especially an unreturned native. The sign from the mill that produced flour in Schellsburg might date back a century. The wall-sized black-and-white photo that greets guests features racecar drivers posing at the Bedford Speedway in 1969. A 1940s movie poster presides over a few tables, imported from elsewhere but still a local artifact: The times of the showings are hand-written across the bottom.
A family of three was eating in the booth across from us, a husband and wife in their late thirties, along with their teenage daughter. The dad sported a double-knit polyester office shirt with Thomas Chevrolet on the pocket. My mind flashed back to the day in 1973 when my dad popped into my second-grade classroom to pick me up from school. We were going to Thomas's to buy a car, a 1969 Mercury Monterey, blue and white. "Billy!" Mrs. Arnold exclaimed when my dad walked in. She had been his teacher, too.
Something caught my eye when I looked down at the floor to avoid eye contact with the Chevrolet employee: a medium-sized palm tree tattoo above his wife's ankle. It broke the spell. What hath the global rage for tattoos to do with old Bedford? The only tats I saw in my childhood were on veterans who never got far enough away from whatever war in which they'd been entangled. And the tattoos in question were of the guns-hearts-flags variety.
But if the palm tree broke the spell, it also took me deeper into a mystery.
Bedford County broke hard for Trump in both elections: 82.8% in 2016 and 83.5% in 2020, the second highest percentage in the state by a hair. At this I still marvel. To imagine Donald Trump setting foot in Bedford County in, say, 1989—the year of his first Time cover—is to imagine a festival of repugnance and incomprehension. The Manhattan mogul perfecting the art of the deal via the art of the steal would hardly have been thought worthy of a reception—let alone being a successor of Washington. So what happened?
Consider the palm tree.
If today we don't spend much time considering the lily, the same can't be said of palm trees. We, of all people, should never underestimate the power and allure of the exotic. And in the duo of the palm tree and the Donald we have dueling pieces of exotica—for anyone from Bedford, at least.
A palm tree fosters dreams of margaritas and warm sea breezes too far away. But Trump elicits nearby hopes and memories—the Hoss's universe—and makes them seem within reach once more. With enough power, he intones, we can do this! We can get the old clocks, the clocks in our homesick minds, to trounce the progressive clocks, the clocks we're forced to keep time with every day, at school, at work, at play. If we gain real power we can make the enemies of our clocks—the libs, the left, the traitors—melt away. We can turn back our collective clock and so move the nation ahead.
The clock never does turn back. But our minds do. I recall Mrs. Arnold—a half-century ago, in a school that is no more—leading her young charges in the Lord 's Prayer at the start of the day. If the nation was moving on, she certainly wasn't.
But I don't recall young Miss Fritz, the mini-skirted first-grade teacher, praying from the front of the room the year before.
By then my uncle, a sergeant in the Air Force, was back from Guam with his bride—a Floridian whose family showed up from time to time: definitely palm-tree exotic. Another uncle harbored Seals & Crofts eight-track tapes in our family's fishing cottage where he lived. The hippy wig of yet another uncle hung in the backroom of my grandparents' farmhouse; he'd worn it when he was in Pittsburgh to learn computer programming, back when no one knew what a mainframe was, and laptop wasn't yet a word.
About then a revival broke out, running up and down Route 220. That wasn't its only corridor—it spanned the country, and many of its Jesus freaks didn't need wigs. My parents got saved and went to one church. My grandparents did too and went to another. My Air Force uncle led the singing at theirs with an electric guitar. The times were changing—as the Hoss's artifacts had, even in their own day, born witness. We all knew it, and we liked at least some of it. It turns out that old Bedford wasn't so old after all.
No political powers were masterminding these changes. None could have (though they tried). The world was bigger than politics. It still is. When did we stop believing this? Why?
As we were approaching Bedford on the turnpike a massive rainbow suddenly appeared, as long and large as I've ever seen. The whole time we were eating, light rain fell through the sunshine, a mystic moment of joy. Big promise surrounds us. Real hope grounds us. It's time to start believing other promises. And other promise-makers.
Eric Miller is Professor of History and the Humanities at Geneva College, where he directs the honors program. His books include Hope in a Scattering Time: A Life of Christopher Lasch, and Brazilian Evangelicalism in the Twenty-First Century: An Inside and Outside Look (co-edited with Ronald J. Morgan). He is the Editor of Current.