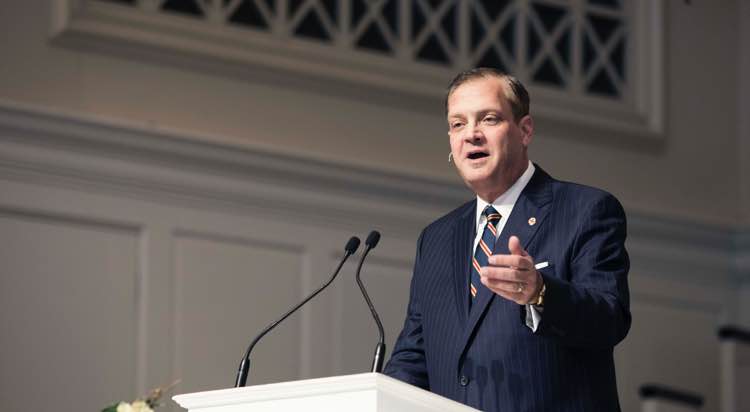 Albert Mohler, the president of The Southern Baptist Theological Seminary in Louisville, likes to talk about how he discerns current events through his "Christian world view." Well, Mohler's "Christian world view" was on full display yesterday in his reflection on the life of evangelical theologian and activist Ronald J. Sider. Sider died last week and Mohler wasted little time stomping on his grave–from a "Christian world view," of course.
Let's break down his piece at World, where he serves as editor of the magazine's online opinion newsletter.
Mohler writes:
Among the vexing aspects of life in a sinful world is the fact that moral qualities are fractured and maldistributed. In other words, we confront persons with bad ideas who are kind, gracious, and principled even as we meet people with good ideas who are rude, unprincipled, and ungracious. This can be both confounding and confusing. At the same time, this observation can make us think more carefully.
A close reading of Mohler's article on Sider reveals that he may have hit a daily double here. In other words, in this piece Mohler appears to be both the person with the "bad ideas" and the one who is "rude, unprincipled, and ungracious."
He continues:
I think Ron Sider would agree with this, but I will not have the privilege of asking him about it in this life. Sider died on July 27 at age 82 of a sudden cardiac arrest. One of the most important figures in what became known as the "evangelical left," Sider shocked and rocked the Christian world with his 1977 book, Rich Christians in an Age of Hunger. He sought to combine liberal politics with his traditional Mennonite theology and, deeply troubled by what he saw as injustice, Sider sought to rally evangelical Christianity into a movement for liberation against poverty and oppression. The problem was that Sider's solutions, based in a mix of liberalism, liberationism, and easily falsified economic errors, would only add to the problems.
Notice the word choices here. Mohler says Sider was "deeply troubled by what he saw as injustice." Mohler could have said Sider was troubled by injustice. But instead he went with the phrase "what he saw as injustice." I will let you decide what Mohler is trying to communicate here.
He continues:
In Rich Christians, Sider called evangelical Christians to abandon capitalism and its excesses and embrace a new economic approach. Predictably, Sider's approach just happened to be a mash of collectivism, state control, income redistribution, and predictably leftist (if oddly arranged and inconclusive) economic arguments. His arguments sounded to some like liberation theology and to others like third-world propaganda. Carl Henry and Ronald Nash rightly criticized Sider's argument as Marxist, while others offered in-depth critiques of Sider's unexpectedly influential work.
Mohler misrepresents Sider's position with buzzwords that are bound to fire-up his Christian Right band of followers. For example, I don't think Sider ever called himself a Marxist. At a May 2004 conference Sider said "I don't think God is a Marxist, but frequently the Bible suggests that people get rich by oppression or are rich and don't share what they have–and in both cases, God is furious." (Eyal Press, "Closing the Religion Gap," The Nation, August 30/Sept.6, 2004. 11-16). Sounds pretty biblical to me.
Some of us evangelicals believe that there is plenty of biblical support for what Mohler disparages here as "collectivism." In fact, one might even argue that the founding fathers of the United States had a "collectivist" streak in them as evidenced by their embrace of classical republicanism or civic humanism. Moreover, I don't think Sider has ever argued for anything close to "state control." But he did believe that government has a moral responsibility to promote the common good. Mohler uses the word "predictably" twice in this paragraph when, in fact, it is Mohler's critique of the Evangelical Left, not Sider's nuanced biblical approach to civic engagement, that is more "predictable." One more thing about this paragraph: Carl F.H. Henry did indeed occasionally critique Sider. But Henry also signed the 1973 Chicago Declaration of Evangelical Social Concern. More on that document below.
Mohler writes:
A direct refutation of Sider's approach came from David Chilton in his book, Productive Christians in an Age of Guilt-Manipulators. Chilton dissected Sider's economics, but also offered a theological critique. Sider, said Chilton, "has allowed his economic views to be shaped by an increasingly vocal, socialistic camp in our society, not by the word of God." Sider would offer several revisions of his book, attempting to clarify that he did not want state collectivism and economic control, but in the eyes of his critics, myself included, he never resolved the larger problem of making economic proposals that would actually hurt, rather than help, those in poverty.
He never resolved the larger problem of making economic proposals that would actually hurt, rather than help, those in poverty.
Certainly Mohler can find a better critique of Sider than the essentially self-published work of a Rousas Rushdoony reconstructionist and dominionist like David Chilton. Wait, I take that back. Actually, in light of Mohler's remarks last month about Christian nationalism, this make perfect sense. (Mohler would have been better served by referencing University of Michigan philosopher George Mavrodes's critique of Sider'e economics).
Biography matters. Ronald J. Sider was born into an austere Mennonite family in Canada. He later stated that his father never voted, and his cousin, an influential bishop, identified voting as a sin. Sider's Anabaptist background was always actually in the foreground as well as the background. He was troubled by perfectionism but sincerely committed to a simple lifestyle. He and his wife Artubus lived in an inner-city neighborhood in Philadelphia, cooked out of the More-With-Less-Cookbook, and wore used clothing bought at local thrift shops. After graduate work at Yale, he taught at schools including Messiah College and Palmer Theological Seminary.
In Rich Christians, Sider had argued: "All income should be given to the poor after one satisfies bare necessities." Imagine just for argument, that this principle is correct—how would you define "bare necessities?" That was one of the insurmountable problems with Sider's approach. He did lean into guilt as a moral principle that he tried to translate into economic life. A more committed Marxist would argue that Sider was just making a consumer choice for a simpler lifestyle.
Some of the paragraph on the More-With-Less-Cookbook and the thrift shops appears to come directly from page 259 of historian David Swartz's book Moral Minority: The Evangelical Left in an Age of Conservatism. But Swartz writes as a generally detached historian. Mohler writes in a way that makes it virtually impossible to read these two paragraphs and not perceive them as a disgusting attack on the Christian way of living Sider pursued. The context matters.
He was also avowedly political. As the 2020 election approached, I was called by a reporter for a major newspaper and asked to respond to the formation of "Pro-Life Evangelicals for Biden," of which Sider was co-founder. The reporter asked me to comment on the group's public statement which called for evangelicals to support Joe Biden as president. I offered a robust response. The reporter then suggested that the new group was a surprising development. No, I explained, Sider had also organized "Evangelicals for George McGovern" in 1972, in his house no less.
Perhaps sometime in the future, let's say, for example, the year 2040, a reporter will ask a prominent Christian leader if she found the then eighty-one-year old Al Mohler's endorsement of an immoral presidential candidate to be a "surprising development." "No," the Christian leader will explain, "Mohler voted for Trump in 2020 and announced it on Twitter no less."
Mohler writes:
Sider was crucial to the emergence of evangelical events, statements, and organizations that attempted to push evangelicals toward the political left. The most important milestone was a gathering in a ramshackle Chicago YMCA that produced the 1973 Chicago Declaration of Evangelical Social Concern. The liberal momentum Sider wanted to build among evangelicals fell apart for two main reasons. First, the left soon devolved into identity politics, first over race and feminism. The LGBTQ revolution was also on the horizon. Second, evangelicals did mobilize in the years after that Chicago gathering, but the energy was on the right, not on the left. As Sider lamented, "we called for social and political action, and we got eight years of Ronald Reagan.
I would argue that Sider tried to push evangelicals less toward "the political left" and more toward a biblical approach to politics. Yesterday, in my own reflection on Sider's life, I wrote about his role in the convening of Catholics and Evangelicals for the Common Good. These conversations at Georgetown University included a conservative political scientist, multiple George W. Bush voters, a Rick Santorum political adviser, and a former Bush speechwriter. There was nothing about this gathering that remotely suggested Sider was trying to push the evangelicals in the room toward "the political left." Scot McKnight got it right in this tweet:
Mohler's choice of words are once again worth noting here. His uses the word "ramshackle" as more than just an adjective to describe the building where the Chicago Declaration was signed. He wants to portray Sider, Jim Wallis, Donald Dayton, Samuel Escobar, Frank Gaebelein, Carl F.H. Henry, Richard Mouw, John Perkins, and others present at the Chicago YMCA in 1973 as two-bit organizers who couldn't even afford a proper hotel to advance their Christian agenda.
Sider never approved of abortion or same-sex marriage, which limited his reach to the left. But he widened what he called pro-life concerns to include just about every political interest of the economic progressives, including climate change. He would eventually support the most radically pro-abortion presidential candidate in American political history.
Why does Mohler single-out "climate change" in this paragraph? He apparently does not believe that climate change is a pro-life issue. But if the science is correct, and the planet is heating-up to such an extent that it will one day be difficult for human beings to live on it, it is hard not to think about climate change as a "life" issue. But Mohler, of course, won't be around to explain to his great, great, great grandchildren why he did nothing about climate change and, as part of the public record, criticized someone like Sider who was trying to call our attention to this serious issue.
And what about Mohler's criticism of Sider's support for Joe Biden? As a pro-life Christian, I have a different view than Mohler about the best way to curb abortions, but as I read his piece I could not help but imagine future students of Southern Baptist history coming across a sentence in one of their textbooks that might go something like this: "Mohler would eventually support the most corrupt, immoral and incompetent president in United States history not in spite of his Christian faith, but because of it."
More Mohler:
He was a serious man who lived a serious life, and he avoided any personal scandal. He forced evangelicals into many serious ethical and theological debates—and those debates were important. But if evangelicalism deserves a future, it will have to be a future that resists and rejects the arguments of the evangelical left. Ironically enough, Ron Sider helped us to see that.
Mohler says the debates that Sider introduced were "serious" and "important." Really? For some reason I didn't get that impression from his piece. Mohler's fundamentalism will not permit him to say anything positive about Sider's profound contributions to the advancement of the Kingdom of God.
By the way, Mohler will be taking his Christian nationalism to the "Free State of Florida" next month where he will offer a keynote address at the conference of the National Conservative Movement. While he's there, perhaps he can drag Sider through mud a little more in conversations with Ron DeSantis, Josh Hawley, Peter Thiel, Michael Anton, and Mollie Hemingway.