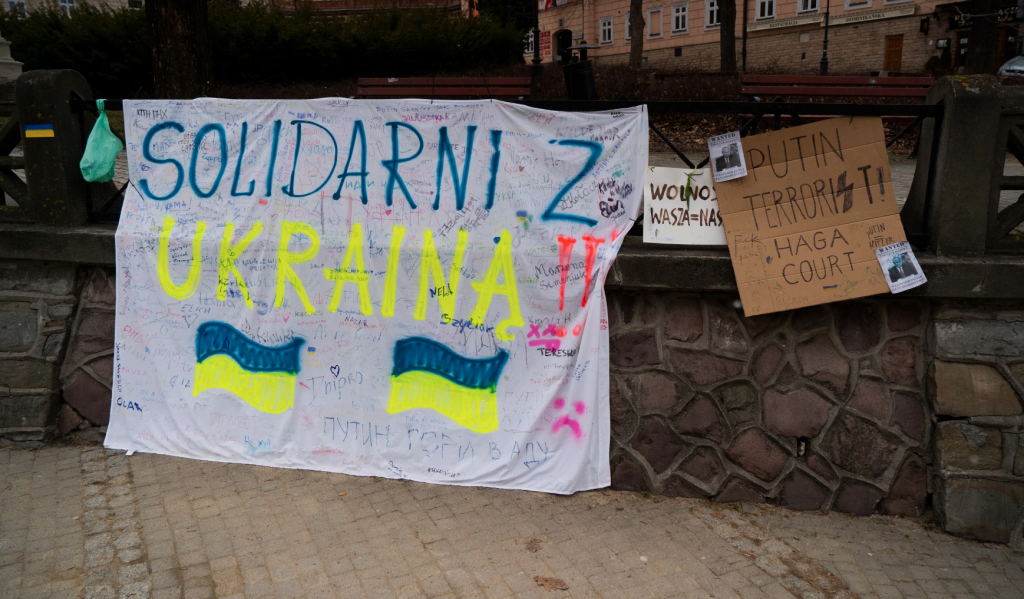 A history of Polish-Ukrainian violence—and sometime solidarity
The Twitter algorithm knows me too well. A few weeks ago it served up a piece from The Globe and Mail about an octogenarian Pole opening his home, then his heart, to two Ukrainian refugees despite what the article described as his "deep-seated suspicion" of Ukrainians.
It was a heartwarming human interest story coming out of an ugly war, and it had a special significance for me, as I've spent many years writing about the fraught Polish-Ukrainian relationship—the bloody shared history, the long-simmering tensions, the conflicting historical memories, the attempts at dialogue and reconciliation.
Polish-Ukrainian conflict is a topic that remains mostly unknown outside of Poland and western Ukraine and their respective diasporas. But within those communities it is part of who you are, bound up in your sense of personal and national identity. Seemingly each Polish or Ukrainian family from the historical regions of Galicia and Volhynia—Polish during World War II but Ukrainian now—has deeply personal stories, handed down through generations, of trauma suffered at the other's hands.
"I grew up in a half Polish, half Ukrainian family, and there was always significant tension," tweeted Christian Borys in response to that Globe and Mail piece. Borys is a Polish-Ukrainian Canadian, a former Kyiv-based journalist who now heads up Saint Javelin, raising money for relief efforts in Ukraine through online merchandise sales. His comment struck me because it so perfectly encapsulates the paradox of Polish-Ukrainian history: The tensions have always been there—but so have half-Polish, half-Ukrainian families. While Poles and Ukrainians were fighting each other in waves of bloody violence, they were also living and dying together, working together, marrying and raising families together, suffering together (under colonial subjugation), and resisting together.
Conflict between Poles and Ukrainians reached its most violent stage during World War II. But it did not start or end there. Poles succeeded in regaining their independence from Russia and Austria-Hungary at the end of World War I, reestablishing Poland as a sovereign state. Ukrainians, too, seized this opportunity provided by the breakdown of the old order to strive for independence, drawing on their own centuries-old traditions of dissent against imperial rule. But Ukrainian efforts toward independence proved futile, and Ukrainians ended up as colonial subjects once again—of Poland in the west and of the young Soviet Union in the east.
Interwar Poland, fearing the threat posed by Ukrainian nationalism to a unified Poland, imposed a number of repressive measures on its large Ukrainian minority. Ukrainians were mostly excluded from government positions in the Polish republic, and the use of the Ukrainian language was forbidden in state institutions. Official documents deliberately avoided using the term "Ukrainian" for either the people or their language, using instead the archaic "Rusyn" and thereby obscuring the distinct Ukrainian identity. Tensions were exacerbated repeatedly by both sides—in the twenties by a Polish settler-colonial policy that forced Ukrainian peasants off their land to make way for Polish military veterans; in the thirties by a series of assassinations and sabotage operations carried out by militant Ukrainian nationalists, to which the Polish government responded with a forceful "pacification" campaign. Ukrainian nationalists murdered both Polish and Ukrainian moderates calling for dialogue and cooperation; the Polish government retaliated by establishing what historians now characterize as a concentration camp for Ukrainians and other dissidents, denying them due process and subjecting them to torture and mistreatment.
And then came World War II.
Estimates of the number of dead vary. Timothy Snyder claims that the UPA—a partisan army fielded by a radical wing of the Ukrainian nationalist movement under the leadership of Stepan Bandera—killed roughly 50,000 Poles in Volhynia and Galicia between 1943 and 1945, while Polish partisans killed about 10,000 Ukrainians. The violence was brutal, carried out in some cases with farm tools like axes and sickles—and even more horrific because this was violence of neighbor against neighbor, of family member against family member, between people who had lived and died side-by-side for generations.
The staggering degree of violence combined with the complex, sometimes bafflingly contradictory realities of the situation on the ground defy any attempt to make easy generalizations about either Poles or Ukrainians during World War II. The pitfall for both Poles and Ukrainians in the decades since has been the temptation to do just that—to oversimplify, to selectively emphasize the truly heroic parts of their history (fighting Nazis and Soviets) while downplaying the less palatable parts (instances of collaboration; antisemitism; killings of civilians). Both governments have traded accusations of genocide in what Ukrainian historian Andrii Portnov has called a "clash of victimhoods." Polish activists have desecrated Ukrainian war memorials; Ukrainian activists have desecrated Polish war memorials. Polish protestors burned Ukrainian flags on the streets of Warsaw in 2016. Meanwhile, Putin's Russia—like the Nazis and Soviets—is happy to exploit Polish-Ukrainian conflict for its own ends.
But conflict is only one part of the Polish-Ukrainian story.
As this latest stage of Russia's war on Ukraine enters its sixth month, it has dropped off most of our radars, except when enough Ukrainian civilians die in a Russian missile strike in Kramatorsk or Kremenchuk or Vinnytsia to briefly catch our attention again. I retweeted that Globe and Mail story and posted it to Instagram without expecting much engagement. Everybody's tired of reading about the war.
But this story resonated—in particular with Polish and Ukrainian friends and followers, several of whom reached out to voice their own hopes for the healing of these old wounds, or to talk about the ways they've already seen such healing in action in their own communities.
I was reminded that we've already seen remarkable displays of Polish-Ukrainian unity coming out of this war—videos of the Ukrainian national anthem being sung on the streets of Warsaw, where six years ago Poles were burning Ukrainian flags; photos of the Ukrainian and Polish flags flying together in front of the Palace of Culture and Science.
Polish-Ukrainian reconciliation seems almost unthinkable given the history of violence between the two nations. And yet it has historical precedent. Intermarriage was commonplace in Volhynia and Galicia even against that backdrop of conflict in the twenties and thirties. And—even more unbelievable but somehow true—Polish and Ukrainian partisans joined forces to fight the Soviet occupation at the close of World War II.
For all of Putin's attempts to stoke historical tensions, his war on Ukraine has only strengthened Polish-Ukrainian unity—seemingly unthinkable until you consider the other part of the story. For as long as Poles and Ukrainians have been fighting, they've also been showing solidarity in the face of foreign aggression, figuring out ways to cooperate. This time around is no exception.
Amanda McCrina is a Nashville-based writer of historical fiction. Her novels Traitor and The Silent Unseen explore tensions between the Ukrainian nationalist movement and the Polish government before and during World War II. Find her on Twitter at @amandamccrina.