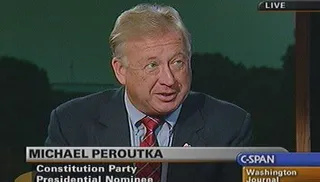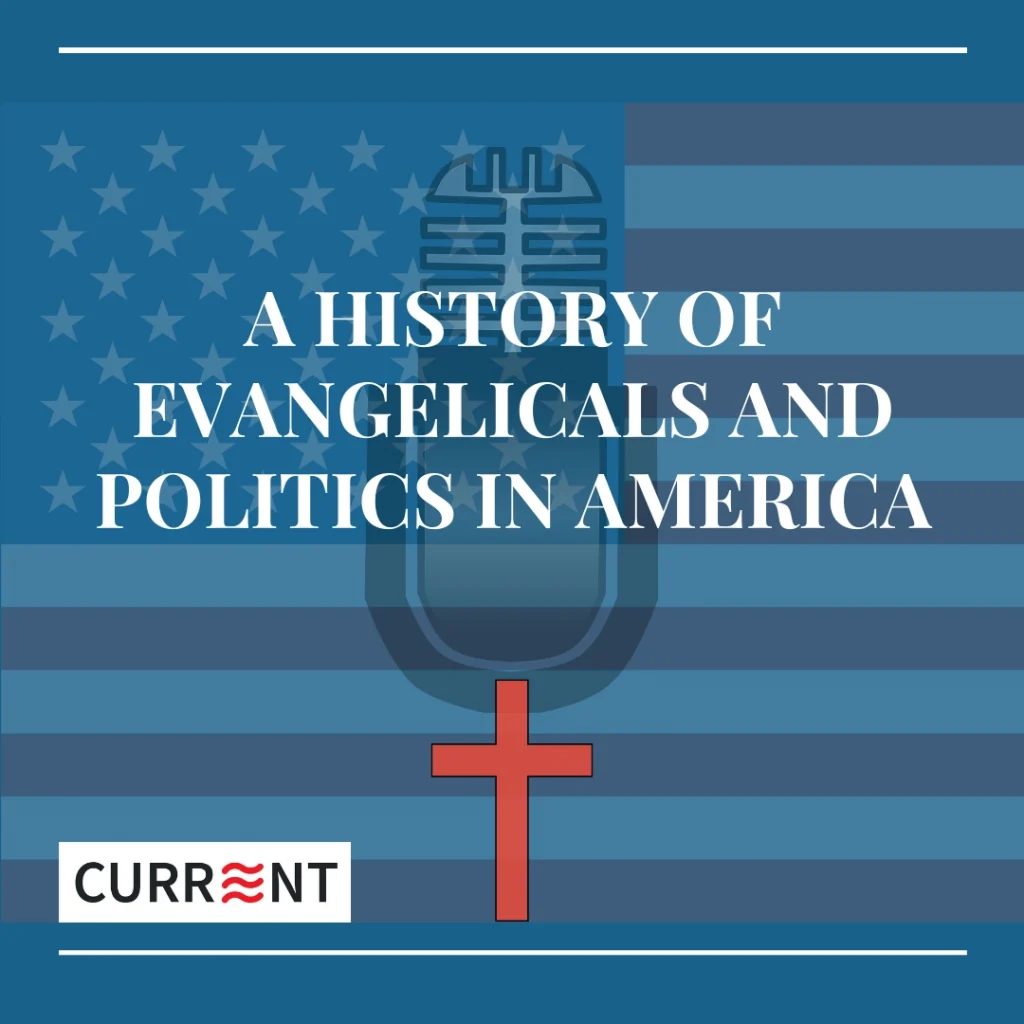 He is running for Maryland Attorney General. He also ran for president in 2004 on the Constitution Party ticket. We covered his presidential run in Episode 37 of "A History of Evangelicals and Politics." The title of this episode is "Christian Trumpism Before Trump."
Here is a taste of the podcast transcript:
In 2004, the Constitution Party had its eye on former Alabama State Supreme Court chief justice Roy Moore as its presidential candidate. The previous year, Moore was removed from his role on the state's high court for refusing to abide by a federal court's order to remove a Ten Commandments monument from the rotunda of the Alabama Judicial Building. Though Moore eventually declined the Constitution Party's offer, he spoke on several occasions for the party ticket. The treatment he received from the federal courts for his defense of the 10 Commandments monument became a rallying cry for the party during the campaign.
With Moore out, the Constitution Party turned to Michael Peroutka, a Maryland lawyer with no previous political experience who ran, and continues to run, the Institute for the Constitution, an organization committed to advancing an "American View" of law and government rooted in the idea that 1) There is a God; 2). Our rights come from him. 3). The purpose of civil government is to secure and protect our God-give rights. From all reports, Peroutka was an affable, hospitable, generally friendly fifty-two-year old who occasionally sung and played the guitar on the campaign trail and chose to stay in the homes of supporters instead of fancy hotels. The grandson of Czechoslovakian immigrants, one commentator noted that he looked a lot like Tom Poston, the actor who played Bob's friend on the old Bob Newhart Show. Peroutka also had money. According to one report, he loaned over $160,000 to his campaign. He and his running mate, Southern Baptist pastor and radio show host Chuck Baldwin, managed to get on the ballot in forty states.
Peroutka accepted the Constitution Party's nomination on June 25, 2004 at a Valley Forge, Pennsylvania hotel. His acceptance speech, which drew regular applause from the party delegate in attendance, focused on the "cultural and spiritual decline" of America. He wondered "what sort of country sends its mothers, daughters and its wives and sisters to fight and bleed and die in foriegn, undeclared, unconstitutional wars." He criticized the Bush administration for sending "sodomites"to fight in these wars and noted that the same country that waged these also "tortures and executes more than one million of its unborn every year, supports homosexual unions, gives asylum and welfare benefits to "illegal aliens," and insists that Christians and Muslims "worship the same God." He chided the federal judiciary for preventing Roy Moore from acknowledging "the sovereign God of the Bible" in his Alabama courthouse, and bashed the Bush administration for promoting a "One World Government agenda" and engaging in the "dirty" and "unconstitutional" "habit" of "out-of-control" government spending.
If that was not enough to rouse the delegates (and the C-SPAN viewing audience), the heart of Peroutka's talk was his defense of an "American" understanding of government rooted in God-ordained liberty and constitutional rights. He connected Jefferson's words about our rights being "endowed by our Creator" to the soldiers at Valley Forge who fought, froze, and died for these ideals that the founding father laid out in the Declaration of Independence. Peroutka championed religious toleration (it is noteworthy that he did not use the word phrase "religious freedom). America was founded as a Christian nation, but all other religions were free to practice their faith freely because God tolerated liberty of conscience. In other words, all religions were permitted to live freely under a God-ordained Christian government that protects religious diversity. After all, Peroutka tried to make clear, we were not living in a theocracy.
Once this theological and philosophical basis for government was established, Peroutka went on to explain what such a government might look like in practice. He said he would "do everything in" his "constitutional power to see that no person who fails to acknowledge God will be appointed to the federal judiciary." The lack of belief in God, Peroutka believed, disqualified them. He defended marriage between one man and one woman, and rejected the very idea of civil unions, but opposed a Federal Marriage Amendment because as he put it, "Godly" marriage "does not need the approval of any civil government. In nearly the same breath he opposed the Bush administration and Congress's willingness to spend hundreds of millions of dollars in subsidize and promote what he called "safe sodomy" and underwrite "the infrastructure of the homosexual movement."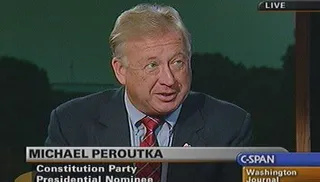 And here is Vice News on Peroutka's candidacy for Maryland Attorney General:
Michael Peroutka thinks American leaders must "take a biblical worldview and apply it to civil law and government."
He's a former board member of the neo-Confederate League of the South, has said he's "still angry" that Maryland was blocked from seceding during the Civil War.
He thinks public education is a communist plot, says laws protecting abortion and gay marriage are illegal and unenforceable because they violate God's law, and called the concept of the separation of church and state a "great lie."
And on Tuesday, he may win the Republican nomination for Maryland's attorney general. (NOTE: He did win).
Peroutka is facing establishment favorite and former federal prosecutor Jim Shalleck in a primary contest race that's flown under the radar for most voters. There's been scant public polling, but Peroutka is better-known, better-funded and GOP strategists are worried he could actually win the nomination.
His views are extreme even for the modern Republican Party, and once would be considered disqualifying for any major party nominee for statewide office. But his emergence as a serious candidate shows just how far the door has been thrown open to extremism in the Republican Party. The GOP base's embrace of election falsehoods and anti-science COVID-19 conspiracy theories, and flirtation with white supremacist rhetoric has given once- fringe figures like Peroutka an opening to push into the political mainstream.
To be clear, Peroutka has not changed. But the party base that's embracing him has.
"He was kind of ahead of the curve," said Peter Montgomery, a senior fellow for People for the American Way who has monitored Peroutka for years for the liberal group's Right Wing Watch. "Now we're seeing that within the religious right and that wing of the Republican Party there is an increasingly overt and aggressive Christian nationalism. Peroutka was kind of out front on that."
Read the rest here.