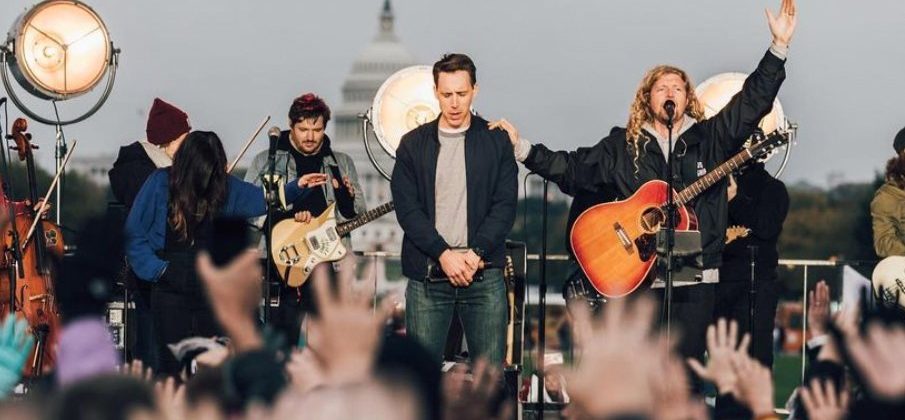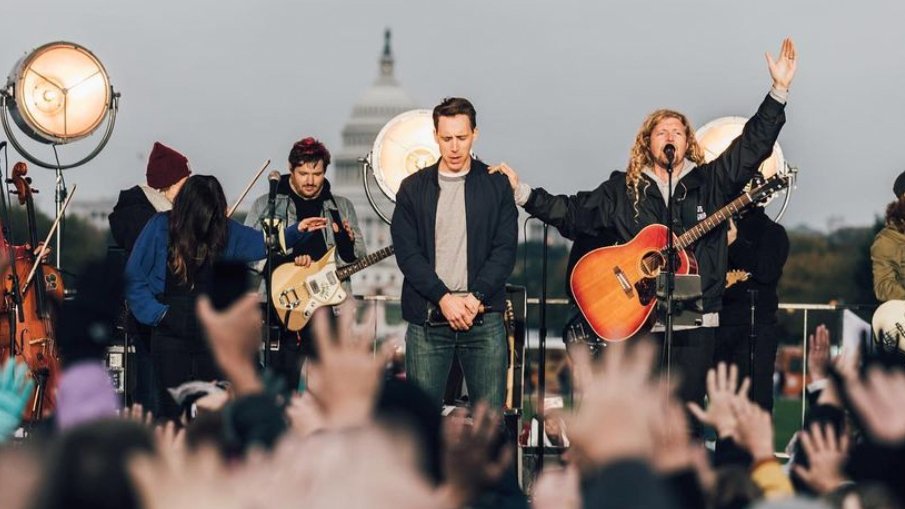 In 2019, pro-Trump evangelical worship leader Sean Feucht, an Oral Roberts University graduate who was a worship leader at Bethel Church in Redding, California and a former candidate for Congress, made $280,000. In 2020, he made $5.3 million. What happened? The Stop the Steal movement and COVID-19 happened.
Here is a taste of Tim Dickinson and Kara Voght's piece at Rolling Stone:
Feucht (pronounced Foyt) rocketed to prominence in MAGAworld with a combustible mix of godliness and grievance. Railing against pandemic restrictions on in-person religious services in 2020, Feucht mounted a national tour of "protest" revivals — drawing fervent crowds of worshipers and scathing rebukes from public-health officials. As Covid restrictions eased, Feucht pivoted seamlessly to raging against the alleged "groomers" at Disneyland.
Feucht's fusion of own-the-libs rhetoric and Christian zealotry is resonating. Newly released IRS records reveal that the once-humble praise singer is not only raising his national profile, he's raking in enormous amounts of cash. Capitalizing on the notoriety of his 2020 Covid-lockdown protests, Sean Feucht Ministry Inc. ballooned in revenue from $280,000 in 2019 to more than $5.3 million in 2020, ending the year $4 million richer than it started. (The accounting for this surge is curious: The ministry claims to have received zero dollars in contributions, despite Feucht avidly soliciting such gifts.)
Feucht — who, according to tax filings, is the sole employee of the ministry — also appears to have experienced a surge in personal wealth, raising eyebrows from ministry watchdogs. The preacher recently bought a pair of extravagant homes, one in a glitzy gated community in Southern California and another on five acres in Montana, valued together at well over $2 million, according to property records reviewed by Rolling Stone.
Warren Cole Smith, president of Ministry Watch, which vets religious organizations on behalf of donors, says that leveraging a ministry to live the high life, if that's what Feucht is doing, is not just unseemly, it's potentially illegal. "I'm not saying that Sean is guilty of private inurement," Smith insists. "But if a guy that makes less than $200,000 a year is buying multiple, million-dollar properties, at a minimum that warrants additional questions."
Calls to the ministry and its board members asking to speak about these financials were not returned. An email to Feucht with detailed questions was not returned.
With his newfound wealth and prominence, Feucht is making direct inroads in Washington, D.C. When the Dobbs draft decision leaked this spring, Feucht raced to the steps of the Supreme Court, joined by Reps. Marjorie Taylor Greene and Lauren Boehbert in public worship meant to steel the court's reactionary majority against advocates of reproductive rights.
And this:
Sean Feucht Ministries' latest financial disclosures raise the eyebrows of experts. The vast majority of the money taken in by Sean Feucht Ministries Inc., $5.3 million, is listed as "Honorariums and Speaking." It wouldn't be unusual for a religious figure of Feucht's prominence to score guest invites to appear at megachurches across the country, for as much as $100,000 a pop, says Smith, the Ministry Watch president. "Like a traveling rock star, he's getting appearance fees, I'm sure."
What's more curious is that Fuecht, who slaps "donate" buttons on all of his web sites, told the IRS he received zero dollars in contributions in 2020. Yet a review of public Venmo transactions reveals that Fuecht's ministry received at least 250 donations during a one-week stretch in July 2020. "It seems a little fishy," says Sarah Webber, an accounting professor at the University of Dayton who is an expert in nonprofit financial disclosures. "How could you have a website set up for taking in individual donations, but not [report] any contributions?"
These days, Feucht leans into any scintilla of controversy as a chance to raise more cash. When Rolling Stone asked Feucht for an interview and later paid a visit to Camp Elah — which he's advertised as an open house — Feucht sent out an email to his donor list warning about "another 'expose' or 'hit piece,'" and appealed for donations to "help us weather these impending attacks."
"Sean has figured out how to monetize the evangelical industrial complex," Smith says, describing a "perverse relationship between prosperity-gospel Christian ministries, political activism, and Christian nationalism." He adds, "If you can draw crowds, you can make money."
As his ministry has raked in millions, Feucht too is living through a period of unexplained abundance. In February 2021, he bought a four-bedroom, log-cabin-style vacation home near Flathead Lake in Montana that listed for $745,000. Earlier this year, he bought a $1.6 million home in Coto de Caza, a gated enclave made famous as the original site for The Real Housewives of Orange County.
But Feucht has also recently posted videos from the balcony of an oceanfront hotel room at the exclusive Hotel del Coronado, near San Diego. And in May, he scored a black-tie invite to see the "boss man" at Mar-a-Lago.
Such contradictions of wealth and power don't appear to trouble Feucht. Despite his avowed abhorrence of "groomers" who sexualize children, Feucht has no harsh words for Trump — who infamously hosted a teen beauty pageant, palled around with child sex traffickers Jeffrey Epstein and Ghislaine Maxwell, and motorboated Rudy Giuliani in a sketch in which hizzoner dressed in drag.
Read the rest here.