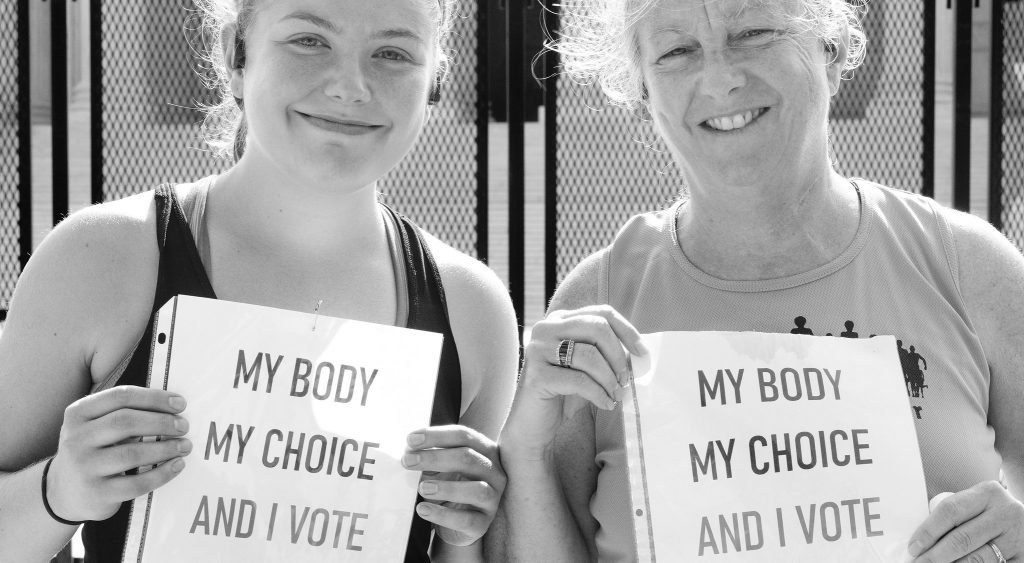 The historical roots of "My body, my choice" invite a political reckoning
The deluge of Dobbs commentary continues unabated, and many see the ruling as turning back the clock. For liberals, this means paranoid fantasies of women confined to the kitchen, barefoot and pregnant; for conservatives it means that America can now be America again. More thoughtful commentators have looked for more precise historical analogies.
The most obvious parallel is not very flattering to the pro-choice side: The conservatives who legislated from the bench to overturn fifty years of pro-Roe rulings acted much like the liberals who in Brown v. Board of Education (1954) legislated from the bench to overturn fifty years of pro-Plessy v. Ferguson rulings that affirmed the constitutionality of separate-but-equal segregation.
Michael Kazin, a highly regarded historian from Georgetown University, offers a historical analogy more friendly to the pro-choice side: Prohibition. At first glance the parallel seems appropriate. In both cases, one group identifies a legally permissible action as morally impermissible and works to impose its morality on an unwilling populace. Kazin is too good a historian not to note significant differences: Prohibition was not imposed by judicial fiat; rather it was instituted through democratic procedures: the very high bar of democracy needed to pass a constitutional amendment (the eighteenth, ratified in January of 1919). This democratic majority proceeded from a bipartisan consensus—the Democratic and Republican parties each had a "dry" wing that supported the ban on alcohol.
Beyond these careful historical distinctions much of Kazin's piece reads like an anti-Christian screed. It is fair to say that the pro-life movement has a strong Christian component, especially at the grass-roots level. But Kazin errs, and errs egregiously, in reducing Prohibition to its religious component. After recounting the celebratory comments of Christian pro-lifers following Dobbs, Kazin raises the issue of pro-choice resistance and introduces his historical analogy in ominous tones: "A century ago, another mass movement, also driven by religious zeal, faced a similar challenge—and utterly failed to overcome it." True, many evangelicals supported Prohibition. But the amendment passed because these evangelicals found common cause with secular progressives who opposed alcohol for their own reasons, invoking a scientific language of social efficiency and hygiene much more than morality. This is no small matter, for secular progressives (like Kazin himself) continue to speak the language of social efficiency and hygiene, though much of their focus has shifted from booze to sex.
As a Catholic, I have no sympathy for Prohibition. As a historian, I have no sympathy for willful distortions of the past to serve short-term politics. Kazin's omission of the secular-progressive dimension of Prohibition serves a broader historical narrative: a morality play that pits the forces of liberation in a secular Holy War against the forces of repression. The Catholics who opposed Prohibition (and there is no minimizing anti-Catholicism as yet another common ground uniting evangelicals and progressives) did so in the name of custom, not liberation. For them it simply made no sense to outlaw a practice as old as time itself, particularly when it offered one of the few affordable respites from the otherwise grueling toil of industrial labor. Bars were centers of sociability and community, one of the few spaces free from the long arm of the job. They were also political centers, closely tied to the urban political machines that offered one of the few avenues for advancement for working-class Catholic men.
Kazin surely knows that Prohibition grew out of a broader nineteenth-century tradition of moral reform that was anything but traditional. Beyond the condemnation of drunkenness, Protestants had had no moral objection to alcohol before the nineteenth century. Space does not permit me to go through the whole history of the Temperance movement, but suffice it to say that the war on alcohol, in both its religious and secular expressions, entailed an effort to impose social control by instilling individual self-control. Reformers envisioned the chaos of industrial capitalism brought to order by a nation of disciplined individuals: thrifty, sober, industrious, self-reliant in all things.
This language of moral individualism, of self-control as a solution to social problems, seems far more at home in the pro-choice movement than in the pro-life movement. To invoke classic sociological distinctions, the pro-choice position assumes an "inner-directed" self, ready to choose among options, while the pro-life position (I speak only for the Catholic version) assumes a "tradition-directed" self, willing to submit to external norms.
It is worth noting that the pro-choice movement grew out of the birth control movement of the early twentieth century. The word "control" speaks to the goal of the movement. I need not get into the ugly eugenics side of the history of contraception; the "control" side is telling enough. Margaret Sanger and other birth control reformers worked to bring sex under the same sort of individual discipline and control that workers had had to develop to accommodate the new industrial work regime. Like today's pro-abortionists, Sanger expressed sympathy for the plight of working-class women burdened by pregnancies; like today's pro-choice advocates, she imagined as the goal of contraception an ideal middle-class family life, with fewer children and deeper emotional relationships.
Then as now, contraception has at best a debatable track record in lifting women out of poverty, though it very clearly salves the conscience of middle-class reformers who get to claim they care about the poor by supporting contraception (and now, abortion). However, "My body, my choice" is not a slogan likely to inspire care for the poor, or care for anyone else for that matter. If sex really is a matter of personal choice, why should the public pay for its consequences.? To follow Kazin's Prohibition analogy, do I get to ask the state to pay my bar tab?
Kazin's deceptive Prohibition analogy assumes sexual autonomy as a natural, neutral norm violated by religious zealots on the Supreme Court. It is, instead, the hard work of a century or more of zealous sexual reformers, aided and abetted by a capitalist social order that increasingly has no need for monogamy, chastity, or perhaps even families.
Sexual pluralism is a fact in America today. We would be wise not to deny it or repress it by fiat from above. At the same time, we must acknowledge that the free marketplace of sex is no more free than the other free markets that have shaped the course of American history. The anarchy of unregulated capitalism in the nineteenth century looked like freedom to the handful of winners on top and slavery to the mass of losers on the bottom. The pro-life movement has aligned itself with those who affirm a market ideal of freedom in every aspect of life except abortion. I can only hope the fallout from Dobbs will show the contradictions of this alliance.
Looking ahead, the best historical analogy for Dobbs remains Brown: a good decision, argued poorly and imposed on an unwilling populace. The historical record following Brown suggests we are in for a very long, hot summer.
Christopher Shannon is associate professor of history at Christendom College in Front Royal, Virginia. He is the author of several works on U.S. cultural history and American Catholic history, including American Pilgrimage: A Historical Journey Through Catholic Life in a New World (2022), available now from Ignatius Press.