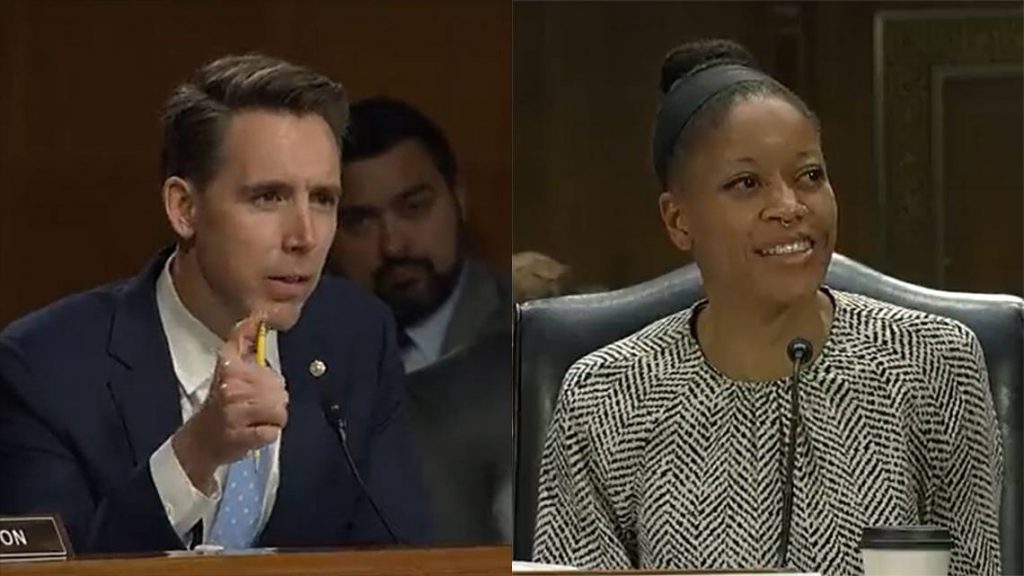 Notice the word "almost" in the title. As most readers of this blog know, I am not a Josh Hawley fan. In fact, the guy usually makes my skin crawl. But the other day I actually found myself, at least for a very brief moment, sympathizing with him.
Yesterday we linked to an Axios story about the realignment of the political parties. Here is a quote from that piece: "Democratic strategists say the party's biggest vulnerability is assuming that the priorities of progressive activists are the same as those of working-class voters." We saw a prime example of this the other day during a Senate hearing on abortion.
Watch:
I am guessing that most Americans, including the people in my working class neighborhood in central Pennsylvania, have no idea what Professor Khiara Bridges, a law professor at the University of California-Berkeley, is talking about here. Those who do understand the meaning of words like "transphobic" will see a privileged academic looking for a "gotcha" moment with a United States senator. (Of course let's not pretend Hawley isn't looking for his own "gotcha" moment). In other words, Bridges comes across as a member of the so-called "cultural elite"–a privileged academic who is out of touch with mainstream America.
One can expect to see this clip in coming election campaigns. I am sure Fox News has been running it on repeat.
Megan McCardle explains it best at The Washington Post. The title of her column is "A Berkeley professor's Senate testimony didn't go how the left thinks it did." A taste:
The whole thing quickly became a Rorschach test. Many progressives cheered to see Professor Bridges school a reactionary Republican. But conservatives also cheered, because they see a gift to Republican election campaigns.
Unlike a Rorschach test, however, this one has a right answer, and the progressives have it wrong. Moreover, the fact that they can't see just how badly this exchange went for their side shows what a big mistake it was to let academia and media institutions turn into left-wing monocultures.
Within those rarefied circles, Bridges's answers were exquisitely and exactly correct. She allowed no hint that late-term fetuses might have moral value, because that might suggest their interests could be weighed against those of the, well, pregnancy-capable. Nor did she concede an inch to the idea that biology can trump gender identity. And when she ran out of patience with Hawley's questions, she pounced in exactly the prescribed manner: Your questions are transphobic, Senator, and you are putting trans people at risk of violence or suicide by denying their lived reality.
Yet outside those circles, Bridges's answers don't really sound so convincing. In most of America, "Does a late-term fetus have value?" is a softball. And when Hawley leaped in to ask whether women are the ones who give birth — a question few Americans today would struggle with — she resorted to extended question-begging. That might be fine for a Berkeley classroom. But it just won't do for a political debate in which the majority of voters disagree with you.
Anyone who has ever tried to convince anyone of anything should be able to see that Bridges's approach was counterproductive. Why, then, did so many articles and tweets cheer the way she "SHUT DOWN" Hawley?
Because there is one place that snickering, eye-rolling and so forth are very effective: within an insular group, where they help delineate the lines of acceptable belief. A sufficiently incredulous "Are you suggesting … ?" effectively signals a silent corollary: "… because if you are, we'll shun you." It tells people that this topic is not up for discussion.
Within progressive institutions, "that's transphobic" is another such signal, and it works … within progressive institutions. In fact, it works too well; it leaves them unprepared to argue with outsiders.
Read the entire piece here.
This reminds me of the way many evangelical Christians try to bring the language of faith into the public square in a way that assumes everyone shares and knows that language. When my fellow evangelicals invoke God's will or quote Bible verses in a public debate it reveals their arrogance. It assumes that one's deep convictions on a particular matter is normative for the rest of a democratic society defined by pluralism. There is no effort at translation. There is no attempt to bring those who may disagree over to one's side. Progressives do the same thing. They believe that their views are normative. And when someone with a different world view challenges them, that person is dismissed. We all need to work harder on this front.