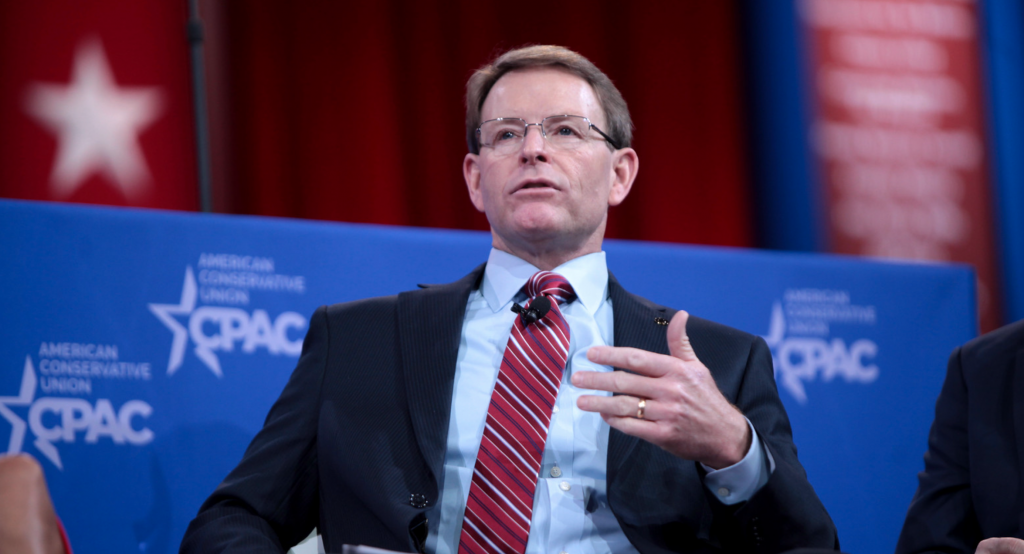 Many of the former president's court evangelicals have gone strangely silent
In May 2005 over one thousand conservative politicians and activists gathered in Washington D.C. to honor embattled House of Representatives majority leader Tom DeLay. Several months earlier the House Ethics Committee had reprimanded DeLay for multiple violations, including bribing a fellow member of Congress to vote his way on a prescription drug benefits package, along with breaking Texas election laws. Now the committee was preparing to investigate whether lobbyist Jack Abramoff was illegally paying for some of DeLay's overseas travel. The purpose of this gala was to send a message to Washington politicos that Republicans were prepared to stand with one of their leaders as he weathered what most in the room believed to be a partisan witch hunt.
DeLay was an evangelical Christian and a champion of so-called family values. This explains why Tony Perkins, the president of the Christian Right activist group Family Research Council, was in attendance that night. In fact, Perkins sat at the head table. He was one of the featured speakers. When it was time for him to take the podium he praised DeLay's commitment to faith-based politics, adding, "if they pick a fight with Tom DeLay, they pick a fight with all of us."
Four months later a Texas grand jury indicted DeLay on conspiracy and money laundering. He turned himself in to the Harris County Sheriff's Office in Houston and was fingerprinted and photographed. DeLay eventually limped off the national stage in disgrace (although he in 2009 did make a comeback–as a celebrity contestant on Dancing with the Stars).
If Tony Perkins made public comments about the DeLay indictments, I haven't found them yet.
This incident was not the first in which an evangelical leader supported a corrupt politician to the very end. In December 1972, in the middle of the Watergate scandal, Billy Graham told Richard Nixon that he had "complete confidence" in his "personal integrity." According to Graham biographer Grant Wacker, the preacher maintained confidence in the president through January 1974, long after "most Americans smelled a rat." For example, after Nixon's April 30, 1973 speech condemning the break-in at the Watergate hotel, Graham called the president to tell him that the network coverage of the address was generally positive, with the exception of CBS. "I felt like slashing their throats," Graham told Nixon, "but anyway, God be with you."
Unlike Perkins, Graham publicly repented of his connection to Nixon. He avoided partisan politics for the rest of his ministry.
During the 2016 presidential campaign many Christian Right leaders threw their unflinching support behind Donald Trump's candidacy. Evangelicals such as Perkins, James Dobson, Eric Metaxas, Robert Jeffress, Franklin Graham (who has not seemed to learn any lessons from his father), and Paula White, among others, believed that Trump was God's instrument to restore the United States to its supposedly Christian roots. God would use the reality television star to save America in the same way that he used King Cyrus to save the Israelites from captivity to Babylon. The real estate mogul, sexual abuser, serial adulterer, and pathological liar would appoint the right Supreme Court justices who, in turn, would overturn Roe v. Wade and make America Christian again. At the time I described these pro-Trump Christian conservatives as "court evangelicals." Like the Renaissance-era courtiers in Europe, these evangelicals came to the King's court—the Trump White House—to flatter the president, bask in his power, and offer advice.
Trump needed the votes of the Christian Right, so he gave the court evangelicals what they wanted. When the Supreme Court, led by three conservative Trump appointments to the bench, overturned Roe v. Wade last month, many of the court evangelicals jumped on social media to remind anti-Trump evangelicals like me that "elections have consequences."
Only time will tell if the money, resources, and votes of the court evangelicals and their followers will bring an end to abortion in America. Indeed, we will soon see if their decision to get into bed with Trump was worth it. But one thing is certain: These Christian Right leaders are partially responsible for contributing to the greatest threat to American democracy since the Civil War. Future history teachers, when trying to explain to students what happened on January 6, 2021, will ask them to consider how a group known for their God-infused patriotism could support a president who, as the House January 6th Select Committee has made clear, tried to undermine American democracy.
Thus far the January 6th Committee has painted a compelling picture of a narcissistic lunatic, intoxicated with power, who refused to listen to advisors when they told him he lost the election. Instead, he encouraged insurrectionists to invade the U.S. Capitol. He demanded that his inner circle, including his own vice president, violate the Constitution. And he surrounded himself with conspiracy theorists, including a pillow salesman who believed Trump would be back in office by August 2021 and Q-Anoners who thought Italian satellites were corrupting voting machines.
Trump is going down. Even if attorney general Merrick Garland does not bring criminal charges against him, Trump will go down in the history books as the most corrupt president in the nearly 250 years of the American republic.
Some of the court evangelicals are—as Graham did with Nixon, and Perkins did with DeLay—standing with him to the end. Salem Radio host Eric Metaxas continues to propagate the idea that the 2020 election was stolen. Jenna Ellis, Trump's "election fraud" lawyer who praises Jesus on her Twitter feed, has built her personal brand on Trumpism. Sean Feucht, who travels to culture war battlegrounds to lead the Trump faithful in worship, is raking in millions from his promotion of the Big Lie.
But most of the old Trump court evangelicals have fallen silent since the January 6th committee began its hearings. These Christian nationalists who celebrated their love of America with patriotic July 4th services earlier this month say nothing when confronted with evidence revealing how Trump did everything in his power to undermine the institutions that make America truly great. If they've made public comments about Trump's anti-patriotic behavior on or before January 6th, I haven't found them yet.
Elections have consequences. History is watching.
John Fea is Executive Editor of Current