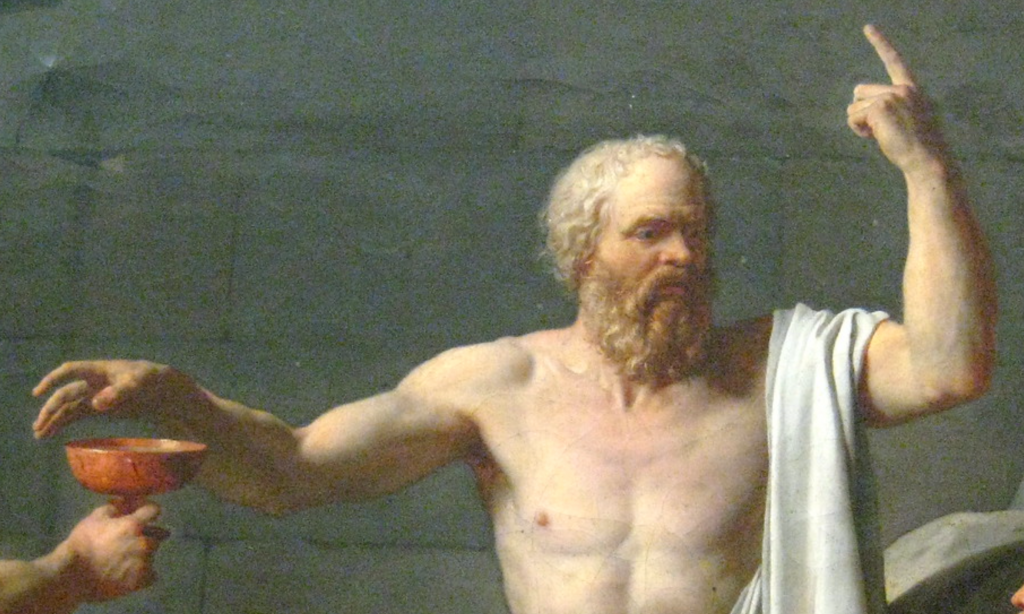 Contrary to contemporary conservative opinion, the sage of Athens may not be democracy's best friend
Walking about town, a small group of wealthy aristocrats runs into a middle-aged public intellectual who asks them a difficult question regarding the nature of life, the universe, the nation, and more. Long into the evening, surrounded by an adoring audience hanging on every word, they unpack the question.
No, this is not an outline of a Socratic dialogue, and the philosopher in question is not Socrates. But the resemblance is entirely intentional.
Eric Metaxas founded Socrates in the City in 2000 as a public forum for political and theological conversations and seminars. It has since grown into a veritable media empire, in addition to hosting public events in NYC proper. Metaxas' website explains the philosophy behind this enterprise: "The Greek philosopher Socrates famously said that 'the unexamined life is not worth living.' Taking this as a starting point, Eric Metaxas thought it would be valuable to create a forum that might encourage busy professionals in thinking about the bigger questions in life. Thus Socrates In The City: Conversations on the Examined Life was born."
In this analogy Metaxas boldly casts himself as a twenty-first century Socrates, prompting his interlocutors to engage with difficult questions, sometimes based on books they have written. These questions fall into two main categories: those related to God and apologetics and those related to the view of history Metaxas would like to promote. Buzz phrases like "stronger America," "defending Western civilization," and "defending our heritage" predominate. A section on the project's website, "Socrates Picks," provides a list of further readings, personally curated and endorsed by the modern-day Socrates in charge.
As it happens, Socrates, along with a number of Platonic tropes such as the cave analogy, now appear regularly in the language used by certain types of conservative thinkers and politicians to justify their approach to the world. From Metaxas to Pano Kanelos ("the new Socrates of the Academy") to Anthony Sabatini, who was worried just last year that in the modern U.S. Socrates would get canceled, Socrates-wannabes and his greatest fans are all around, eager to critique what they perceive as everyone else's ignorance and anti-intellectualism.
Writing a jeremiad last summer about Biden's replacement of Trump in the presidency, one writer used the worn-out cave analogy: "Socrates explains how the philosopher is like a prisoner who is freed from the cave and comes to understand that the shadows on the wall are not reality at all. The philosopher aims to understand and perceive the higher levels of reality. Other inmates of the cave lack the desire to leave their prison, for they know no better life." He goes on to explain how Americans whom he sees as "liberal" are trapped in the cave, without awareness of the truth and without any desire to discover it.
Such uses and abuses of Socrates are part of a larger and well-documented trend of co-opting the classics by certain fringe groups on the far right, especially in internet communities. In the case of Socrates we see that over the past two decades the philosopher has somehow morphed into the right-wing intellectual par excellence—unafraid to seek the truth always, eager to ask difficult questions that others would rather eschew, and self-sacrificially taking on the role of the much-maligned gadfly. Since everyone knows what happened in the end to the original Socrates, every modern-day Socrates subtly presents himself as a potential victim of the woke, someone who just might get canceled yet again. But he will probably get a good New York Times society page profile out of it, at least.
Unfortunately, the right's use of Socrates is no laughing matter. As I have argued before, the original Socrates proved to be dangerous and downright destructive for Athenian democracy. And the present co-opting of Socrates and the values he stands for is proving to be a danger for another democracy: our own. Three years ago Donna Zuckerberg highlighted the movement's "debate me" culture, in which one interlocutor (the Socrates figure) instigates a debate and berates as cowardly or less intelligent anyone who refuses to engage.
As Zuckerberg points out, Socrates' original nature was not much different. He was a relentless debater and always in control of the dialogue—selecting the topic of the debate, approaching the interlocutors, and continuing to debate long after his conversationalist is very obviously done. Indeed, "Many of the dialogues end when the interlocutor has been bludgeoned into submission and seems to find it easier to agree with Socrates than continue further—every 'debate me' man's dream. After all, a debate isn't a conversation—an exercise in which people generously try to understand each other's point of view. A real conversation doesn't have a 'winner.'"
This critique of Socrates is important to heed. It exhorts us to find better intellectual models for functional democratic dialogue: dialogue that allows individuals with very different political leanings to talk to each other productively. And that dialogue should not look like a typical Socratic dialogue. The reason some public intellectuals would like to be Socrates is because every Socratic dialogue was ultimately about Socrates and his views and not about trying to listen to the concerns or opinions of anyone else. Ostensibly a dialogue, each Socratic dialogue was, rather, a carefully-scripted conversation in which only one person's views mattered: those of Socrates. Hammered by a series of increasingly obtuse questions, his interlocutors never had a chance.
This is not the kind of culture we want to foster right now, as the United States feels more divided than ever over so many crises in the culture wars happening all at once. Between the repeal of Roe and a series of other highly contentious Supreme Court decisions, the January 6th investigation, and the upcoming midterm elections, this is a time when so many desperately crave thoughtful conversations in which they wish to understand and be understood.
Perhaps the best experiment in fostering such conversations so far has been NPR's series of One Small Step: Courageous Conversations Across a Growing Divide. Instead of a Socratic-style dialogue whose goal is to get one side to accept defeat and agree with the other on an issue, the program provides an opportunity for "people of opposite political views to have a conversation. Participants talk, listen, and get to know each other for forty minutes, not to change each other's minds, but to respect each other as people."
And that is a shockingly democratic idea. In a functioning democracy, the goal of each citizen is not to be a Socrates, badgering the rest into full agreement. Sometimes it is more important to listen. 
Nadya Williams is Professor of Ancient History at the University of West Georgia. She is a Contributing Editor for Current.