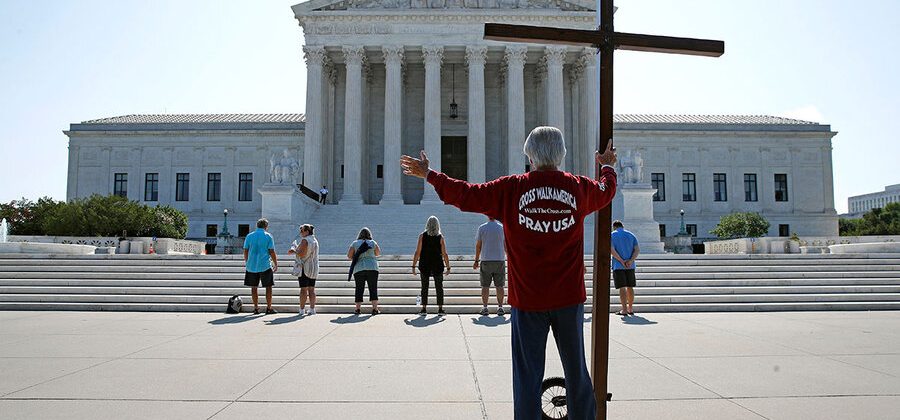 Here is Kara Vought and Tim Dickinson at Rolling Stone:
At an evangelical victory party in front of the Supreme Court to celebrate the downfall of Roe v. Wade last week, a prominent Capitol Hill religious leader was caught on a hot mic making a bombshell claim: that she prays with sitting justices inside the high court. "We're the only people who do that," Peggy Nienaber said.
This disclosure was a serious matter on its own terms, but it also suggested a major conflict of interest. Nienaber's ministry's umbrella organization, Liberty Counsel, frequently brings lawsuits before the Supreme Court. In fact, the conservative majority in Dobbs v. Jackson Women's Health, which ended nearly 50 years of federal abortion rights, cited an amicus brief authored by Liberty Counsel in its ruling.
In other words: Sitting Supreme Court justices have prayed together with evangelical leaders whose bosses were bringing cases and arguments before the high court.
Nienaber is Liberty Counsel's executive director of DC Ministry, as well as the vice president of Faith & Liberty, whose ministry offices sit directly behind the Supreme Court. She spoke to a livestreamer who goes by Connie IRL, seemingly unaware she was being recorded. "You actually pray with the Supreme Court justices?" the livestreamer asked. "I do," Nienaber said. "They will pray with us, those that like us to pray with them." She did not specify which justices prayed with her, but added with a chortle, "Some of them don't!" The livestreamer then asked if Nienaber ministered to the justices in their homes or at her office. Neither, she said. "We actually go in there."
Nienaber intended her comments, broadcast on YouTube, to be "totally off the record," she says in the clip. That's likely because such an arrangement presents a problem for the Orlando-based Liberty Counsel, which not only weighed in on the Dobbs case as a friend of the court, but also litigated and won a 9-0 Supreme Court victory this May in a case centered on the public display of a religious flag.
The Supreme Court did not respond to a request for comment. Liberty Counsel's founder, Mat Staver, strenuously denied that the in-person ministering to justices that Nienaber bragged about exists. "It's entirely untrue," Staver tells Rolling Stone. "There is just no way that has happened." He adds: "She has prayer meetings for them, not with them." Asked if he had an explanation for Nienaber's direct comments to the contrary, Staver says, "I don't."
But the founder of the ministry, who surrendered its operations to Liberty Counsel in 2018, tells Rolling Stone that he hosted prayer sessions with conservative justices in their chambers from the late-1990s through when he left the group in the mid-2010s. Rob Schenck, who launched the ministry under the name Faith and Action in the Nation's Capital, described how the organization forged ministry relationships with Samuel Alito, Clarence Thomas, and the late Antonin Scalia, saying he would pray with them inside the high court. Nienaber was Schenk's close associate in that era, and continued with the ministry after it came under the umbrella of Liberty Counsel.
Louis Virelli is a professor at Stetson University College of Law who wrote a book about Supreme Court recusals. He's blunt in his assessment: "Praying with a group that filed an amicus brief with a court," he says, "is a problem."
Read the rest here.