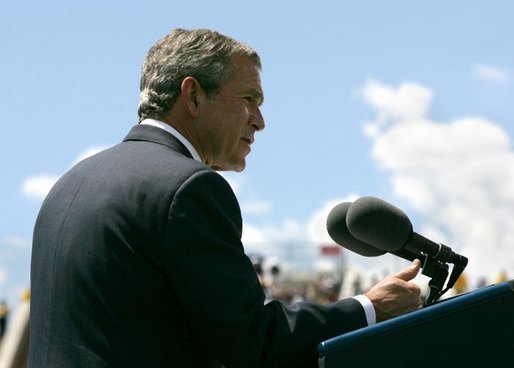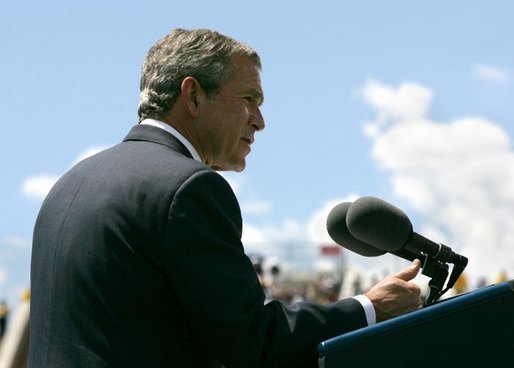 Where would we be on abortion today had we taken seriously George W. Bush's "culture of life"?
The third debate of the 2004 presidential election took place on October 13, 2004 at Arizona State University in Tempe. About a third of the way through the ninety minute sparring session between President George W. Bush and Senator John Kerry, CBS's Bob Schieffer, the host of the debate, directed a question to the Democratic challenger: "The New York Times reports that some Catholic Archbishops are telling their church members that it would be a sin to vote for a candidate like you because you support a women's right to choose an abortion and unlimited stem cell research. What is your reaction to that?"
Kerry, a Catholic, said he respected the views of his church. He told the audience that religious faith had always been an important part of his life and reminded them, as he had dozens and dozens of times by this point on the campaign trail, that he had been an altar boy. But on the matter of abortion Kerry was adamant in his disagreement with the bishops. He opposed the practice but did not believe it was proper, as a senator or president, to support anti-abortion legislation because not everyone shared his faith-based view on the matter. In other words, Kerry made a religious liberty argument. Government was not in the business of enforcing a particular religious position, whether on abortion or any other issue. Indeed, most Jews, most Muslims, many Protestants, and some Buddhists had very different faith-based views from Catholics like Kerry on abortion and the question of when life begins. He asserted the time-worn post-Roe Democratic mantra that abortion is a choice to be made between a woman, her God, and her doctor. And when it came to the appointment of Supreme Court justices the senator said, "I will not allow someone to come in and change Roe v. Wade."
George Bush was also personally opposed to abortion. He responded to Kerry with an affirmation of what he called a "culture of life." The president recognized that abortion was a divisive issue. He even went so far as refusing to say that he would make the overturning of Roe v. Wade a litmus test for Supreme Court appointments. He was confident that "reasonable people can come together and put good law in place that will reduce the number of abortions."
Bush illustrated his point by referencing the recent ban on partial birth abortion. Though such a practice was rare, the bill condemning partial-birth abortion, which Bush signed in November 2003, was correct in describing the procedure as "gruesome and inhumane." A doctor delivered a living fetus until its head (or in the case of a breech delivery its fetal trunk) was outside the body of the mother, allowing the doctor, in the words of the bill, to kill "the partially delivered living fetus." The bill had strong bipartisan support. It passed by a 281-142 margin in the House of Representatives and by a 64-34 margin in the Senate. Kerry voted against the bill because it did not contain a clause affording protection to the health and life of the mother. His running mate John Edwards, a senator from North Carolina, also opposed the bill for these reasons (although he was not present for the vote.) Birch Bayh (IN), Joe Biden (DE), Robert Byrd (WV), Tom Daschle (SD), Patrick Leahy (VT), and Harry Reid (NV) were among the seventeen Democratic senators who voted for the ban. 
During the debate Bush also mentioned adoption laws, maternity group homes, and abstinence programs as effective ways of reducing abortions. He championed the Hyde Amendment, which made the federal funding of abortion illegal. He opposed the sale of medication (such as RU-486 and the so-called "Morning After Pill) that triggered abortions. And he supported the approval of state Medicare funds provided by the State Children's Health Insurance Programs (SCHIP) for use in meeting the health care needs of unborn children. The cultivation of this "culture of life" was part of the larger agenda of what he called "compassionate conservatism."
Of course, Bush's commitment to life only went so far. It did not apply to war in Iraq or capital punishment. And though he often riled conservatives with his free-wheeling government spending, poverty relief, the alleviation of hunger, health care for women, and initiatives to address the income gap between white people and people of color were not part of these spending plans. All of these government initiatives had (and have) the potential of decreasing the number of abortions in the United States. Instead, Bush tried to address these issues through voluntary societies and faith-based grant programs.
In Bush's second term as president he appointed two Supreme Court justices: John Roberts and Samuel Alito. Any day now these men will play a key role in deciding Dobbs v. Jackson, a case that is likely to overturn Roe v. Wade. If the recently leaked decision is any indication, Alito seems intent on bringing an end to the 1973 abortion rights law. Meanwhile we are all waiting to see where John Roberts comes down on Dobbs v. Jackson. Most reports suggest that the Chief Justice is concerned about the politicization of the court after Donald Trump appointed conservative justices Neil Gorsuch, Brett Kavanaugh, and Amy Coney Barrett, and just may be interested in seeking a middle ground on abortion that could keep Roe v. Wade on the books. It is a longshot, but early this week Josh Gerstein of Politico suggested a possible scenario in which such a compromise could take place.
In the end, one wonders what the abortion debate would look like today had the Obama administration not so quickly undermined Bush's efforts to foster a "culture of life." Would evangelicals have flocked to Donald Trump in such large numbers? Would the ideological makeup of the court be so lopsided? Would we be hours away from the end of Roe v. Wade? Perhaps. Perhaps not. But this is certainly something to ponder and debate as we wait in eager anticipation for an announcement from the high court.
John Fea is Executive Editor of Current.