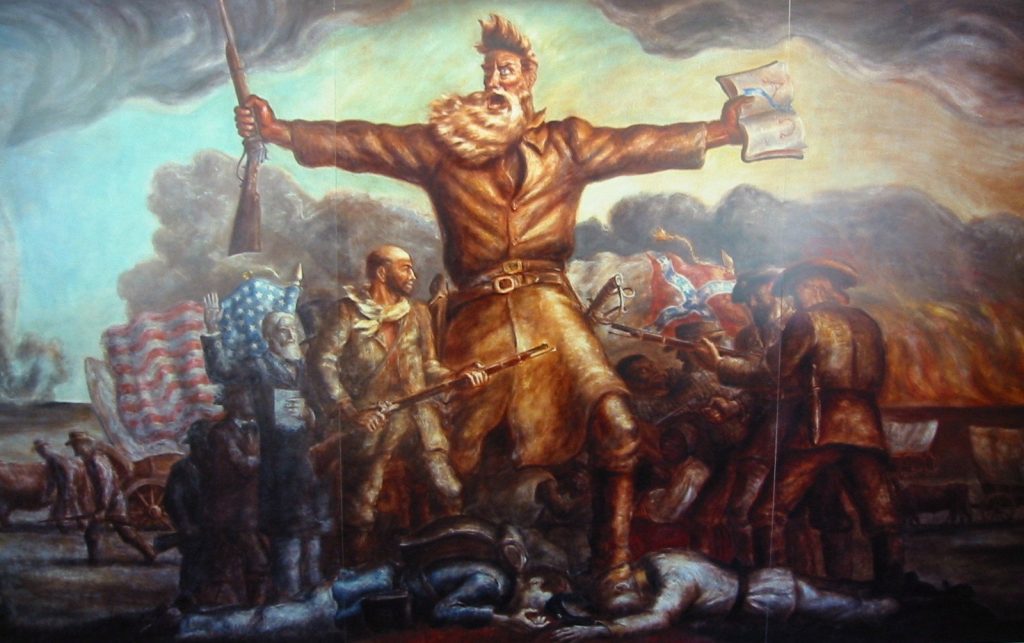 Louis De Caro, a church history professor at Alliance Theological Seminary in New York City, thinks so.
Here is a taste of his piece at Christianity Today:
Despite efforts on the part of some historians to portray him as heterodox, Brown's Calvinism was conventional, more influenced by the Puritans of yesteryear than by the novelties of New England Theology. What distinguished his Christianity from that of some in America (then and now), was a thorough dedication, as he once put it, "to better the condition of those who are always on the under hill side." This activism was deeply evangelical and deeply shaped by his theological beliefs.
Writing of his youth, Brown recalled how he had witnessed a white man beating a Black child with an iron shovel. He said he could not help but ask himself if God was not also the father of the victim of that atrocious violence. His answer was yes, and that shaped the rest of his life.
As a teenager, Brown briefly considered studying for the ministry in New England, but an uneven primary education and chronic inflammation of his eyes discouraged these aspirations. Yet his commitment to Christian faith never wavered. This is perhaps most clearly seen in his relationships with his children, several of whom rejected Christianity as young adults.
When his namesake declared himself a spiritualist in 1853, Brown dashed off a six-page tour de force of Scriptures, from Old to New Testament, including Jeremiah's appeal, "Turn, O backsliding children saith the Lord." To another apostate son, Brown wrote, "I do not feel 'estranged from my children,' but I cannot flatter them, nor 'cry peace when there is no peace.'"
After embarking on his antislavery campaign in 1857, he gave a Bible to his youngest daughter, Ellen. Inside he wrote, "May the Holy Spirit of God incline your heart in earliest infancy to receive the truth in the love of it and to govern your thoughts, words and actions by its wise and holy precepts."
Another place Brown's evangelical sentiments come through clearly is the words he wrote in his last days. After being sentenced to death, he wrote to his sisters, "Can you believe it possible that the scaffold has no terrors for your own poor, old unworthy brother? I thank God through Jesus Christ my Lord it is even so."
Two days before he was hanged, Brown wrote a long letter to his family, declaring how he had been "travailing in birth" for them, praying that none would "fail of the grace of God through Jesus Christ, that no one of you may be blind to the truth." Urging them to take up the Scriptures as their "daily & nightly study," he appealed that they would not rely on their "own vague theories framed up" instead of the Word of God.
"Oh," he appealed, "do not trust your eternal all upon the boisterous Ocean without even a Helm or Compass to aid you in steering."
Brown was forced by his impending death to consider whether the plan to take up arms to destroy slavery had been a mistake. Had he failed? To answer, he turned again to faith.
"I believe most firmly that God reigns," he wrote to a clergyman from death row. "I cannot believe that anything I have done, suffered or may yet suffer, will be lost to the cause of God or of humanity. … I now feel entirely reconciled to that … for God's plan was infinitely better."
One may, of course still question Brown's tactics and the way he put his faith into action in "Bleeding Kansas" and the raid on Harpers Ferry. I think the evidence shows that he was not driven, as has so often been alleged, by crazed bloodlust or violent megalomania.
Indeed, Brown was actually "averse to the unnecessary shedding of blood," according to a New York Times account from the time, and ordered his raiders to exercise great care lest innocent civilians be harmed. The only antislavery reporter to cover the abolitionist's last days, an undercover journalist for the New York Tribune, characterized Brown's plan as the "rescue of a great number of slaves," arguing he had no interest in maintaining "a warlike position in Virginia for any definite period of time."
When a jury of slaveholders found him guilty of insurrection, Brown rejected it, declaring in court that he had no such aim. One of his sons claimed that the intention with the raid was not to kill white slaveholders and spark a violent uprising, but "open the way for slaves in increasing numbers to escape from their masters." Brown hoped that, given a chance, people in bondage would flee. If enough of them did, that would "render slavery uncertain and unprofitable."
The first draft of history, however, was mostly written by the proslavery press. The initial interpretation of Brown's actions was crafted by people who believed that "all men are created equal" was a lie.
I have found that much of the real story of John Brown has thus been lost to caricature and partisan interpretation, a selective reading of history that withholds the same considerations often granted to other figures in Christian history.
Perhaps we might reconsider the words of Preston Jones, who once wrote in CT: "Because Christian readers, writers, or teachers of history know that sin infects everything, they are able to exercise charity, compassion, and understanding toward historical figures who made vast errors."
Of course, I do not believe John Brown's "errors" were "vast" in comparison to white Christians who secured the shackles of the slave, fought to suppress native peoples, and enforced racial oppression. But I do think we could ask ourselves why Brown cannot at least receive the same charity that evangelicals have extended to others who were, as they say, "men of their time."
In our time, white evangelicals seem to be in dire need of good examples of people who were transformed by their faith to rise above pedestrian racism—because, not in spite of, their unshakable commitment to the authority of Scripture. Why not John Brown? Why not the most esteemed white man in Black history?
Read the rest here.
I am struck by this line in DeCaro's piece: "One may, of course still question Brown's tactics and the way he put his faith into action in "Bleeding Kansas" and the raid on Harpers Ferry. I think the evidence shows that he was not driven, as has so often been alleged, by crazed bloodlust or violent megalomania." Brown may have been a Christian whose faith led him to fight against slavery, but he sure seemed like someone driven by "crazed bloodlust" and "violent megalomania" during the Pottawatomie Massacre. Here is a taste of a description of the massacre from PBS's American Experience website:
En route to Lawrence they learned that the Ruffians had sacked the town, burned the Free-State Hotel, and not one abolitionist had dared to fire a gun. Brown was furious at this cowardly response. Within hours they received another disturbing report — abolitionist Senator Charles Sumner had been brutally attacked on the United States Senate floor by a southern Congressman. Sumner's speech, "The Crime Against Kansas," had provoked the attack. He was beaten within an inch of his life.
"Something must be done to show these barbarians that we, too, have rights," Brown declared. He took a small group of men under his command and told them to prepare for a "secret mission." John Jr. tried to keep his father in camp, cautioning him to commit no rash acts. But the old man stuck a revolver in his belt and led his men away. They marched toward Pottawatomie Creek, to the homes of proslavery sympathizers.
On the night of May 24th, 1856, Brown banged on the door of James Doyle and ordered the men to come outside. Brown's men attacked them with broadswords. They executed three of the Doyles, splitting open heads and cutting off arms. Brown watched as if in a trance. When they were done, he put a bullet into the head of James Doyle. Brown's party visited two more cabins, dragged out and killed two more men — five in all.
For another accessible treatment of the massacre check out Tony Horwitz's Midnight Rising: John Brown and the Raid That Sparked the Civil War.
To help my students understand Brown I often describe him in terms of a pro-life activist who blows up abortion clinics.