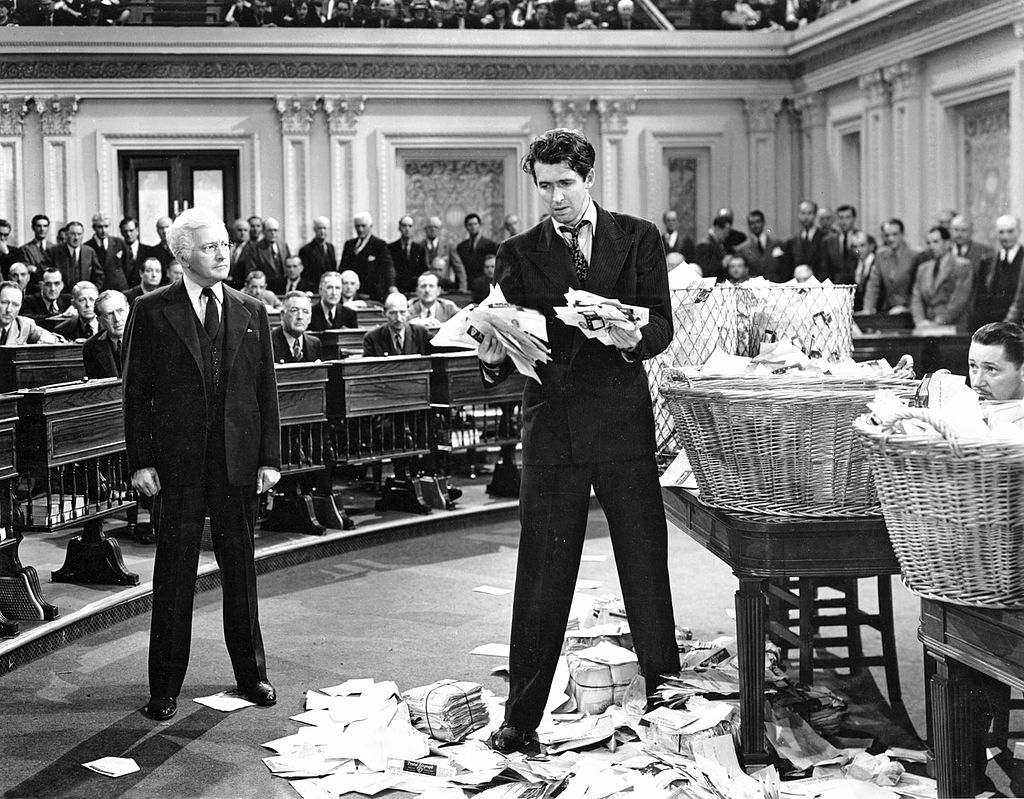 Can we save democracy with mean tweets?
Shame works in fiction.
Take Frank Capra's 1939 classic Mr. Smith Goes to Washington: Principled and naïve Senator Smith launches a one-man filibuster in an effort to convince the public about the corruption of evil Senator Paine. After over a day spent talking, an exhausted Smith calls Paine to remember "one plain simple rule: Love thy neighbor. . . . A man who knows that rule has a great trust. You know that rule, Mr. Paine . . ." And unable to stand any longer, Smith collapses.
But wait! From offstage we hear a gunshot—Paine has tried to shoot himself! Paine (having been saved from self-harm by his colleagues) then rushes into the Senate chamber full of remorse and says that everything Smith has said is true! Shame brings the evil Paine back to his principles. Smith is vindicated; roll credits. (It helps that Smith is Jimmy Stewart, history's most aw-shucks actor, and Paine is Claude Rains, who originated the role of cinematic madman in 1934's Invisible Man.)
Mr. Smith is great film. It is lousy political allegory. The idea that you can drag your opponents over to your side by making them feel guilty enough is a notion that is ineffective, self-serving, and currently the dominant form of political communication in the U.S.
Shame is our go-to political response these days, along with anger. American leaders and citizens seem less interested in making a case than in expressing shock that they have to make a case at all.
Case in point: Senator Ted Cruz held up a copy of the book Antiracist Baby at the confirmation hearings of Justice Ketanji Brown Jackson. Was she even aware, Cruz asked, that such books were present in a library of a school at which she is a trustee? But alas, Cruz had apparently not read the book, either, and lo, his judgment came. As Forbes reported, "Sen. Ted Cruz (R-Texas) is being mocked online."
Cruz thought he was Jimmy Stewart; his social media critics thought they were Jimmy Stewart. One well-placed shaming jab to the moral kidneys and your opponent will collapse in the face of integrity.
Unfortunately, no one seems to be playing the role of Claude Rains.
I'm not sure when this Stewart arms race became part of our national conversation but—spoiler alert!—it may date to the Age of Trump. The deadly alt-right rally in Charlottesville in 2017 prompted Twitter activist @YesYoureRacist to identify the members of the torch-wielding mob menacing University of Virginia students, and to good effect. The idea was simple: Don't let the anonymity of crowds hide the actions of white supremacists. If someone marches with Nazis, they should own that. The implied notion was that open white supremacy has no place in the United States. @YesYoureRacist was not alone in his efforts, and it worked: By and large, the alt-right imploded (at least for a little while) under a public shaming.
Folks might have taken the wrong lesson from this moment: not that our country can come together against white supremacy but that the best way to stop racism is to call people racists. Meanwhile, the far right launched a countermeasure: Shame people who call people racists by calling them something even worse: communists, terrorist, atheists, and of course, antiracists.
It is easy to confuse the crystal-clear morals of the situation here with the problematic approach. The notion that a white American is somehow "more" a citizen than anybody else is heinous. All people, regardless of ancestry or religion, should have an equal voice in our government and society because this ensures that each person will be judged for their own actions. Nazism and white supremacy judge people by who their parents were. It is wrong, and it should be opposed.
But after Charlottesville, shame stopped working. Indeed, shame almost never works as a political strategy.
Shame sidesteps argument. It assumes the speaker has the same moral values as everyone else. Shame is intended to reinforce already accepted standards. But when people don't agree on what the standards are the process becomes a farce. Rhetorically (but not morally) shaming someone makes as much sense as the Downton Abbey scenes of aristocratic Brits shouting down working-class blokes: "How dare you, sir!" It reduces questions of morality and justice to mere social formalities.
And when shaming fails, the worst thing happens: Violations of morality are justified or dismissed as violations of mere social protocol. Indeed, politicians and Christian nationalists now defend discriminatory, authoritarian and violent behavior by declaring their own bravery in violating social protocol. North Carolina's Lt. Gov. Mark Robinson appeared in church in 2021 to give a talk called "Things Politicians Aren't Supposed to Say." What did he say? That the transgender rights movement is "demonic" and "full of the spirit of the Antichrist." He also invited transgender people to "drop your pants or whatever you've got on, and I can show you what you are." He said this in the context of a discussion about school bathrooms.
The video went viral and Robinson got great praise from the far right for "speaking up." To be clear: Robinson wasn't violating social norms—he was suggesting that people in authority check other citizen's genitals and that the state should oppose the transgender movement because it is demonic. Robinson believes gender and demons are state business. I disagree with these extremely bad ideas because I believe in a right to privacy and because I think demons are an unsound basis for policy since not all of us can see them.
But the public conversation was about whether Robinson was brave or shameful—not about his dangerous ideas. His shame and not his plans took center stage.
So too with actor John Schneider, who appeared at a Michigan church and declared that "We have a country to get back. And if that fails, we have a country—yes, I'll say it—to take back."
What Schneider said: Democracy is irrelevant. If he fails at the ballot box fail, he can do what he wants by force. He can take it. This is the language of Putin. It is the idea of autocracy: Give us what we want or we will kill you.
He justifies the sentiment with a caveat: "Yes, I'll say it"—as though all he is doing is violating etiquette and not the American system of government. As though he is brave for owning the libs rather than cowardly for implying that he will shoot people rather than lose an election.
It is this latter part we need to emphasize. We need to remind people and show them the threats to democracy and to equal treatment under the law. It is frightening that we have to make the argument. But that is where we are. We cannot escape our responsibility with the easy response of shame.
John Schneider is not going to be shamed into better behavior.
Shame lets people off the hook; it faults them for social faux pas rather than for promoting ideas about killing people and overthrowing the government. Worse, shame and jokes on social media may actually promote the idea that this discourse on democracy is actually about social pleasantries. We need to remove shame from our online vocabularies.
There's another moment in Mr. Smith Goes to Washington. The filibustering underdog Smith explains that different folks need to get together to "find out what makes different people tick the way they do." And then: "I wouldn't give you two cents for all your fancy rules if behind them they didn't have a little bit of plain ordinary everyday kindness. And a little looking out for the other fella too. That's pretty important, all that."
Now that's a damn good argument for democracy. That is our task in politics, and online. We cannot shame the Senator Paines of this world into giving up. We can only tell people about why it's important to have kindness and look out for the other fella. That's how we save our country.
Adam Jortner is the Goodwin-Philpott Professor of Religion in the History Department at Auburn University. He is the author of the Audible series Faith of the Founding Fathers and was part of the creative team behind Where in Time is Carmen Sandiego?