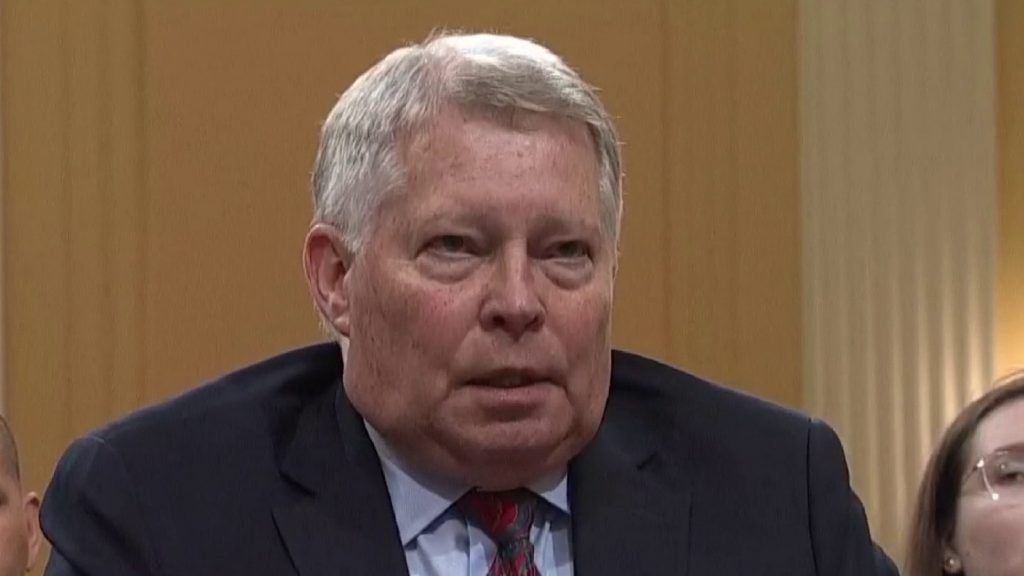 Yesterday, retired federal judge Michael Luttig testified before the House Select Committee on January 6th. Luttig is a veteran of the Reagan administration, clerked for Antonin Scalia and Warren Burger, and held various positions in the George W. Bush White House. Bush appointed him to the federal bench and interviewed him for two Supreme Court openings. Thirty-three of his law clerks later clerked for either Clarence Thomas or Antonin Scalia. Yesterday he challenged John Eastman, his former law clerk. Eastman claimed that Mike Pence had a constitutional right to overturn the results of the presidential election on January 6, 2021. Luttig said he was dead wrong.
Here is Eastman on January 6, 2021:
Here is a taste of Luttig's statement submitted to the committee. It was originally published at The Bulwark:
A stake was driven through the heart of American democracy on January 6, 2021, and our democracy today is on a knife's edge.
America was at war on that fateful day, but not against a foreign power. She was at war against herself. We Americans were at war with each other — over our democracy.
January 6 was but the next, foreseeable battle in a war that had been raging in America for years, though that day was the most consequential battle of that war even to date. In fact, January 6 was a separate war unto itself, a war for America's democracy, a war irresponsibly instigated and prosecuted by the former president, his political party allies, and his supporters. Both wars are raging to this day.
A peaceful end to these wars is desperately needed. The war for our democracy could lead to the peaceful end to the war for America's cultural heart and soul. But if a peaceful end to the war for America's democracy is not achievable, there is little chance for a peaceful end to that war. The settlement of this war over our democracy is necessary to the settlement of any war that will ever come to America, whether from her shores or to her shores. Though disinclined for the moment, as a political matter of fact only the party that instigated this war over our democracy can bring an end to that war.
Like our war from a distant time, these twin wars are "testing whether th[is] nation or any nation . . . so conceived in Liberty . . . can long endure." We must hope that January 6 was the final battle of at least the deadly war for America's democracy.
These senseless wars are of our own making, and they are now being waged throughout the land, in our city centers and town squares, in our streets and in our schools, where we work and where we play, in our houses of worship — even within our own families. These wars were conceived and instigated from our Nation's Capital by our own political leaders collectively and they have been cynically prosecuted by them to fever pitch, now to the point that they have recklessly put America herself at stake.
America is now the stake in these unholy wars.
Serious thinkers about the American experiment who are not given to apocalyptic prophesying question whether America is on the verge of a literal civil war. But is even this figurative civil war to be our generation's legacy to posterity?
These wars that we are waging against each other are immoral wars, not moral ones, being immorally waged over morality itself. We Americans no longer agree on what is right or wrong, what is to be valued and what is not, what is acceptable behavior and not, and what is and is not tolerable discourse in civilized society. Let alone do we agree on how we want to be governed or by whom, or where we go from here and with what shared national ideals, values, beliefs, purposes, goals, and objectives — if any at all.
America is adrift. We pray that it is only for this fleeting moment that she has lost her way, until we Americans can once again come to our senses.
The war on democracy instigated by the former president and his political party allies on January 6 was the natural and foreseeable culmination of the war for America. It was the final fateful day for the execution of a well-developed plan by the former president to overturn the 2020 presidential election at any cost, so that he could cling to power that the American People had decided to confer upon his successor, the next president of the United States instead. Knowing full well that he had lost the 2020 presidential election, the former president and his allies and supporters falsely claimed and proclaimed to the nation that he had won the election, and then he and they set about to overturn the election that he and they knew the former president had lost.
The treacherous plan was no less ambitious than to steal America's democracy.
And this:
In order to end these wars that are draining the lifeblood from our country, a critical mass of our two parties' political leaders is needed, to whom the remainder would be willing to listen, at least without immediate partisan recrimination. The logic for reconciliation of these wars being waged in America today dictates that this number needs to include a critical mass of leaders from the former president's political party and that those leaders need to go first. All of these leaders then need to summon first the moral courage and then the political courage, the strength, and the patriotic will to extend their hands, and ask of the others — and of all Americans — "Can we talk? America needs us."
While Memorial Day is still fresh in our minds, we would all do well to remind ourselves of the immortal words spoken to the West Point cadets at the United States Military Academy a half century ago: "Duty, Honor, Country." Those three sacred words of profound American obligation were spoken on that occasion to reassure those who had given their lives for their country in the past, and who would give them in the future, that their sacrifice would not be in vain. Those words are as apt today for this occasion as they were on that day for that occasion, if not more.
Then we need to get back to work, and quickly. We need to get back to the solemn business of preserving, protecting, and defending the Constitution of the United States and the United States of America.
The hour is late. God is watching us.
Read the entire statement here.
I hope some future editor of a historical documents collection for undergraduates includes this testimony.