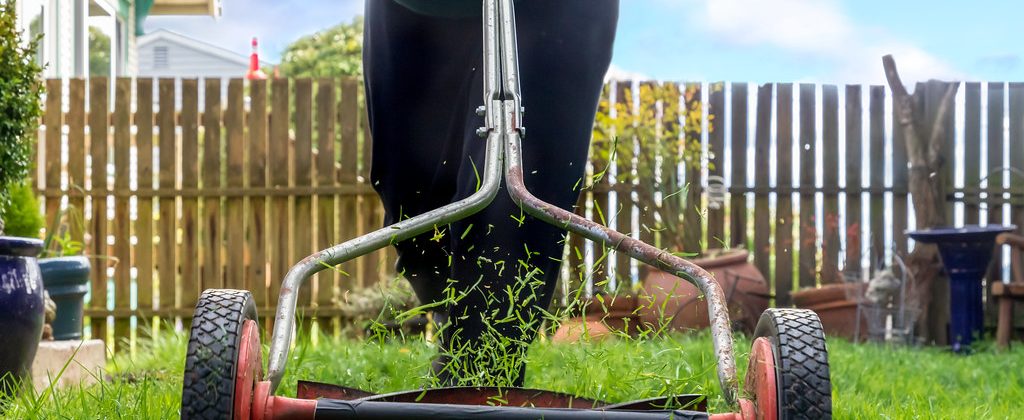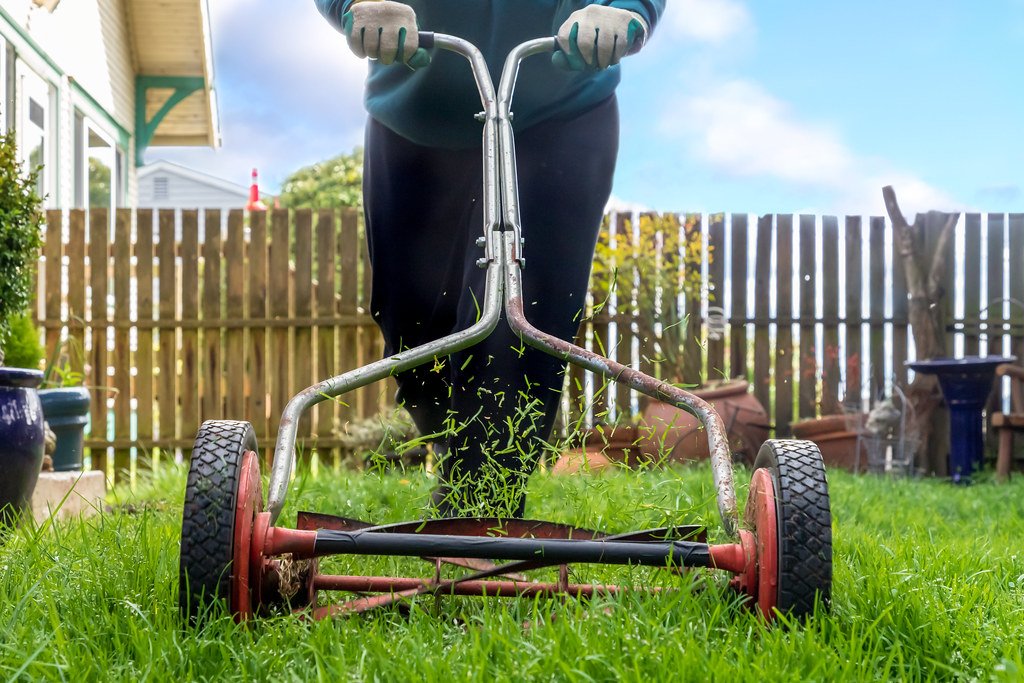 For fathers, all the world's a stage—even the front yard
Once a week during the summer, my normally buttoned-up serious historian husband changes from his usual life/work uniform of austere khakis and a dressy polo or buttoned shirt into a rather different sort of uniform. He, who normally criticizes my ripped jeans as slovenly, puts on his own oldest, most faded jeans. He adds an antique t-shirt of an indeterminate color, which may or may not have once had a logo of some college on it—no way to tell at this point. He tops this ensemble with a similarly ancient and battered baseball cap from an internship he held while attending college back in the previous century. Finally, he laces up his old running shoes that have been retired from running years ago due to age and excessive wear.
Appropriately attired, he is ready to perform the lead part in the best show in the neighborhood: mowing the front lawn of our home in rural Georgia.
As he dresses for his part in the show I prepare the dinner that must, according to tradition laid down over the past several years, accompany the show. Dinner is served on those special plates with compartments that ensure that foods do not touch each other. For the world might end if a strawberry accidentally slipped and scandalously touched a cube of cheese or a cracker or, worst of all, an olive. Such disruptions in the fabric of the universe can destroy the ever-fragile peace of dinnertime. No one should want this on their conscience. After all, the hyper-moral beings that are preschoolers and elementary schoolers enforce a code of conduct about their foods touching on the plate that are much stricter than Bob Jones University's handbook rules on mixed gender mingling. Consequences are, some experts would say, exponentially more dire as well.
But finally, once the essential preparations required to ensure the success of the show have been completed, the adoring fans and spectators assume their reserved seats of honor on the front steps, and the show begins.
For the next hour, spellbound, they watch the showman in his uniform move the lawn-mover across the yard in a true boustrophedon fashion, as the ox plows—first in one direction, and then turning around and going in the opposite one, all the while reducing the stubborn material that passes for grass growing in our clay soil to a tolerable length. A slight whiff of onions hanging in the air reminds us of the truth: much of our "grass" is really wild onions, determined not to let concerns like lack of care, water, or nutrients in the soil overpower their stubborn will to survive and propagate.
A good stage play, Aristotle reminds us, should connect with our emotions at the deepest and most visceral level. A great tragedy, in particular, will elicit a true catharsis of pity and fear in the audience. True, the weekly performances on my front lawn are more comic than tragic (unless a strawberry criminally touches a cracker on one of the spectators' plates). But even in their current predictable form, these performances do elicit a catharsis of sorts, although not of pity and fear—unless one feels pity for our long-suffering grass that always looks as though it is not long for this world.
As with any good show, these performances absorb the spectators, making them sometimes feel and act as though they are part of the production rather than mere observers. "You missed a spot!" one of them might point out. Or, breaking some unspoken rule of the stage, an audience member might run up to the lead actor and try to help him push the mower.
But if any discomfort is ever felt over the disruption and blurring of the proper roles of actor and spectators, it is speedily resolved. Every weekly performance ends with a joyfully joined celebration by both the actor and the audience over the beauty of the actor's work in subduing one small aspect of creation for just one more week. A celebratory game of chase or softball might serve as an encore, concluding the festivities. Abundant toasts with water follow. For if there is an emotion of fear that this performance elicits in me, at least, it is fear of possible heatstroke for any of the participants.
It is this summertime dinner-and-a-show tradition that comes to mind when I think about my husband's interactions as a father with our children. To be a father means sometimes to be a showman, an actor of sorts. Fatherhood is, in a strange way, performative, because it involves a guaranteed constant audience. But if we branch beyond this example of mowing the lawn under the children's watching eye, what does it mean to perform fatherhood?
"All the world's a stage" remains one of Shakespeare's hottest of hot takes, and it is appropriate here. From the moment the first child awakens until the last child falls asleep, a father is on stage, performing for an audience that is always watching, ever analyzing, and preparing to replicate and absorb.
The reason our children read the Bible every morning is because they see their father do it. The youngest eats whatever her father eats, no questions asked, and she prefers to take it from his plate, too. They love taking over his home office when he is not home, simply because it is his space, and they feel safe there. While they will tolerate such services from me, if no better option is available, he is the one they want to give them baths, brush their teeth, kiss their bruises, and read their bedtime books. His love for them is always patient, kind, not easily angered, able to forgive and ask for forgiveness. Every performative interaction reminds them that he loves them deeply, and they are secure in that knowledge.
But every performance has to come to an end. I get to see this tired actor for who he truly is at the end of the day, after the spectators are asleep, and he can finally take a break from performing this difficult role. And this is when I know that in showing his love for us, he is never acting.
Nadya Williams is Professor of Ancient History at the University of West Georgia. She is a Contributing Editor for Current.