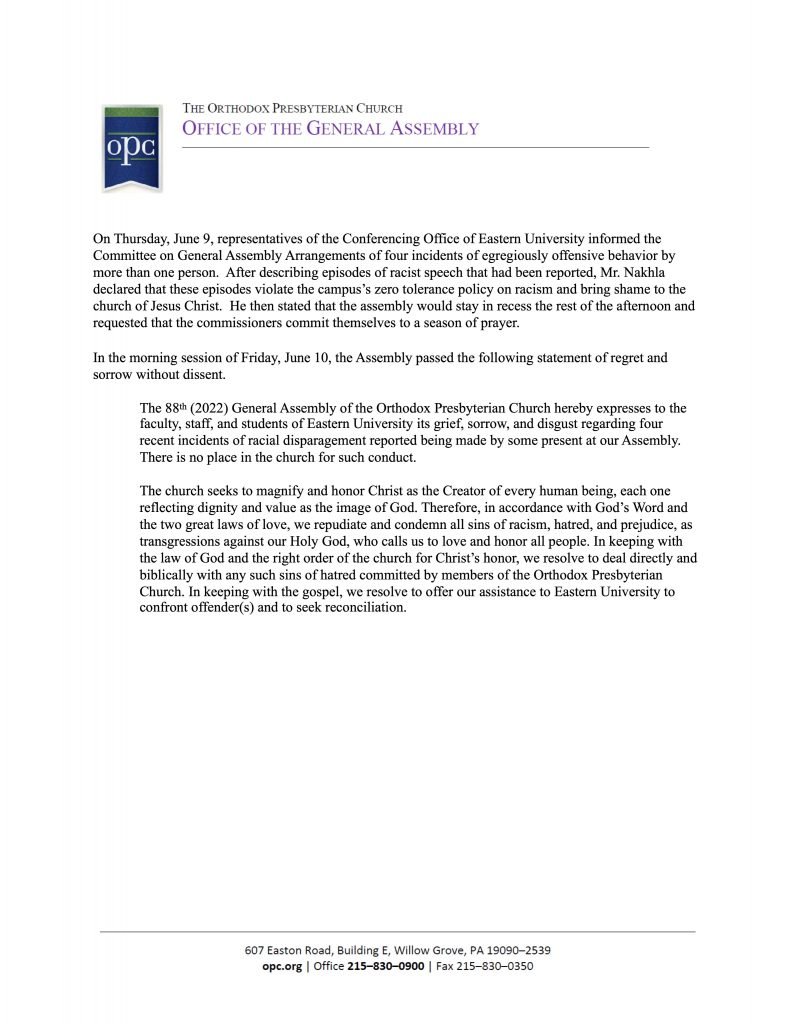 Daniel Silliman has the story at Christianity Today. A taste:
On Thursday afternoon, the proceedings were interrupted by a report from moderator David Nakhla, who said the General Assembly was in danger of getting kicked off the Eastern University campus for violating its contract and not respecting the Christian school's policy on racism. One person attending the General Assembly had made multiple comments about "slave labor" to students of color who were working at the school, another had gotten into an argument with a staff member, and a third had used a racial epithet.
Peter Bringe, an OPC minister and General Assembly commissioner, told CT it was painful to hear.
"The initial announcement of the moderator left the assembly in shocked silence," he said in an email, "and we used that time until dinner to let the situation sink in and pray."
The Eastern staff did not identify the people who made the racist comments, and there was some confusion among the commissioners whether it was one person or multiple people. The moderator, who declined to speak to CT for this story, said in an official statement that it was "multiple people." At the General Assembly on Thursday, he asked them to come forward, but no one did.
"There was a hush over the whole body," said Darryl G. Hart, a religious historian and OPC elder at the General Assembly. "People were sort of frozen in place and people were praying quietly. The overwhelming response was horror, shame, and contriteness."
And this:
Commissioners were told that if Eastern did not accept the statement, the school was within its rights to force the General Assembly off the campus for violation of its contract. If that happened, the OPC would have to suspend the meeting three days before it was finished. The commissioners approved the statement apologizing for "egregiously offensive behavior" "without dissent," and it was released on Facebook and Twitter.
Online, the statement received sharp criticism from conservatives who said the OPC should have stood firm and refused to apologize.
"What happened?" one wrote. "Was someone seen wearing a Machen shirt?"—referring to J. Gresham Machen, a key founder of the OPC, who once objected to a plan to treat Black people as equals at Westminster Seminary.
"What a joke. OPC cucked," wrote another man who described himself as Reformed and "100% American," a Ku Klux Klan slogan popular in the 1920s.
Read the rest here. Some tweets:
Update (June 16, 2022, 10:42am): Daniel Silliman adds to the story here. Part of his story is built on these tweets: