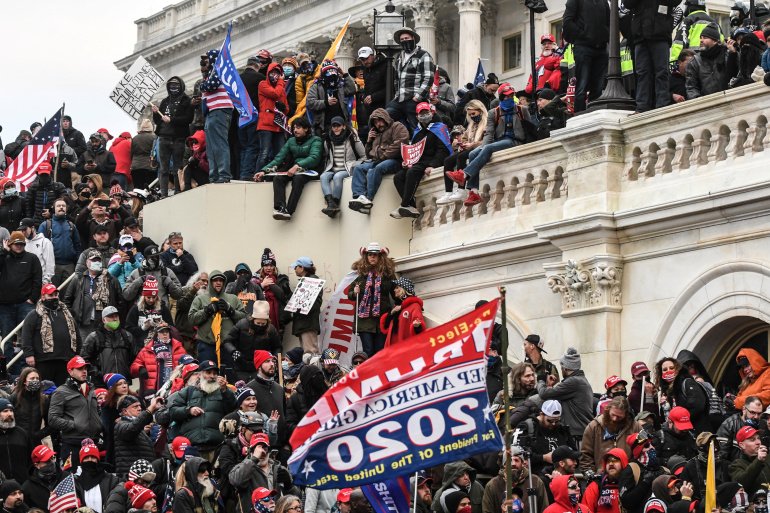 I am building these comments around the live-tweeting I did last night. I am sure we will all have more to say in the coming weeks.
Bill Barr began by calling the idea that Biden stole the election "bullshit":
Later, Ivanka Trump said that she agreed with Bill Barr:
Trump's niece, Mary Trump, called it.
Donald Trump responded to his daughter's comment. On his social media app, Truth Social, he wrote: "Ivanka Trump was not involved in looking at, or studying, Election results. She had long since checked out and was, in my opinion, only trying to be respectful to Bill Barr and his position as Attorney General (he sucked!)." Notice that Trump does not say that the clip of Ivanka supporting Barr were taken out of context like many on the Trump-right are saying today.
There is another angle to this father-daughter drama. According to reporting from Maggie Haberman in The New York Times, Ivanka and her husband Jared Kushner did very little to "pull Mr. Trump away from his obsession with staying in power. Instead, they left that task to paid staff, who in turn kept waiting for the family to intervene more aggressively…." So Ivanka knew it was B.S, but let it play out anyway.
OK, let's keep going:
I think this is the first time I have ever heard a Black politician quote Ronald Reagan's version of John Winthrop's quote from A Model of Christian Charity. Perhaps Bennie Thompson did this as a way to appeal to Republicans. The exact quote is: "For we must consider that we shall be as a city upon a hill." Reagan replaced the word "upon" with "on" and added the word "shining" to Winthrop's quote. Whatever the case, Thompson most certainly used the quote in a way that does not comport to its original use–either by Winthrop or Jesus. We've spent a lot of time interpreting this sermon at The Way of Improvement Leads Home Podcast. Check out our interviews with historians Daniel Rodgers (Episode 45) and Abram Van Engen (Episode 78).
It looks like the committee is going to make a pretty structured case:
At what point do we stop railing on Trumpism and start addressing the deeply systemic problems with our democracy? That was the thrust of my real-time tweet above. We need to do a better job of getting Americans to think deeply, weigh-evidence, engage social media critically, have a better understanding of our past, identify bias, reflect on the meaning of citizenship, respect science, etc. etc. I say we must play the long game because it is clear that the so-called short game–convincing current Trumpers that what they saw Thursday night is real and that Trumpism has damaged our country–seems hopeless. As historian and cultural critic Tom Nichols wrote last night: "The people who should be watching this won't, but even if they were watching, it wouldn't matter. It's not like they 'believe' Trump won, it's that they don't care and don't give a damn about the Constitution or elections or the rule of law. They just don't care." Again, the long game–education for democracy–is the only way forward. The people Nichols writes about will not be convinced. But perhaps there is still hope for their children and grandchildren. I am sure I will write more about this in the coming days.
I tweeted this when Liz Cheney referenced Scott Perry. I wrote more about this on Friday morning:
I wrote the following tweet after the committee played part of Joint Chief of Staff's Mark Milley's testimony. While Pence was calling Milley to send troops to the U.S. Capitol for the purpose of ending the riot, Trump's chief of staff was worried that the vice-president would get all the credit for quelling it. When Mark Meadows told Milley that he needed help controlling the "narrative," Milley saw it for what it was: "politics, politics, politics!"
Watch Milley:
I have still not solved this mystery 🙂 :
A sad irony:
This was new to me. The insurrectionists read Trump's tweets through a megaphone. Seems like a smoking gun:
Watch:
There is a good chance Liz Cheney will not be in the House of Representatives next year. It is likely she will lose her GOP primary race. (Just a reminder, she voted with Trump 92.9% of the time.) But she was the hero last night and she will go down as a hero in the history books when most of her GOP colleagues showed their cowardice:
Meanwhile, the Christian Right–in this case Family Research Council's Tony Perkins and Louisiana congressman Mike Johnson–were expecting political theater. This talking point doesn't hold up today:
Jenna Ellis, Trump's Big Lie lawyer, also tried to spin:
Watch Kevin McCarthy's staff flee for their lives as the insurrectionists invade the U.S. Capitol:
Imagine how these staffers felt 22 days later: