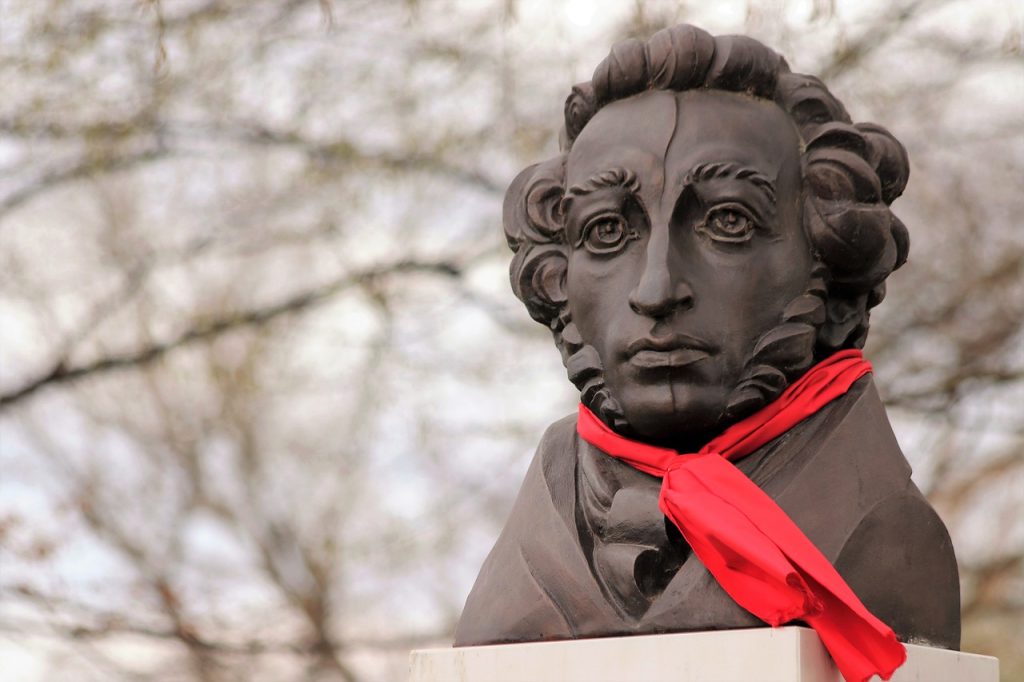 What should we make of literature on the lips of war criminals?
In an interview earlier this spring, marking the now distant one-month point since the beginning of the Russian invasion of Ukraine, the legendary Russian ballet dancer Mikhail Baryshnikov said, "There is a Russia of dictatorship, and there is a Russia of culture, a Russia of Putin, and a Russia of Pushkin." Baryshnikov, who defected from Russia to the US in 1974, has felt conflicted his whole life over these two different Russias. He continues to love one while distancing himself from the other.
Others as well have cautioned against canceling Pushkin and other Russian cultural icons in the wake of the war. New York's Metropolitan Opera even has a handy magnet for sale, should you like to have the reminder "Cancel Putin, Not Pushkin" on your fridge. But as the possibility looms of Russia's war against Ukraine escalating to full mobilization of all Russian able-bodied men, is this distinction between the two Russias really quite so straightforward, especially when it comes to understanding Russian dictators?
At a press conference in 2019, Russian President Vladimir Putin proudly claimed the poet Pushkin as a national hero for Russia, alongside Peter the Great. Perhaps we should not be surprised. Putin has on several occasions presided with much fanfare over the installation of statues of Pushkin around the world—in Italy and South Korea, to name just a couple of examples.
The idea of Putin the reader of Pushkin is difficult to square with the brutal dictator whose fruits of destruction are readily available to view in the news media. Entire cities, like Mariupol, so breathtakingly beautiful just a few months ago, have been largely razed to the ground by ruthless bombing, their residents slaughtered or deported against their will to places unknown. And for Ukrainians, as a result, removing statues of Pushkin has become a cathartic experience of deliberate distancing from their Soviet past.
The contrast between these two Putins, the sensitive poetry-lover and the blood-thirsty dictator, raises uncomfortable questions. Can a war criminal have a poet's soul? Can someone bent on destruction of humanity for personal whims and power recognize beauty in creation? It appears that the answer is yes, but this answer can only unsettle us further, especially as Putin is not the first Russian dictator to be such a creature of contrasts.
In 1933 during the height of Stalin's paranoia, a young man from the privileged Arbat neighborhood in Moscow and a devoted member of Komsomol (an organization that groomed youth for Communist Party leadership) published an inopportune epigram in his university's student newspaper. Caught up in behind-the-scenes power machinations, he was swiftly expelled from Komsomol and the university, arrested, and exiled to Siberia. The rest of his life involved significant suffering, as he tried repeatedly but unsuccessfully to prove his innocence of all actual wrongdoing.
This story, a semi-autobiographical account of its author Anatoly Rybakov, became the foundational plot for his emotionally charged Children of Arbat trilogy about broken lives and love in the age of Stalin and World War II. Like Sasha, one of the trilogy's chief protagonists, Rybakov was arrested and exiled for a misconstrued comment. The joking tongue, whether in speech or print, repeatedly turned out to be a man's worst enemy during that fateful decade. The trilogy that he subsequently wrote in the 1960s was finally published in the Soviet Union in 1987.
The main storyline follows the divergent lives of several "children of Arbat," young men and women who grew up in the same privileged neighborhood and in the same school and had so much love for the Communist Party only to see it turn on some of them so viciously while elevating others to leadership positions.
There is Sasha, who keeps seeking justice and never finds it. There is Varya, Sasha's love interest, with whom he will finally be reunited to share a grave at the end of the trilogy. And then there is Vadim, who falls into the job of an NKVD informer against his will and becomes progressively slimier over time as he denounces friends and loved ones. Finally, there is Lena, whose parents both fall from Stalin's good graces and are executed during the Great Purge. Lena's own bloody at-home abortion in a hot mustard bath at the behest of her NKVD-member secret lover is one of the most horrifying scenes in the entire trilogy. Living as a cog caught up in the Soviet machine mangled each body and soul in Rybakov's novels, just as it did in reality, turning each life under Stalin's dictatorial regime into a banal tragedy in prose.
But dwarfing the fictional characters in the trilogy is the larger-than-life historical figure that somehow eerily shares the stage with them and looms over their lives: Stalin himself. Appearing now and then to provide a lengthy internal monologue, Rybakov's Stalin is a well-read intellectual with a robust inner life. Able to quote Lenin and Pushkin at will with ease, this Stalin with the soul of a Pushkin is only more terrifying as a result. It turns out that a dictator with a poetical soul is somehow even a worse villain than a prosaic one.
Of course Rybakov's Stalin is ultimately a creature of the writer's imagination. And yet that portrayal is rooted in real contradictions from Stalin's life. For in his youth, then seminarian Stalin—yet another added contradiction with Stalin the murderous dictator—was also an aspiring poet whose verses composed in his native Georgian language echo in themes the great Russian poets of the age. There are flowers, birds, heroes, and encouragement to audiences to persevere while trusting that something good is in store:
          Move tirelessly
          Do not hang your head
          Scatter the mist of the clouds
          The Lord's providence is great.
Could these truly have been the verses of the man who would go on to slaughter millions of his own citizens? The one who, in Rybakov's novel, arranged for the assassination of Kirov and ominously declared at one point that "Death solves all problems"? But then the Soviet Union's ruthless founder and Stalin's predecessor in power, Vladimir Lenin, had a deeply poetical soul himself with a special fondness for the masters of Roman poetry—Vergil and Ovid among others—whom he read with great joy in the original Latin.
But perhaps none of this matters. Why should we care what Putin is reading as he orders air strikes on civilian targets in Ukrainian cities or mulls over using nuclear weapons, or what poetry might have been on Stalin's mind as he ordered the Katyn massacre, or which verses of Vergil spoke most deeply to Lenin as he dreamed up the Gulags? Still, there is a sense of violation and revulsion that taints the beauty of poetry once we know that such lips as these have recited it too. Or maybe all we can do is acknowledge, as Pushkin once did in the prologue to his Bronze Horseman:
          The awful period was that,
          It's fresh in our recollection...
          This time about, my dear friend,
          I am beginning my narration.
          My story will be very sad.
Nadya Williams is Professor of Ancient History at the University of West Georgia. She is a Contributing Editor for Current.