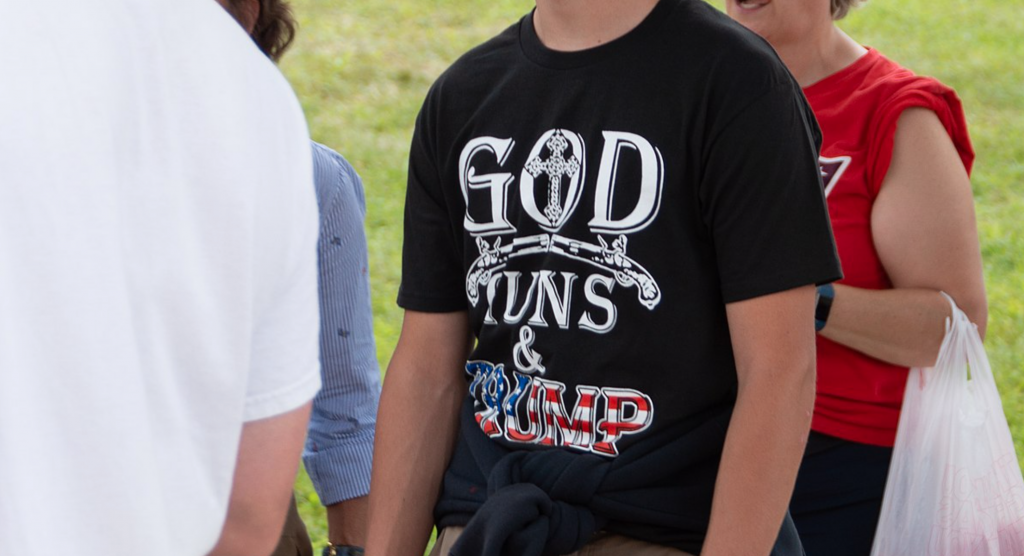 The recent shootings expose the radical individualism of white American evangelicals once more
Three years ago Texas governor Greg Abbott responded to a mass shooting at a rural Baptist church in his state by reaffirming his support for gun rights. "The problem is not guns," he told the National Rifle Association (NRA) in May 2018. "The problem is hearts without God. It is homes without discipline and communities without values."
This week's mass shooting at an elementary school in Uvalde, Texas has reopened the question of why conservative white evangelicals in general—especially those in the South—respond to mass shootings by insisting that gun rights need to be upheld. As sociologist Stephen Merino documented in his 2018 article "God and Guns: Examining Religious Influences on God Control in the United States," white evangelicals are more likely than any other religious group—and especially more likely than Catholics or Black Protestants—to support gun rights, even while claiming to be pro-life.
Gun rights advocacy is not an intrinsic feature of every brand of evangelicalism. It is not a feature of progressive evangelicalism, which includes strong supporters of gun control such as Ron Sider and Shane Claiborne. It is not a feature of evangelicalism in Britain or many other parts of the world. It is not part of the evangelicalism of Christianity Today magazine, which has published an occasional editorial supporting modest restrictions on guns. One can believe in the tenets of evangelical theology while still supporting gun control. But just because one can do so does not mean that most evangelicals will.
Consider, for instance, how the pastor of the Sutherland Springs, Texas, Baptist church reacted after his congregation's house of worship became the site in 2017 of a mass shooting that killed twenty-six people. Even though his own fourteen-year-old daughter was among the victims of the shooting, the pastor did not allow his own grief to alter his longstanding support for gun rights. "We continue to throw around blaming inanimate objects" for mass shootings, he declared, "when in reality these shootings all across America are a character issue" and "a moral issue." This was exactly what the Texas governor and numerous other white evangelicals were saying: Guns are not the problem. People's hearts are.
To proponents of gun restrictions this argument looks ridiculous. The United States is the only country in the world that has more guns than people. (There are 120 guns for every 100 residents of the United States—including infants and children.) The United States has a rate of firearms-related deaths six times as high as Canada's and at least four times as high as even the most violent European countries. Its overall homicide rate (which factors in deaths from any weapon, not just guns) is four times as high as the United Kingdom's. Gun restrictions reduce homicides and suicides, proponents of such restrictions argue. After all, when Australia implemented gun restrictions, gun-related deaths declined substantially.
The claim that gun control saves lives was the main argument British Reformed evangelical pastor Andrew Wilson made in a recent Gospel Coalition debate on gun control with Nebraska pastor Bob Thune. Why wouldn't evangelicals who want to save lives—as they certainly assert they do when they campaign for restrictive abortion laws—want to restrict guns?
Thune's responses to Wilson's arguments show that he (like many American evangelicals) thinks of the issue not in terms of aggregate lives saved but rather in terms of individual rights. Self-defense is a biblical and constitutional right, Thune asserted, and defending the innocent against aggression is a biblical mandate. Therefore, a Christian should work to ensure that individuals who want to exercise their right to defend themselves and others have the legal means to do so. Wilson's argument that gun deaths increase if there are more guns on the streets didn't seem to matter to him. In the right hands, Thune believes, guns can be a tool of justice, so it is important that Christians who want to engage in the divinely mandated work of defending the innocent have the unrestricted freedom to do so.
This argument, common among white evangelicals, is profoundly individualistic. By focusing entirely on individual rights it ignores questions about societal well-being. Even if one does have the right to defend the innocent or protect oneself—a point that not all Christians would agree on—one might well ask whether a society would be better off (and whether more lives would be saved) if the right to defend the innocent using deadly force were restricted to particular people with the training and legal accountability to do so (such as designated law enforcement officers), or whether a private citizen's means of self-defense should be limited in any way. For instance, even a self-defense advocate might ponder whether it might be helpful to ban AR-15s, which can easily be modified to fire up to 400 rounds per minute using technology that is still legal in the United States.
But these questions are irrelevant to someone who thinks only in terms of individual rights. As Thune declared, his debating opponent would have to show that a Christian does not have the right to self-defense or the responsibility to defend others in order to win the argument on gun control. If the Bible gives him those rights and responsibilities—and if the Constitution says that he has a right to "bear arms"—no one should take away his gun. As gun rights advocates regularly insist, taking away the right to bear arms will not stop the "bad guys" from acquiring guns illegally but it will keep the "good guys" from defending themselves and others. The evidence on homicide and suicide reduction in Australia suggests this argument is specious, but it is widely believed nevertheless.
This individualistic approach also informs conservative white evangelicals' approach to abortion, which focuses almost entirely on abortion restrictions rather than saving unborn lives through Medicaid expansions or societal investment in protecting prenatal health. Just as gun ownership is intrinsically right and should be legally protected, so abortion is intrinsically wrong and should be banned, many conservative white evangelicals believe. Social analyses of the long-term effects of abortion laws are irrelevant. So are discussions of Medicaid expansion, because the purpose of law is to punish individual evil and protect individual rights (such as the right to life or the right to bear arms), not produce human flourishing through expanded health care and social services. Questions about what policies will most effectively reduce the abortion rate take second place to questions about how to align the law with a moral standard.
This is very different from the more comprehensive, socially oriented approach many pro-life progressive evangelicals and Catholics have taken on both abortion and guns. For these Christians, "pro-life" means promoting policies that will save the largest number of human lives and protect human dignity. But for many conservative white evangelicals, "pro-life" merely means criminalizing murder (including abortion) while giving individual citizens the right to enforce this standard, whether by packing a firearm to use against an aggressor or bringing a lawsuit against an abortion provider.
This individualistic pro-gun rights stance doesn't have to be the evangelical approach, of course. Indeed, the fact that once one moves beyond the white rural South and parts of the West and Midwest support for an individualistic approach to gun rights rapidly drops off suggests that the way Thune interprets both the Bible and the Constitution reflects regional influences as much as theological ones. But nevertheless, the individualistic approach to guns, and rights in general, is so deeply rooted that it's likely once again to prevent any meaningful conversations about gun control among conservative white evangelicals. It may take more than a national tragedy to change conservative white evangelical thinking about gun rights. It may require a paradigm shift.
Daniel K. Williams is a professor of history at the University of West Georgia and the author of several books on religion and American politics, including God's Own Party: The Making of the Christian Right and The Politics of the Cross: A Christian Alternative to Partisanship. He is a Contributing Editor at Current.