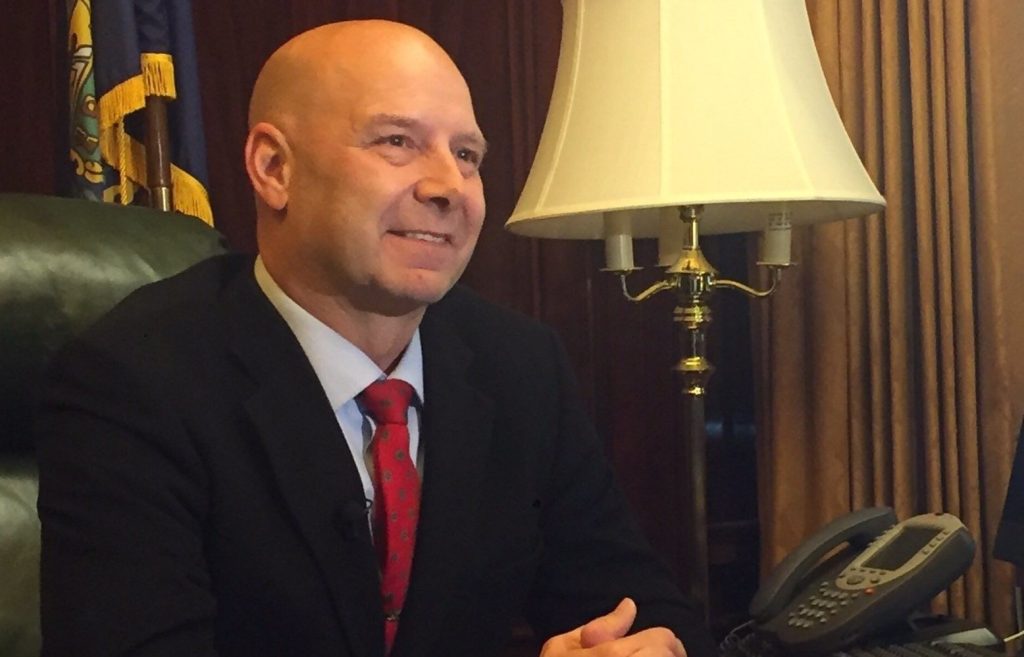 It's an interesting question. Where does the GOP nominee for governor of Pennsylvania, a pro-Trump, Big Lie-believing, Christian nationalist attend church?
I did some digging today with the help of some friends on Twitter:
Leave it to two guys with the surnames "Miller" and "Landis" to help me out here! 🙂
Pond Bank Community Church in Chambersburg, Pennsylvania is a member of the Conservative Mennonite Conference (CMC). According to its website, the CMC has 110 congregations with 13,000 members in 24 states. It was founded in 1910.
Theologically, the CMC upholds beliefs in the Trinity, the virgin birth of Christ, the deity of Christ, substitutionary atonement, the empowering work of the Holy Spirit, the inerrancy of the Bible, the sinfulness of humankind, salvation by faith through conversion, a "kingdom of God" defined by "love, peace, and non-resistance…including personal and national enemies;" evangelism; Satan as an active agent in the world; and the second coming of Christ." In other words, the CMC is pretty evangelical.
The Conservative Mennonite views on the relationship between church and state is worth noting in the context of Mastriano's attendance at Pond Bank Community Church:
The state is a provision of God for the administration of order and justice for the welfare of all people. The state is distinct from the church in purpose and cannot be expected to function by the ethics of Christ and the New Testament. Under God's provision, the state uses the sword, which "is ordained of God outside the perfection of Christ" and is a function contrary to the New Testament teachings for the church and the disciple of Christ. Christians are to pray for and respect the state and its officials and obey in matters not violating obedience to Christ and His Word. The church is a witness to the state of God's righteousness and may cooperate with the state in matters of community and law where principles of love and righteousness are not violated, but may not be integrated with the state or succumb to a nationalism which essentially accords the state the status of a tribal god.
A footnote to this statement reads:
The witness of the church to the state is an influence toward a greater consciousness of and conscience toward the sovereignty of God, but is not an attempt to bring the state under New Testament kingdom ethics aside from a response to Jesus Christ as Savior and Lord. This witness of the church consists of testimony and appeal from a people ready to suffer, rather than pressure and demand from a people of political power.
The Conservative Mennonite Conference also has a "Statement of Practice." This upholds a complementarian view of husbands and wives, male-only ordination; traditional marriage; divorce as a sin; and the sanctity of human life (defined in terms of opposition to abortion, infanticide, murder, war, capital punishment, suicide, euthanasia, hatred, slander, gossip, and racism).
It also has a section on "Love and Nonresistance":
Jesus, as the incarnate Son of God, both taught and practiced the way of love in all human relationships. Under the old covenant, God's people participated in warfare and capital punishment. Under the new covenant, Jesus commanded His followers not to resist an evil person or to fight with the sword to prevent His arrest because His kingdom was not "of this world." As members of His kingdom, we follow His example by extending love, humanitarian aid, and the truth of the Gospel to all people regardless of race, ethnicity, religion, or national allegiance. Though we experience continual conflict with evil, we recognize that our primary enemy is Satan, not people, and the weapons we use in this conflict are spiritual, not physical. We should not jeopardize our primary allegiance to Jesus by participating in any office, career, or organization that requires us to employ the use of force, military service, or retaliation to accomplish its objectives. We believe the way of love applies to every area of life, including those situations that involve the use of litigation, strikes, international tension and war. We must, even at the risk of life itself, extend love to every human and alleviate suffering, overcoming evil with love. (Bold text is mine).
Pond Bank Community Church even offers the members of its congregation a form they can fill out if they want to be a conscientious objector.
The CMC thus presents an interesting blend of conservative evangelical theology and traditional Anabaptist views on war and the state.
All of this is very interesting when you consider that Mastriano was a military officer (and continues to take pride in this fact) and seems to think about the relationship between church and state in a way that is very different than the beliefs of Conservative Mennonites.
Of course churches are usually open to all people. Perhaps Mastriano attends this church for reasons that have nothing to do with the its beliefs. Or maybe he is a really bad Conservative Mennonite who complains to his wife about the pacifist sermons as they pull out of the church parking lot after Sunday services. Or maybe he no longer attends. Or maybe his wife attends, but he does not. Or maybe Conservative Mennonites are not really serious about their stated views on war, peace, and nationalism.
But if Mastriano does attend Pond Bank Community Church, it must be hard for him to hear Mennonite preaching about war and the fundamental differences between the United States and the Kingdom of God. One more thing–I am guessing that Pond Bank Community Church does not fly an American flag in the sanctuary.
You can now see why the aforementioned tweeter "Mennonite Minute" had a hard time believing that Mastriano attended a Mennonite church!
I am sure we will learn more about Mastriano's faith between now and November, but this should give religion writers and Pennsylvania voters something to chew on for the moment.
Historian David Swartz writes about growing-up Conservative Mennonite here and here. Perhaps Dave can chime-in in the comments section to help us all make sense of this. No pressure, Dave! 🙂
I will add one more thing. I am guessing that Conservative Mennonites would raise an eyebrow or two about a member of the congregation having worship songs played at his campaign headquarters:
UPDATE (10:03am May 19, 2022): There seems like a lot of Mennonites are here: