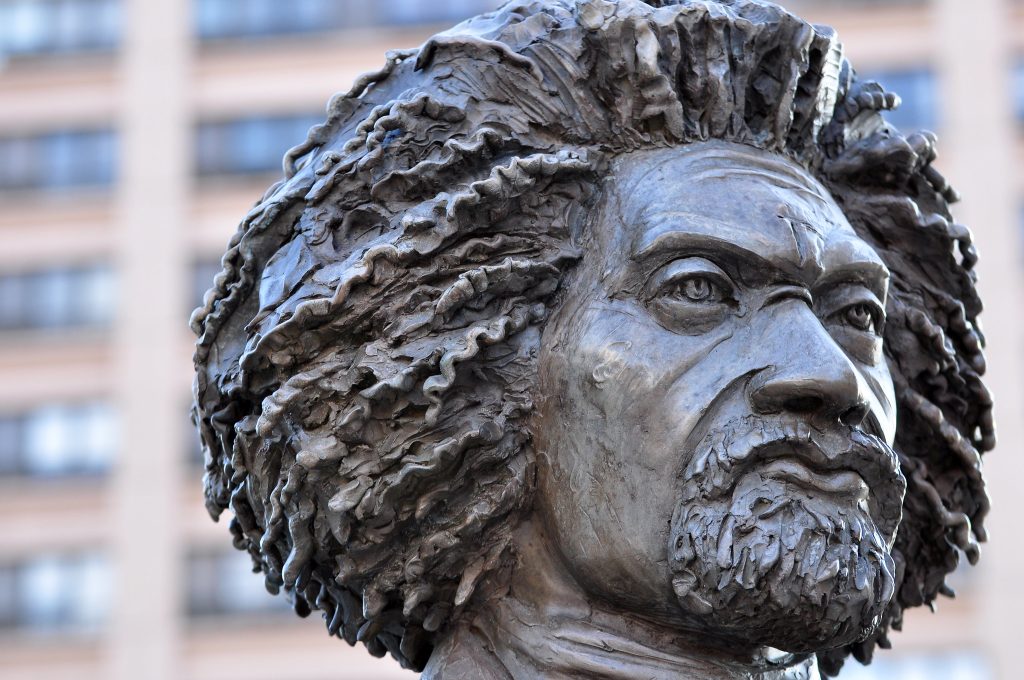 Great transformations of moral perception make debtors of us all—if we have eyes to see
Long Form features spill out a little more slowly, making possible a deeper encounter with the essay's central themes—and with the author themself. Pour a cup of coffee, settle in, and enjoy. It will be worth your while.
***
If I could travel in time back to nineteenth-century America I would visit a meeting in Boston in 1842, when Frederick Douglass, a little-known, twenty-four-year-old Black man, got up to speak. Most white people in the 1840s had never heard Black speakers and weren't quite sure what to make of them. Consciously or unconsciously, most white Americans—including many abolitionists—saw Black Americans as ignorant and uncivilized. Some were a bit scared by Black men. Everyone at that meeting would have heard of Nat Turner, who a decade earlier led a slave rebellion in Virginia that killed fifty-one white men, women, and children.
Picture, then, this night in Boston, before Douglass was famous, before he had written his Narrative of the Life of Frederick Douglass. Audience members saw a rather tall, young Black man get up to the podium. Then he spoke: "I appear before this assembly as a thief and a robber."
How did those people at the meeting react? Did they show signs of being nervous or anxious? Did they fidget uncomfortably? Douglass continued on. "I stole this head, these limbs, this body, from my master and ran off with them."
The audience then would have gotten it. The absurdity that a person could steal themselves. The absurdity of labeling a person as a piece of property. And Douglass was still a fugitive. A federal official could arrest him at any moment and transport him back to Maryland for the crime of . . . stealing himself? At that point, many people in that audience saw things more clearly than they had before.
Frederick Douglass was a remarkably gifted man. By all accounts he was a powerful speaker. He was provocative, creative, mesmerizing, and often funny. Through the power of words he could get people to see things more clearly, things that were right in front of them. Yet Douglass never went to college, never even benefited from a formal primary or secondary school education. He was just twenty-seven when he wrote the Narrative of the Life of Frederick Douglass. More than 150 years after publication, in a very different era and culture, many of us find this work compelling and quite readable.
But to fully appreciate the impact and import of Douglass' efforts we need to consider more fully the context in which he operated. While it is obvious to us that slavery is an inherently unjust system, we are actually in the minority if you compare us to societies throughout the history of the world. In one form or another slavery existed in every major region of the world from the beginning of recorded history up through the middle of the nineteenth century. Not every society or people group enslaved people, but most did. It could be found in Europe, east Asia, the Middle East, Africa, and the Americas. In 1770, one could find slaves in every colony of the western hemisphere, from Canada, down through Central America and the Caribbean, through South America. On July 4th, 1776 slavery was legal in every single one of the original thirteen states.
More to the point, before 1700 slavery went unchallenged and unquestioned throughout the world. It was unheard of to think that a society could or should try to eliminate slavery on ethical grounds. Many slaves throughout history, of course, tried to escape the system or rebel against it. A number of individuals thought slavery to be a terrible system. But there was no organized effort, anywhere, to try to eliminate the entire system on ethical grounds.
By 1886 slavery had been legally abolished in every state, colony, and nation in the western hemisphere. Moreover, the modern conviction that slavery was an unjust system that should not be tolerated eventually spread to every corner of the globe. Even though illegal forms of slavery still exist today, it is widely accepted as unjust and inhumane. This is a profound and significant ethical shift in human history. As historian David Brion Davis has written, "the abolition of New World slavery depended in large measure on a major transformation of moral perception."
A major advance in moral perception in history doesn't come easily. Abolition was a monumental, a truly breathtaking project. To succeed, abolition had to climb seemingly insurmountable heights. It had to cross international lines to engage dozens of different nations, colonies, and social systems. New political movements and policies had to be established. Entire economic systems needed to be reconstructed. Social relations needed to be reconceived. Theological claims needed to be reworked. Media depictions needed to be refashioned. In essence, millions of people had to start seeing the world differently. This was a complicated process.
Frederick Douglass, right in the middle of it all, made a major contribution through his tireless work to help people see more clearly. He helped people see by using many different rhetorical devices, many of which can be found in his Narrative. Douglass helped his readers see how slavery dehumanized its victims. For instance, he described how, as a nine-year old, he and twenty-eight others were lined up to be appraised—inspected and given prices just like the cattle or horses or pigs—and sold as part of Aaron Anthony's estate. He helped his readers see how slavery corrupted slaveowners, describing how Sophia Auld, who had never owned slaves before, slowly transformed from a kindly and caring woman to a master who treated him angrily and harshly. Douglass even explains how he began to see more clearly. At the age of thirteen, he obtained, read, and re-read the schoolbook The Columbian Orator, full of concepts such as individual liberty, education, religious faith, and "the rights of man." He wrote that he had "now penetrated the secret of all slavery and oppression and had ascertained their true foundation to be in the pride, the power and the avarice of man."
We might underestimate how difficult Douglass's persuasive task really was. It is not just that many people embraced slavery because their wealth and power were built on the slave system, though this definitely was a very critical part of the problem. It was not just that many people were indifferent to the plight of African Americans, though this certainly functioned as a frustrating role in the task. There existed one more particularly thorny problem: Even people of goodwill had a difficult time seeing the injustices of slavery clearly.
This included Christians, of course. For years Christians had turned to the Bible to justify slavery. By 1850, though, more than a century of Christian abolitionist agitation in Europe and the Americas had greatly weakened the biblical proslavery argument everywhere—everywhere except the United States. Here is an odd, and rather troubling truth about American Christianity. In 1850, proslavery biblical arguments held stronger sway among Christians in the United States than anywhere else.
Why was this so?
Part of the explanation is that the American South had become a "slave society" rather than a "society with slaves." In a "society with slaves," such as, say, Pennsylvania in 1780, slaves played only a minor role in the economy. This minor role helps explain why northern states responded more positively to antislavery movements and ideals of liberty in the two decades after independence, enabling them to eliminate slavery. Abolition did not cost the North as much as it did the South.
But it was not just money. In "slave societies," such as South Carolina, the master-slave relationship not only defined all economic production but seeped into every nook and cranny of culture. In a slave society, as David Blight describes it, "from dawn to dusk, everyone woke, labored, worried about money or hunger, ate, played, competed, loved, hated, married, worshipped God, sang, dreamed and died in a world shaped at every turn by slavery."
The existence of a slave society in the South, however, is only part of the explanation for why the proslavery biblical argument was so strong in the United States. We also have to contend with this reality: Many northerners who had no personal stake in slavery, who did not live, breathe, and sleep in a slave society, also believed the Bible supported slavery.
Why is it that many northern Christians could not reconcile abolition with the Bible?
To answer that, let us turn to a debate held in Cincinnati in 1845—the same year Frederick Douglass published his Narrative. The debate was held between two Presbyterian ministers from the city: Nathaniel Rice, who pastored Central Presbyterian Church, and Jonathan Blanchard (who later founded Wheaton College) the pastor of Sixth Presbyterian Church.
Rice and Blanchard debated just two questions: First, was slaveholding in itself sinful? Second, was the relation between master and slave a sinful relation? They debated for eight hours a day, on four different days. Their debate was later published as a book that ran to five-hundred pages.
These two ministers had a lot to say. Rice and Blanchard covered topics ranging from New Testament churches, the ethics of slave-holding laws, Old Testament slavery, the Northwest Ordinance of 1787, Aristotle, Constantine, and gophers who evade responsibility. Yes, a rhetorical illustration about gophers somehow made it into the debate and even the index of the 500-page published account of this debate.
Throughout the debate, however, the most notable arguments centered on interpretations of the Bible. For instance, Blanchard, who argued that slavery was a sin, made arguments that went something like the following: Rice says that God gave slaveowners the power to hold slaves as property, but then Rice says that it is wrong for a slaveowner to separate a husband from his wife. Therefore, (Blanchard argued), Rice was inconsistent by saying that a slaveowner could use the power that God has given him to hold slaves but should not use that power to break up a marriage.
Rice, on the other hand, used arguments something like this: Blanchard isn't quoting the Bible to support his points. Here is Rice:
It is truly singular, in a discussion like this, that he should give us Bible arguments, yet make not an effort to sustain them with quotations from the Bible . . . I have but one path, and that is illumined by the Bible . . . my first position is this: God did recognize the relation of masters and slaves among the Patriarchs of the Old Testament . . ."
This is a typical example of how antebellum Christians who supported slavery often argued: They turned to common passages in Genesis, Leviticus, 1 Corinthians, Colossians, or Philemon to show that slavery was acceptable. "Look," they said in essence, "slavery is in the Bible. The Bible doesn't condemn it. Individual slaveowners might be sinful in how they treat slaves, but slavery itself cannot be sinful."
These were pretty convincing arguments to many American Christians in 1845. We should remind ourselves that these arguments were not convincing to many non-American Christians. Why were antebellum American Christians so taken with these arguments? It is because they thought a particular way, in a particular sort of pattern.
Historian Mark Noll summarizes the point very neatly: American Christians were "children of the Enlightenment as well as children of God." What does he mean? The Enlightenment put forth a particular way of thinking about reason, one that put a great deal of trust in the ability of humans to see things clearly without the aid of religion, tradition, or faith. There were many dimensions within the Enlightenment, but the version that proved to be very influential in United States was shaped by something called Common Sense philosophy.
Common Sense philosophy promoted the idea that God gave all normal people abilities to see truth clearly, and humans can be certain about these truths. It tended to regard truths as perspicacious. For instance, all normal people everywhere—even children—can understand that 2 + 3 = 5, once one understands what basic numbers are and how addition works. It was thought, then, that truth about ethics, government, and society can be clearly seen in this same way by anyone.
This mode of thinking was quite popular in the United States because it fit very well with democratic ideals. Those famous words of the Declaration of Independence that Americans have loved for two centuries came to embody this approach: "We hold these truths to be self-evident, that all men are created equal." Self-evident truths. They are obvious. It's common sense.
These Enlightenment ideas seeped into American culture and were embraced by Americans of many stripes: highly educated and minimally educated, Christian and non-Christian, Whig and Democrat. By the time we reached the Age of Jackson in the 1830s, most Americans had internalized the idea that any ordinary person can grasp truth and see it clearly.
There were some very beneficial consequences to Common Sense thinking. It encouraged common, ordinary people to take on new roles in American society. It inspired gifted people with very little education to make valuable contributions. Abraham Lincoln comes to mind.
But there were also some problems with this strand of Enlightenment thinking. For one thing, it is not true. Yes, some things are clear and obvious. But some things are actually quite complicated and are not self-evident—even to highly educated people trained in the life of the mind. This is especially true of issues dealing with human nature, which we often assume is pretty straight-forward.
We use the phrase, "it's not rocket science," implicitly upholding rocket science as the pinnacle of intellectual complexity. But take this short thought experiment: If we were to gather five-hundred of the brightest, most highly educated people in the world, start them out with $100 billion dollars, access to all known knowledge, give them several years, and then instructed them to build a rocket that could go to the moon, could they do it? Well, of course. Humanity has already done that, hasn't it?
But if we were to take the same brilliant people, give them the same amount of money, the same access to all known knowledge, the same amount of time for a task, and then tell them to bring peace to the Middle East, could they do it? Or how about eliminating crime in a mid-sized city? Or simply teaching couples how to stay in a loving marriage? Our success rate with human interactions is not very consistent. Rocket science is complicated. But do you want something really, truly difficult? Try political science.
This hints at another, and I think more significant flaw to Common Sense Philosophy. By claiming that reason functions best when detached from faith and tradition, the Enlightenment pushed aside a long-standing recognition within the Christian tradition: Sin affects our thinking and our perceptions of other humans. In its particular view of reason, the Enlightenment promoted an overly optimistic view of the human ability to see clearly. Exhibit A may be Thomas Jefferson himself, who passionately embraced the Enlightenment idea that equality was a self-evident truth but could not apply this to those he himself had enslaved. Because of sin, we don't see clearly.
It seems that this is still a critically important point today. For centuries, Christian theology held that sin—particularly the sin of pride, which underlies all the classic vices—distorts our thinking. It is not mere coincidence that once the modern world ignored the point that sin affects human thinking the word "pride" began to take on a very positive connotation, as something to be encouraged and celebrated. Historically, Christian theologians held that pride distorts our ability to see ourselves and others clearly. But as children of the Enlightenment (even if we are also the children of God) most of us probably assume we see society, politics, human interactions, and the motivations of others pretty clearly.
Nineteenth-century American Christianity helps us gain some perspective on the human condition. Steeped in Common Sense philosophy, Christian leaders argued over and over again that the Bible was simple to understand and that its truths could be clearly seen by anyone. As a result, many American Christians displayed a strong tendency to view the Bible as a collection of facts, sort of like a textbook. The person reading the Bible was to gather the evidence and classify it. Once this was done, it was thought, the truth would be clearly seen, with as much certainty as a scientist studying nature. James W. Alexander, a professor at Princeton in 1832, summed it up by saying "the theologian should proceed . . . precisely as the chemist or botanist proceeds."
This helps us better see what was going on in the debate between Nathaniel Rice and Jonathan Blanchard. Rice kept hammering away at specific texts and particular Bible verses. He kept asking Blanchard, in essence, to examine the Bible as if he was a botanist. Where do you see specific Bible quotations that support abolition, he asked? Blanchard, meanwhile, turned to general principles. Shaped also by Common Sense philosophy, Blanchard said abolition was based on "the broad principle of common equity and"—here it is!—"common sense." But his biblical argument was a hard sell. To Rice, Blanchard didn't seem to have any "facts" to support his point.
In antebellum America, Christians defaulted to this pattern of thinking when debating slavery. Christians who supported slavery arranged and ordered biblical texts as if they were simple, plain, and obvious facts. Meanwhile, those who opposed slavery were compelled to lay out nuanced, sophisticated and complicated interpretations of the Bible—interpretations that often drew upon the insights of scholars and experts. But most Americans were suspicious of nuanced, sophisticated, and complicated interpretations of the Bible. And many Americans were then, as they are now, suspicious of experts. If experts were needed to interpret the Bible, it was thought, then ordinary Christians couldn't understand everything in the Bible for themselves.
Common Sense philosophy also missed the reality that our perceptions of the world are shaped, distorted, and clarified by the culture we live in. Historians sometimes say the past is a foreign country: They do things differently there. From our vantage point in the twenty-first century, it is possible to see how historical context—the culture—of a slave society shaped the thinking of those who enslaved Black Americans. As a rather unsettling exercise, imagine if we were born into a white, slave-holding family in Georgia in 1810. It is highly likely that we would have grown up thinking it was obvious that the Bible justified slavery. If the world around us was built upon slavery, if the family we loved held slaves, if we heard sermons telling slaves to obey their masters, if our teachers taught us that slavery in itself was not sinful but some individual slave holders sinned, and if abolitionists were depicted as distant, wild-eyed radicals who wanted to tear down the world we grew up in—well, then it is quite likely that we would feel justified in enslaving Black Americans. Slavery would appear to us as an obviously justifiable system. Common Sense philosophy would do nothing to help us see how our culture shaped our minds into a deep groove that was unjust and sinful.
This produced another problem. For those who grew up thinking that truths were obvious and simple, particular kinds of conflicts arose amidst deep, knotty debates. If all truths are self-evident, why doesn't my opponent see them clearly? Somebody must be calculating incorrectly. If I know myself to be a person of goodwill, if I look at my logic and it seems sound, then the problem is not with me.
Henry Van Dyke, a Presbyterian minister in the North, from Brooklyn, shows us how this happened. "When the Abolitionist tells me that slaveholding is a sin," he wrote, "in the simplicity of my faith in the Holy Scriptures, I point him to this sacred record . . ." Note the simplicity of the Bible and the implication that one just needs to point to Bible verses. Van Dyke continued, "(I) tell him, in all candor, as my text does, that his teachings blaspheme the name of God and His doctrine."
This is a serious charge. It is not just that the abolitionists have calculated incorrectly. They are sinning. And this is not just any sin, but blasphemy, which often carried the connotation that one willfully, consciously misused God's name. Apparently, Van Dyke believed that abolitionists were not acting out of sincere convictions but were knowingly disobeying God because they ignored simple and obvious biblical truths.
I do not know anything else about Henry Van Dyke. I do know a few things about Presbyterianism, though, and I know that Van Dyke was not adhering to a historic doctrine of his denomination. The Westminster Confession, for instance, states: "All things in Scripture are not alike plain in themselves, nor alike clear unto all." The Confession declares that some things in the Bible truly are clear: "those things which are necessary to be known, believed, and observed for salvation." But not everything is clear.
The Westminster Confession was written in 1646, before the Enlightenment pushed aside the historic recognition that sin affects rationality, before Common Sense philosophy declared that all truths are simple and self-evident, before the democratized impulses in American culture convinced many Americans that they don't need experts or scholars to help them work through difficult and knotty issues.
In other words, Frederick Douglass and his fellow abolitionists were battling very powerful cultural forces. They were not only struggling against those whose greed led them to hold onto slavery and those who cared little for fellow human beings. They were battling a culture that convinced people of goodwill—including millions of sincere Christians—that they saw everything clearly.
Douglass knew the Bible very well. He had a conversion experience as a young teenager at a Methodist revival near his plantation. In his first years of freedom in New Bedford, Massachusetts—before he wrote his Narrative and launched out as an abolitionist speaker—he preached at the local African Methodist Episcopal Zion Church. Throughout his life he quoted the Bible regularly and drew upon biblical themes in his rhetoric.
But Frederick Douglass did not find Common Sense ways of thinking compelling. Douglass, like most Black Americans, saw that the sin of slavery was simply not obvious to an awful lot of people. Douglass did not view the Bible as simply a storehouse of facts to be analyzed like a scientist. He understood that the Bible also contains metaphor, prophecy, irony, paradox, and poetry—and that properly understood, these were just as true as any simple fact that existed in the Scriptures.
Douglass also saw something that was very hard for many white Christians to see: how race distorted the thinking of many Christians. In 1861 he wrote that "Nobody (in) the North, we think, would defend Slavery, even from the Bible, (if it weren't for) the color distinction." Notice his point about "the color distinction." In other words, Douglass says that race leads many white northerners to accept the idea of slavery. "The same book which is full of Gospel Liberty to one race, is crowded with arguments in justification of the slavery of another," he declared. "Those who shout and rejoice at the progress of Liberty in Italy, would mob down, pray and preach down Liberty at home as an unholy and hateful thing."
The color distinction. Just what does the Bible say about race and racism? Nothing. Nothing directly, that is. It is true that people in the Bible still categorized people, for good and for ill. For instance, we find different ethnicities and nations in the Bible—Edomites and Hittites and Babylonians and Jews and Greeks and Romans. We find examples of people with dark skin, like the Ethiopian eunuch. But the Bible does not really discuss race, at least not in the way that we think about it.
Why? Because race is a modern way of categorizing people groups. The sixteenth- and seventeenth-century transatlantic slave trade developed the idea that there are categories of people, labeled Black and white, and that differences among them can be explained by their physical characteristics. It is a legacy that is still with us today. Race is a tricky thing. It is deeply embedded in our culture—for good and for ill. It has power. It shapes our perceptions of the world. And oddly, despite its pervasiveness, we are unconscious of all the ways it shapes our perceptions. We, too, are drawn to think that race is a simple and obvious thing.
Let us return to that debate in Cincinnati and look more closely at Jonathon Blanchard, the abolitionist. It is fair to say, I think, that Blanchard was color-blind. In the four-day debate, Blanchard tried his best to show why American slavery was unjust by arguing about everything from New Testament churches to Old Testament laws to the Northwest Ordinance of 1787 to Aristotle to Constantine and yes, to gophers. But, oddly and tellingly, Blanchard did not bring up race. Surely, that qualifies as a color-blind approach to the issue of slavery.
In his color-blind approach to the Bible, Blanchard missed something big and important. He could have raised an interesting argument. Blanchard could have challenged Rice to show him where the Bible says that one particular race could be enslaved while another race was absolved from being enslaved. In response, Rice would have been hard-pressed to find biblical "facts" for this argument, other than the very shaky "curse of Ham" claim, which actually was not used very often in antebellum debates. It did not come up in this debate, for instance.
The omission of race in the debate speaks volumes. Antebellum Americans certainly talked about race. But when trying to understand what the Bible said about slavery, neither Blanchard, nor Rice, nor just about any white Christian abolitionist brought up race—because race was not an obvious topic in the Bible. As a result, it slipped by unseen and unnoticed in Christian thinking about the Bible.
Jonathan Blanchard was a serious Christian leader who cared deeply about the issue of slavery. He saw the injustices of the system. He earnestly searched the Scriptures to try to determine what Christians were to do about this system. I give him a lot of credit for all those things.
But in terms of seeing clearly, it was not enough. Like many other white Christians, he failed to see that race made a huge difference between slave systems in the Bible and the slave system in the United States. On issues of race, the Bible was not simple, self-evident, and obvious to everyone—not even to an abolitionist like Jonathan Blanchard. The flaws of culture, as well as individual pride, distort human ability to see clearly.
Jonathan Blanchard needed Frederick Douglass. White abolitionists, antislavery folk, and white Christians everywhere in America needed Douglass and Black abolitionists like him, because Black abolitionists saw clearly that racism was a deeply anti-Christian force. White Christians also needed Douglass because he showed America what slavery looked like to the slave. They needed Douglass because Black Americans saw more clearly than white Americans how deeply slavery contradicted and undermined American ideals of freedom, equality and justice for all.
We also need Frederick Douglass, today.
First of all, we need Frederick Douglass because his persuasive efforts among fellow Americans remind us that none of us sees everything clearly. Even if we are thoughtful, sincere, and logical, we have blind spots. In fact, the Bible speaks of blind spots. In Leviticus 5, the children of Israel are commanded to offer sacrifices for sins that they unintentionally commit or are unaware of. Christ's healing of the blind man and his response to the "blind" Pharisees in John 9 should compel us to humbly consider our pharisaical impulses. In Psalm 19, the psalmist praises God for the laws, ordinances and commandments of the Lord—the foundation of justice. He declares there is great reward for following them. And then he takes a sudden turn, asking, "But who can detect their errors? Clear me from hidden faults." There it is: the sins we do not see. We need to bring back the pre-Enlightenment insight that sin distorts our thinking in a wide range of ways.
Second, we need Frederick Douglass because we live with the legacies of history, for good and for ill. We need to see these legacies more clearly. Slavery has long been abolished, and that is a great legacy. But racism lives on. In fact, our social conflicts, debates, and overconfident claims that we see racial matters clearly indicate that we may have more in common with antebellum America than what we would wish.
We also need to recognize ways that the legacy of Common Sense philosophy keeps us from seeing clearly. Without a recognition that sin distorts our thinking, we believe too readily and too often that we see all the complicated, multi-dimensional issues of race clearly. Too often we assume that those who disagree with us are consciously motivated by wicked desires. Too often, we self-righteously convince ourselves of our own, clear-thinking innocence. It seems to me that, in the past few years, those of us who are evangelical Christians have not comported ourselves well on these points.
Third, we need Frederick Douglass because the slavery debate of antebellum America gives us insight into a major, world-wide historical development in moral transformation. Despite the injustices of slavery and cultural sins of racism, the world came to see that slavery was wrong. This is also a historical legacy we live with. Today, just about everyone knows, understands, and feels deep down inside, almost like it is an instinct, (or, as we still might call it, "common sense") that slavery is wrong. Fourth graders know that slavery is wrong.
This "transformation of moral perception" ought to instill in us a certain kind of humility and gratitude. None of us came to our antislavery conclusions on our own. None of us risked our lives to escape our own enslavement. We did not reach our convictions about slavery by wrestling with complicated ethical, economic, political and theological issues. None of us have been confronted with the reality that we would lose a large proportion of our wealth, should our society decide that slavery was wrong. We did not face ridicule and violence by campaigning tirelessly against a culture that could not see slavery clearly.
Frankly, you and I have not really contributed much of anything to the principle that slavery is wrong. And yet, we may still cast a smug eye on earlier generations. We may consider ourselves to be morally superior to those from centuries ago who held slaves. The conviction that slavery is wrong is a gift. We did not pay for it, work for it, achieve it through intellectual effort, or earn it through our own righteousness. It was handed to us by the toil, agony, and struggles of countless people who went before us. People like Frederick Douglass. We should all be grateful that they handed us a culture where slavery is almost universally understood to be unjust.
Finally, Frederick Douglass' engagement with abolitionists and slave owners, Christians and non-Christians, Black Americans and white Americans, northerners and southerners, shows us that we actually do not "think for ourselves." As Alan Jacobs points out, everything we think is in response to something somebody else has thought. In other words, the development of clear thinking is a group project. We need respectful public conversations among a diverse range of people because we are all limited in what we can know. We need others to help us see our blind spots. Those of us who are white Christians particularly need to be intentional about listening carefully to Black Christians (and others who are in the minority) because history shows it is far easier for those in the majority to simply overlook, ignore, or quickly dismiss those who are not in their close circle of acquaintances.
Frederick Douglass saw the racial sins of slavery more clearly than almost all white Americans, but he did not see everything clearly. He often stereotyped and caricatured Irish immigrants. He argued that Native Americans did not face discrimination. We could go on with conflicts in his personal life. But this rather demonstrates the point, does it not?
We have work to do. We must work for a just society and hold each other accountable for it. May we, together, rise to the challenge of seeing more clearly.
Jay Case is Professor of History at Malone University in Canton, Ohio.